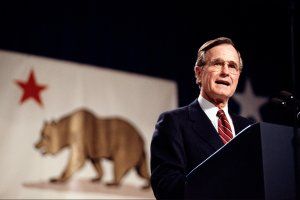 He's 86 now, his eyebrows silver and his legs weakened by Parkinsonism, a vascular disorder akin to Parkinson's disease. But as George Herbert Walker Bush approaches his twilight years, he is beginning to get his due.
President Obama last month awarded him the Medal of Freedom. On March 21, Bush will be feted—by Bill Clinton, no less—at a major Kennedy Center event in Washington honoring his contribution to volunteerism through the Points of Light Foundation. Qualities once branded as vices—his civil tone, willingness to reach across the aisle, even his sway with Mideast strongmen—suddenly seem more like virtues in a world weary of attack politics and confronting a cascading series of global crises.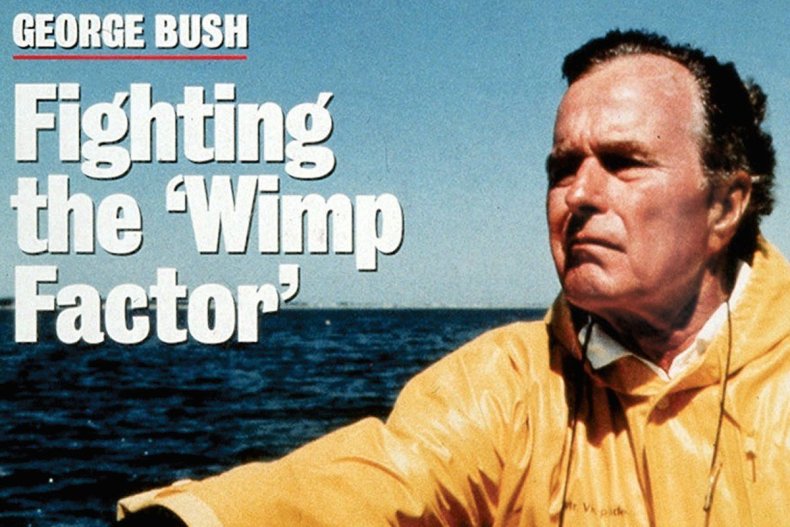 Stigmas that once dogged him—Iran-contra, the "wimp factor," "read my lips," and Dana Carvey's deadpan caricature—have faded in the public memory, only to be replaced by a fresh view, aided by newly released documents and longtime aides' loosening tongues—that 41 may have been a more swashbuckling and politically selfless figure than Americans appreciated during his Washington tenure.
"At the time, [Bush's style] didn't seem to be leadership qualities to the public. Some even saw it as weakness," says Roman Popadiuk, a national-security spokesman in the Bush White House who today heads his presidential-library foundation.
"But now people are looking back at how he treated people and how Washington is now. And they're appreciating how he harkened back to an era in which people were treated with respect and in which politics had some civility," Popadiuk says. "The mutually cooperative way he tried to address things, the calm way he handled things in crisis. People see it today as a strength."
As his successor, Bill Clinton, puts it: people have come to value "the contrast between his kind of conservatism and that which dominates today—less extreme in substance, less harsh in rhetoric, more open to reasonable compromise."
State's Exhibit A in the revisionist history: a little-noticed journey in December 1983. Bush was nearly three years into his first term as Ronald Reagan's vice president. His public schedule suggested a routine visit to pay respects to Argentina's newly elected president. But according to exclusive interviews with longtime Bush aides, he slipped away on a secret mission known to only a handful of U.S. officials—for a hair-raising confrontation with El Salvadoran military commanders.
El Salvador's military was losing American confidence at the time, amid reports of human-rights abuses and murders of civilians carried out by death squads there. The unsolved killings of three Roman Catholic nuns had rubbed emotions raw.
Bush and a small contingent of White House aides and Secret Service agents flew in, bearing a stern warning from Reagan: end the killing. Stop the abuses. And allow fully free and democratic elections—or the United States would instantly cut off aid in the fight against the communist rebels.
Exiting Air Force Two in San Salvador, Bush boarded an Army Black Hawk helicopter, flying high above the treeline to avoid antiaircraft fire from below. His destination: the president's mountainside villa. When his advance men first scouted the location, the meeting room's carpets were stained with a brown, bloody color, and there were similar spatter stains on the walls. "It looked like a meeting had gone terribly wrong and no one survived," recalls Antonio Benedi, one of Bush's most trusted advance aides, who accompanied him on the mission.
Benedi's team pondered calling off the meeting, but no one wanted to tell Bush, a former World War II bomber pilot who survived being shot down in the Pacific, that they were afraid for his safety.
By the time Bush entered the room, the stains had been scrubbed—but the mood was still grim. As Bush retreated to a room for a private chat with President Álvaro Magaña, a group of commanders entered, some strapped with semiautomatic rifles and others with handguns—sending a wave of worry among the veep's aides. A commotion broke out as the soldiers refused requests to leave their arms outside. Bush poked his head out of the meeting to ask for quiet.
"We Americans were outgunned five to one and the prospect of having the VP deliver a message that they clearly didn't want to hear was stark at best," Oliver North, a Marine officer assigned to the National Security Council who was along for the ride, tells NEWSWEEK. (North of course would go on to become the unrepentant touchstone of the Iran-contra scandal.)
After brief pleasantries, an animated Bush slammed his fist on the conference table, startling the soldiers.
North says the scene was surreal. "They're all senior guys, some of whom we had good reason to believe were involved with death squads. And everybody—to include the VP—knew that," he said.
"He delivers this incredibly stark message, 'If the killings don't stop and you don't hold elections, we are going to cut off our aid and it will stop you dead in your tracks and you know what that means,'" North recalls.
His message dispatched, Bush boarded his Black Hawk again, hoping the abrupt visit would make a lasting impression. North had handed the military leaders a list of death-squad leaders the Americans wanted removed. And then they were off for a public dinner with the Salvadoran president.
Just two weeks later the veteran Army pilot who flew Bush's chopper was shot dead in his cockpit in San Salvador, the victim of a communist-rebel gunman, Benedi says.
Not long after Bush's visit, the Salvadoran army reported it had begun disbanding its notorious death squads—and U.S. aid continued to flow as reports of human-rights abuses grew more infrequent. The civil war, however, would rage on for years and reports of death squads returned during Bush's presidency, when the 1989 slayings of Jesuit priests renewed human-rights concerns.
Bush's role in Central America would later draw fire from the left. His role in the fall of the Berlin Wall, on the other hand, would irritate conservatives—many of whom still credit Reagan with the historic communist collapse there, even though it occurred on Bush's watch, and fault 41 for not celebrating the moment more avidly.
What the public didn't know then—and Bush refused to discuss publicly—was that Soviet President Mikhail Gorbachev had sent an urgent cable to Bush on Nov. 9, 1989, as the wall crumbled. In it, he asked the United States not to take provocative action that might instigate a Tiananmen Square-like military crackdown in East Germany.
Gorbachev's communiqué remains classified to this day. But sources familiar with it tell NEWSWEEK that the Soviet leader pleaded that neither side take any action that would lead to confrontation or provoke protests that might spiral out of control.
Bush acquiesced, settling for a response so muted that reporters wondered aloud during an Oval Office news conference why he didn't seem more enthused about the historic crumbling of a communist icon.
Bush didn't let on, staying focused on the plan that he and his national-security aides devised. Six days later, Bush penned a three-page letter to Gorbachev assuring him the United States appreciated the Soviet leader's careful approach to the events in East Germany and was supportive of the peaceful transition of power.
Bush today seems in some ways out of step with his political party. A career encompassing congressman, Republican National Committee chairman, CIA director, envoy to China, U.S. ambassador to the United Nations, vice president, and the Oval Office seems something of a throwback at a time when Washington experience is a pejorative. When Republicans on Capitol Hill make lock-step opposition to President Obama and his Democratic allies a point of pride, Bush's genuine and lasting friendship with Bill Clinton—forged when the two worked together to raise money for the last Asian tsunami—feels like a remnant from a distant age.
Clinton warmly recalls tussling over sleeping quarters on their trips. "We took one long flight together to Indonesia to tour the tsunami zone and the plane had one small room with a bed," Clinton tells NEWSWEEK. "He offered the room to me to start and said that we'd switch. But I told him to go ahead and take the room, that I'd be fine sleeping on a mat on the floor. After 40 years of sleep deprivation I can sleep anywhere. He deserved the bed."
These days, Bush ventures out to his local grocery store, and takes in a ballgame when he can. But he's slowing down a bit, though he's characteristically private about it. His legs are losing strength, owing to the Parkinsonism, friends say.
The symptoms started a few years ago, when Bush was recovering from back surgery. Now, he sometimes struggles to walk, even with a cane, though his upper body remains strong, friends say. When the elder Bush came to Washington for the Medal of Freedom ceremony with Obama, he stopped first for lunch with some of his friends, including Benedi. Bush arrived in a wheelchair, then took a seat at the table. But when the time came for him to appear in public, Bush left the chair behind, insisting he walk on his own power at the White House he once ruled—this time with the help of a military aide.
Separated by generation and ideology from the man he was honoring, Obama rattled off a litany of accomplishments, then quipped about one of Bush's late-in-life exploits that endeared him to many younger generations. "Just to cap it off, well into his 80s, he decides to jump out of airplanes," the current president said adoringly as he secured the blue-and-white ribbon around Bush's neck.
Solomon is executive editor of the Center For Public Integrity.