Win or Lose, Trump Campaign Slams Presidential Debate Organizers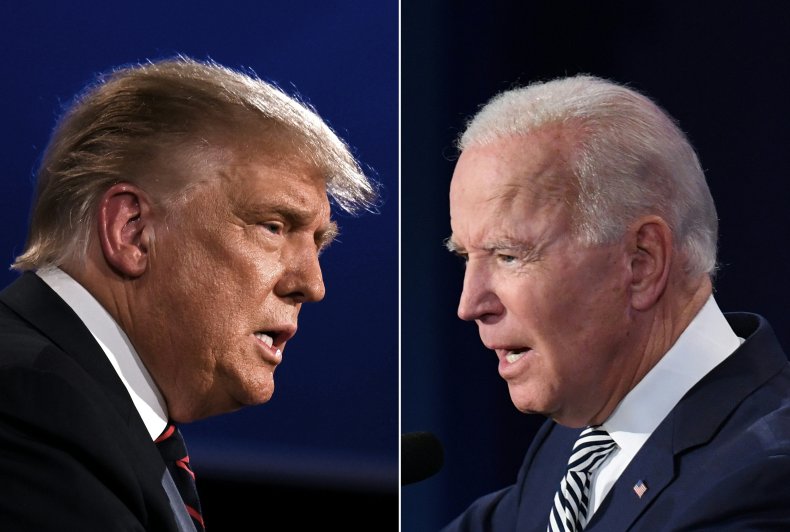 No matter who wins this week's presidential debate, Donald Trump's campaign has already spent weeks laying a foundation to explain his performance—however it may be received—by slamming the non-partisan Commission on Presidential Debates as being secretly in the bag for Democratic rival Joe Biden.
"I'll participate, I just think it is very unfair," Trump told reporters aboard Air Force One late Tuesday evening on his return from a campaign rally in Pennsylvania.
Win or lose, expect to hear the Trump campaign's continued claims of bias lodged at the panel that has handled the arduous task of planning presidential debates for more than three decades.
"The Commission's pro-Biden antics have turned the entire debate season into a fiasco and it is little wonder why the public has lost faith in its objectivity," Trump campaign manager Bill Stepien wrote in a letter to the Debate Commission on Monday. On Twitter, Stepien later referred to the missive as "our letter to the BDC (Biden Debate Commission)."
It's just the latest of at least four such letters to the Commission on Presidential Debates that the Trump campaign has publicly released since early August, each making demands or alleging some form of pro-Biden bias. Trump's been steadily criticizing the Commission on Twitter for the past year.
A debate that was scheduled to be held last week was canceled after Trump tested positive for COVID-19 and refused to take part in the Debate Commission's proposed safety adjustment, which would have had each candidate and the debate moderator filmed in separate locations.
Despite its ongoing claims of bias, the Trump campaign has twice proposed adding more debates to the schedule—initially calling for an earlier debate, then calling for a later debate to make up for the one that was canceled. The commission has rejected both ideas.
That leaves just one more chance for Biden and Trump to square off on the same stage before November 3. The 90-minute debate is scheduled to take place at 9 p.m. ET today from Belmont University in Nashville, Tennessee.
Among other issues the Trump campaign has sought to highlight are complaints about Scully and plans to mute candidates for brief periods on Thursday to stop interruptions. They also have claimed that the Commission showed bias in the upcoming debate topics because foreign policy isn't on the agenda, even though the topics are always picked by the moderators without the Commission's involvement.
It's a ploy similar to one Trump made four years ago, when he claimed, without evidence, that he was purposefully given a "defective" microphone and that the Debate Commission favored then-opponent Hillary Clinton. When Trump was perceived as the debate winner, the performance was portrayed as overcoming bias. When he was perceived as the loser, his supporters blamed unfair treatment.
Trump has trailed Biden in most national polls and many in crucial battlegrounds for months, but Biden's lead has begun to narrow as Election Day nears. The final debate, and how it's perceived, could prove to be a make-or-break point for Trump's struggling campaign.
The Commission on Presidential Debates didn't respond to Newsweek's request for comment for this story.
John Danforth, a Missouri Republican and former U.S. senator who has served on the Commission on Presidential Debates since 1994, penned an op-ed in the Washington Post this week rejecting Trump's claims of bias.
"It is always fair to question any organization's decisions, and the Commission on Presidential Debates is not above criticism," Danforth wrote. "But there's an enormous difference between criticizing good-faith efforts and accusing the commission of corrupt favoritism."
Biden's campaign didn't respond to Newsweek's request for comment on Trump's allegations of bias.