Wind Chill Update: Arctic Blast in Chicago, Around the Great Lakes, Could Be Coldest on Record
Some of the coldest weather on record is hitting the Midwest and the upper Great Lakes area. People in Chicago were waking up to temperatures at 22 degrees below zero Fahrenheit, with the wind chill causing it to feel even colder.
In Minneapolis, the temperature was even colder, at 27 degrees below zero. Meanwhile, in Anchorage, Alaska, the temperature was what those in Minneapolis might consider balmy—34 degrees—according to the National Weather Service (NWS).
At 6 a.m. CST, the temperature at Chicago-O'Hare International Airport, with the wind chill, was 45 degrees below zero, according to the NWS office in Chicago. At the municipal airport in DeKalb, the wind chill was nearly 10 degrees lower, at 54 degrees below zero. A list of the recorded wind chills was available from the NWS.
The NWS was warning that the arctic blast that was bringing the cold temperatures was dangerous to those in the region and potentially life-threatening.
The temperatures were so low they could cause frostbite in a matter of minutes for those who go outside unprepared. Frostbite happens when the skin freezes; the person then loses feeling or color in the frostbitten area. It happens most commonly in areas with poor circulation, like fingers, toes and the nose and ears.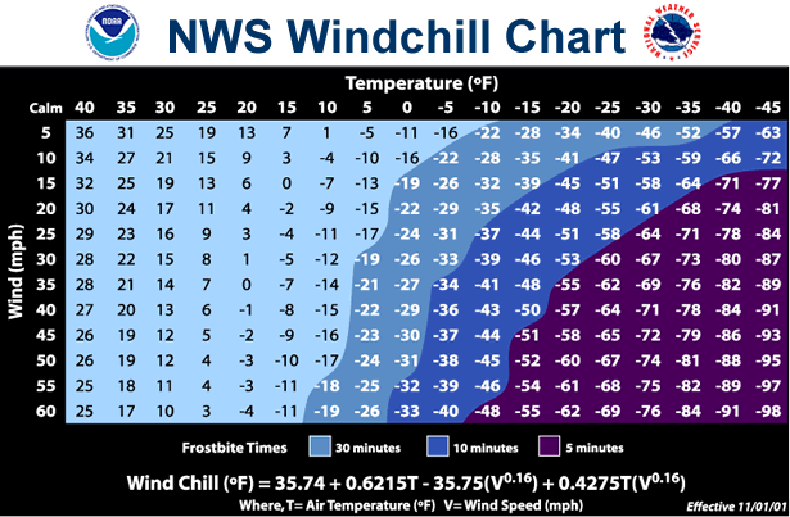 The NWS was advising people not to go outside, but if they have to, they need to bundle up properly. That means wearing several layers, three or more in addition to an outer layer to block the wind, plus waterproof boots, two layers of pants, a face mask, a warm hat and gloves or preferably mittens.
Anyone with signs of frostbite should get inside somewhere warm as soon as possible and seek medical treatment. If you can't get to a doctor or hospital, body heat is the best way to warm body parts. Warm water can also be used but should be applied cautiously.
Wind chill warnings were still in effect Wednesday and were expected to last until Thursday. The NWS said, "A Wind Chill Warning means the combination of very cold air and the wind will create dangerously low wind chill values. Frostbite can occur quickly and even hypothermia or death if precautions are not taken." Some areas, like those downwind of the Great Lakes, could also see snow Wednesday and into Thursday.
​