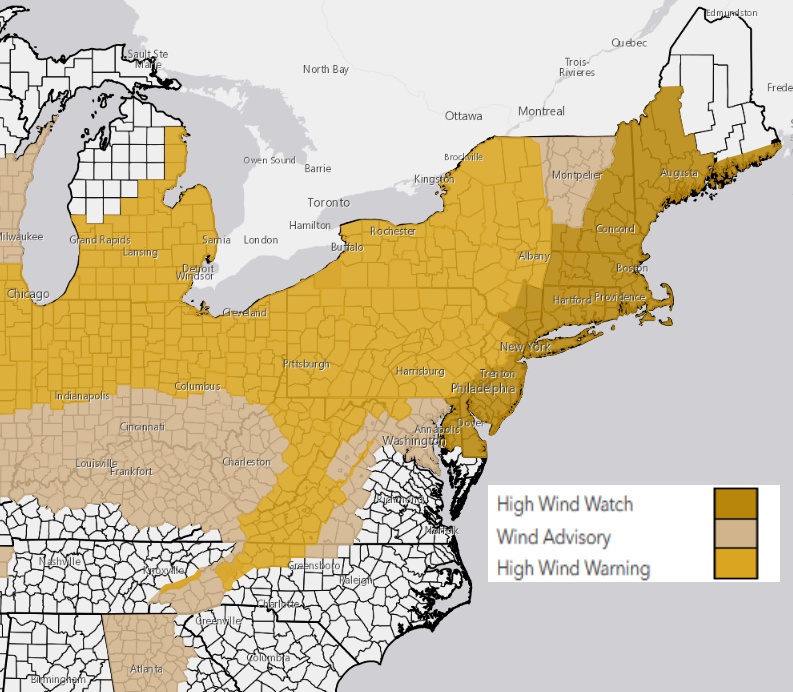 High winds were sweeping across the mid-Atlantic and the Northeast to start the week bringing hazards like down trees and power outages with it. The winds were prompting the National Weather Service to issue high wind warnings and high wind watches across the region.
There was some concern that the winds could cause blizzard conditions around the Great Lakes as well, the NWS warned. The warnings and watched for high winds aren't issued lightly. A high wind watch, though, is a bit less of an immediate threat than a high wind warning.
A high wind watch is issued when there are conditions that are possible not necessarily conditions that are expected. Those possible conditions are either sustained winds of 40 miles per hour for at least an hour, or any gusts of wind that reach 58 mph. A high wind warning is issued when these conditions are actually expected, not simply possible, according to the NWS.
A wind advisory is the least severe of the three terms used to warn about the strong winds Monday. The advisories are issued when sustained winds of 31 to 39 mph are expected for an hour or more or when wind gusts between 46 and 57 mph are expected at all, according to the NWS.
"Strong wind gusts will bring down trees and power lines and result in numerous power outages. Power may be out for several days in some areas," said the warning from the NWS office in Buffalo, New York Monday. There were thousands of people without power where the winds were blowing and as they moved more north they were bringing more power outages.
The wind was also expected to make travel incredibly difficult and possibly even blow some empty tractor-trailers off the road. The NWS was also warning homeowners to secure any loose objects outside of their homes that could possibly blow away or become loose due to the winds.
Due to the fact that there was previously snow and rain that saturated the ground some trees were expected to be especially vulnerable to the wind and could more easily become uprooted.
The winds were making their way north from the south and the central Appalachians where they were expected to peter out Monday morning but continue to be a threat in the mid-Atlantic and the Northeast through the morning and into the afternoon. The warnings were expected to last at least through mid-day in most of those areas but to have subsided by Tuesday.