Window Cleaners Killed After Strong Winds Smash Scaffold into Skyscraper
A harrowing video from central China has captured two workers repeatedly crashing into the side of a skyscraper while trapped on a suspended scaffold during a rainstorm.
The high-rise cleaners, who were identified by their last names Yang and Han, were flung into the windows of the 46-story building for 20 minutes before rescuers managed to reach their out-of-control swing stage.
Both men suffered fatal injuries and were pronounced dead by doctors in Wuhan, in central China's Hubei province, a statement by the local government read on Monday.
The window cleaners, who were aged 34 and 54, had been tasked to work outside the skyscraper despite a warning about adverse weather conditions issued by the Wuhan Meteorological Bureau the day before.
The local weather office said wind speeds reached gale force—measuring 10 on the Beaufort scale.
Witnesses filmed the distressing ordeal from nearby office buildings while the workers were trapped outside the 17th floor. Their videos, seen more than 10 million times on China's social media service Weibo, showed the metal swing stage being swept up by the storm before crashing into the glass windows of the half-finished building.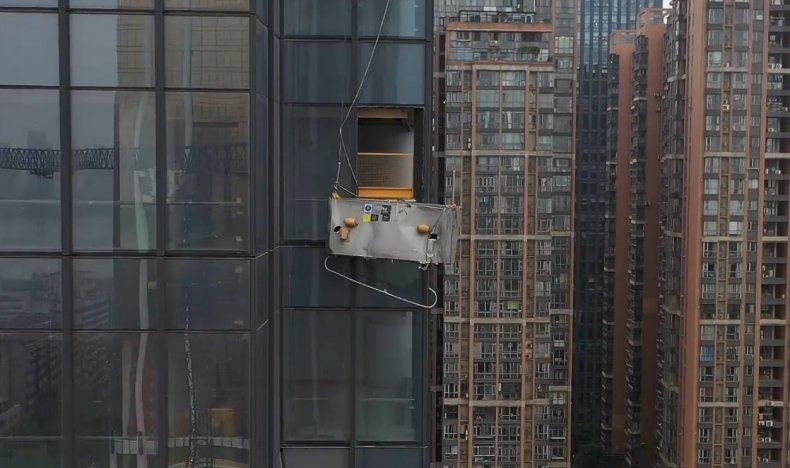 In the footage, one of the men briefly stands up inside the scaffolding before ducking again as it hits the structure. The swing stage remains swinging in the wind as conditions worsen, the video showed.
According to the Wuhan emergency management office, Yang and Han began their afternoon shift at 1:30 p.m. local time and the wind picked up an hour later. They continued to crash into panes in the curtain wall before the suspended scaffolding was finally stabilized at 2:50 p.m., the statement said.
The men were without signs of life and were pronounced dead at a local hospital, the office said, adding that their supervisor was detained for investigation.
China's state-owned news agency Xinhua said the country's work safety regulations forbid high-rise jobs from taking place under winds above 5 on the Beaufort scale.
A spokesperson for Hubei Gaoyi, the cleaning and decorating firm that employed the victims, said it had notified both men of the weather report, Chengdu-based Red Star News said.
According to its report, the cleaners had called their office to say the building had lost power and the swing stage was no longer operational.
Yang's older brother told Red Star News on Tuesday that the cleaner had moved to Wuhan in February. He was a father-of-two.
The company spokesperson said it was cooperating with an ongoing investigation into the incident.