As Windows Virus Chaos Spreads, Ukraine Responds With Odd Choice of Meme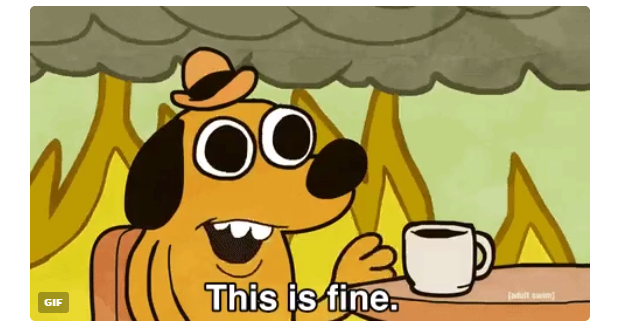 Multinational companies in the U.S. and Europe have become victims of a massive cyberattack that has seriously affected Ukraine from early Tuesday afternoon. In a similar attack to May's WannaCry ransomware attack that brought down the U.K.'s health care system and several private companies.
In Tuesday's attack, Ukraine's government systems, banks, ATMs, Kiev's airport and metro system all suffered significant interruption and the Chernobyl nuclear power plant went into manual radiation monitoring, fearing its computers too may be compromised.
As information about the spread of the ransomware virus, Petya, flooded out on social media, Kiev's response raised a few eyebrows. The country's official, verified Twitter account posted an appeal for calm on Twitter, promising to resolve the problems soon. So far, so standard for a response at a time of crisis.
The attached GIF, was a different matter.
The popular image, known as the 'This Is Fine' meme, shows a cartoon dog from the Adult Swim network, calmly sipping coffee in his dining room while his house burns around him and plumes of smoke veil the ceiling.
"This is fine," the dog recites inanely. "I'm OK with the events that are unfolding currently."
What the GIF seldom shows is the outcome of the short. The fire first nips at the dogs coffee-bearing arm, at which point comes the unmoved retort—"That's OK. Things are gonna be OK."
Almost immediately, the dog's face melts into a grotesque mess with the shrill squeal of the fire alarm sounding in the background. Needless to say, it is not the most reassuring of responses at a time of panic. Whether the meme was a gaffe or an expression of Ukrainian sarcasm, is a topic of debate in the comments.
The cyber attack itself spread to Ukraine's central bank, the aircraft manufacturer Antonov, and to its postal service. The so-called Petya virus, which exploits a vulnerability in the Windows operating system, was the cause of the trouble, though its source is not yet known.
Last month, a similar kind of cyberattack, known as ransomware, due to its blocking of files until a ransom is paid, hit computers worldwide. Such attacks are already up by 250 percent this year according to online security firm Kaspersky and the U.S. is the biggest target.