'Winds of Winter' Has a Big Part for Lady Stoneheart, Cut From 'Game of Thrones'
George R.R. Martin described plot details from the upcoming sixth book in the A Song of Ice and Fire series (the source material for Game of Thrones), The Winds of Winter, noting the centrality of a character cut out of the HBO series entirely: Lady Stoneheart.
After Martin posted his cover image from the 2017 issue of the Chinese Esquire , A Song of Ice and Fire blogger BryndenBFish posted some loose translations to Reddit. While Google Translate doesn't exactly capture the precise content or context of Martin's answers, there are a few clear insights into The Winds of Winter.
The biggest is Martin's description of Lady Stoneheart, which he describes as the biggest change from the book series to the HBO adaptation, our first indication the character is destined for big things in The Winds of Winter. "After Catelyn's resurrection, it was Lady Stoneheart who became a vengeful and merciless killer," Martin said, in approximate translation. "I still continue to write her. She is an important part of the entire book."
In A Storm of Swords, Beric Dondarrion resurrects Catelyn Stark after the Red Wedding. But she's not the woman she used to be. Now Lady Stoneheart, Catelyn begins hanging Freys and anyone else present at the feast where her son Robb was killed and her own throat slit. Here's a Frey describing what she looks like:
"Her cloak and collar hid the gash his brother's blade had made, but her face was even worse than he remembered. The flesh had gone pudding soft in the water and turned the color of curdled milk. Half her hair was gone and the rest had turned as white and brittle as a crone's. Beneath her ravaged scalp, her face was shredded skin and black blood where she had raked herself with her nails. But her eyes were the most terrible thing. Her eyes saw him, and they hated."
Lady Stoneheart makes only one other appearance, in A Feast for Crows, where she condemns Brienne of Tarth and Podrick Payne to hanging for aiding Jaime Lannister. The characters have been in limbo since that book's release in 2005. Sometimes it's easy to forget just how far Game of Thrones has moved past George R.R. Martin's published material. Jon Snow will still be dead when we finally get our hands on The Winds of Winter.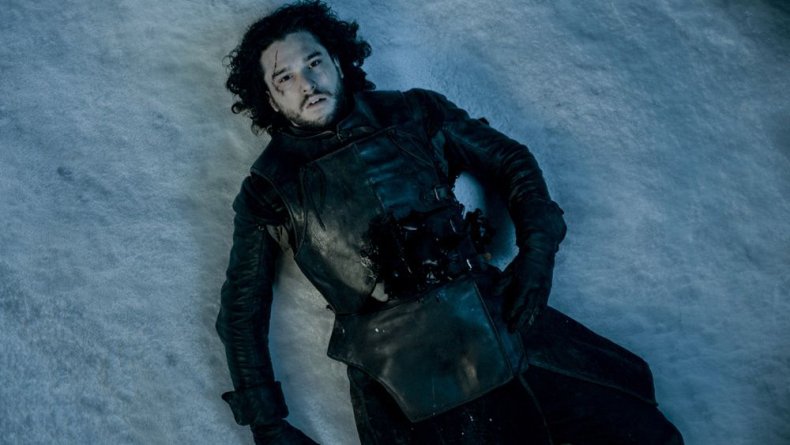 Martin also addressed his writing process for The Winds of Winter, countering the suggestion that he has writer's block or is otherwise avoiding work on the follow-up to A Dance with Dragons. Instead, he blames the demands of travel, interviewing and the myriad other distractions in his professional life. Martin mentions his work editing the Wild Cards series, writing episodes of Game of Thrones and jumping between "six different projects."
"They think I must be 'blocked.' But this is a narrow field of vision," Martin says, again, doubly translated. "The most important, most difficult, most ambitious and longest time is The Winds of Winter."
There's still no word on a release date for The Winds of Winter.