'Winds of Winter' Release Update: GRRM Confirms Sequel Progress, 'A Dream of Spring' a Long Way Off
George R.R. Martin, author of the A Song of Ice and Fire series, has been on a press blitz sharing his latest book, a history of the Targaryen dynasty called Fire and Blood. Of course, everyone is asking him about another book The Winds of Winter, the next entry in the saga begun by A Game of Thrones way back in 1996. After years of uncertainty, it finally looks like a release date is imminent for the follow-up to 2011's A Dance with Dragons.
"I've been struggling with it for a few years," Martin told The Guardian. " The Winds of Winter is not so much a novel as a dozen novels, each with a different protagonist, each having a different cast of supporting players, antagonists, allies and lovers around them, and all of these weaving together against the march of time in an extremely complex fashion. So it's very, very challenging. Fire and Blood by contrast was very simple. Not that it's easy—it still took me years to put together—but it is easier."
Describing the author as retreating to a "remote mountain hideaway," a "cabin he visits when he wants to hunker down to finish a book," Martin hinted to the The Wall Street Journal that his struggle may be coming to an end.
As BryndenBFish, co-host of A Song of Ice and Fire podcast NotACast points out, Martin's latest bout of dedicated writing may reveal just how close The Winds of Winter is to publication.
In March of 2011, Martin (under his LiveJournal screenname grrrm) described himself as "in the bunker."
Three and a half months later, A Dance with Dragons, the fifth and latest entry in the A Song of Ice and Fire series, was released. Just like novelist Paul Sheldon in Stephen King's Misery, Martin seems to retreat to the woods to wrap up his latest work. This might be our best indication yet that The Winds of Winter will have a 2019 release date.
'The Winds of Winter' Release Date, Finally?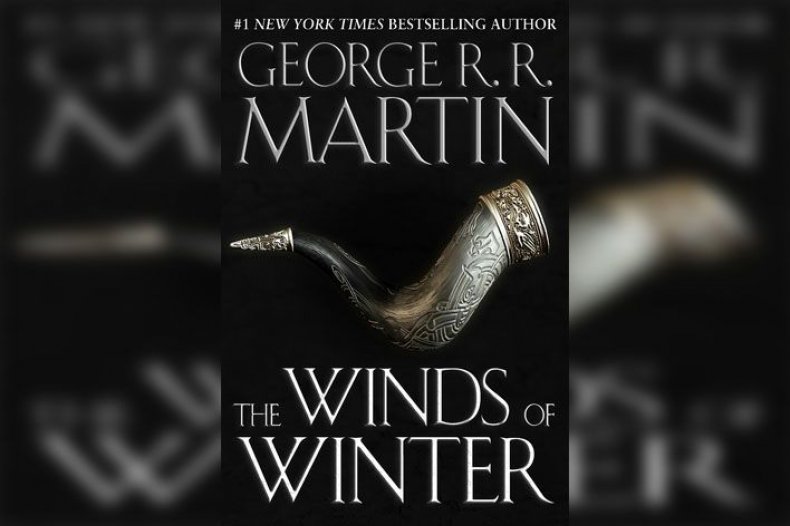 "I know there are a lot of people out there who are very angry with me that Winds of Winter isn't finished. And I'm mad about that myself. I wish I finished it four years ago. I wish it was finished now. But it's not. And I've had dark nights of the soul where I've pounded my head against the keyboard and said, 'God, will I ever finish this? The show is going further and further forward and I'm falling further and further behind. What the hell is happening here? I've got to do this,'" Martin told Entertainment Weekly this week, speaking in a past tense that hopefully indicates those dark nights are behind him.
Should it follow A Dance with Dragons' pattern, we can expect The Winds of Winter at the beginning of March, though a launch for just after or around the conclusion of HBO's Game of Thrones seems more likely. Editing Winds of Winter is likely to be a bear, so expecting it to drop before the April 2019 premiere date of Season 8 is probably wishful thinking. But what about that summer, in the post-Game of Thrones void?
"The show has achieved such popularity around the world, the books have been so popular and so well reviewed, that every time I sit down I'm very conscious I have to do something great, and trying to do something great is a considerable weight to bear," Martin told The Guardian. "On the other hand, once I really get rolling, I get into the world. The rest of the world vanishes, and I don't care what I'm having for dinner, what movies are on, what my email says or who's mad at me this week because The Winds of Winter isn't out. All that is gone and I'm just living in the world I'm writing about. But it's sometimes hard to get to that almost trance state."
What About 'A Dream of Spring'?
But while the near-completion of The Winds of Winter is huge news for readers, Martin's press blitz also revealed some bad news for those hungry to see how A Song of Ice and Fire ends.
"The Winds of Winter is next, then I'll decide what comes after that—whether it's to go on to A Dream of Spring, the last one, or whether I switch back into Fire and Blood II, do another Dunk and Egg story or two," Martin said, referencing his series of novellas following young Aegon V Targaryen, grandfather of the Mad King, whose reign of terror set in motion the events preceding A Game of Thrones . "But I'll worry about that one thing at a time. That's too far ahead."
For anyone hoping A Dream of Spring, the final novel planned in the A Song of Ice and Fire series, would follow hot on the heels of The Winds of Winter, Martin's uncertainty is bound to be a dash of cold water, especially for fans who bought into unfounded speculation that Martin planned a surprise double release.
While it looks like 2019 may finally bring us The Winds of Winter, the conclusion to the series is likely years away.