The mayor of Windsor, Canada said the trucker blockade at the U.S.-Canada border has not been cleared yet due to a "real threat of violence" from the demonstrators protesting COVID-related mandates.
"It's very frustrating because people just want us to go in and flush everyone out, and there's a real threat of violence here," Windsor Mayor Drew Dilkens told CNN's Kate Bolduan. "We've seen protestors come out with tire irons when the police attempted to tow a car. It could escalate very, very quickly."
"You have people on the ground who are so committed to this protest that they have expressed themselves, and said that they're willing to die for this particular protest," Dilkens said. "That amps up the temperature on the ground in a different way that requires a different police response."
The bumper-to-bumper Freedom Convoy protest at the Ambassador Bridge entered its fourth day on Thursday, causing further stress on an already fragile supply chain and prompting major car companies to shut down production on both sides of the border.
It is estimated that between 8,000 and 10,000 commercial vehicles cross the bridge to deliver $325 million worth of goods every day. The border crossing also carries a quarter of all trade between the U.S. and Canada.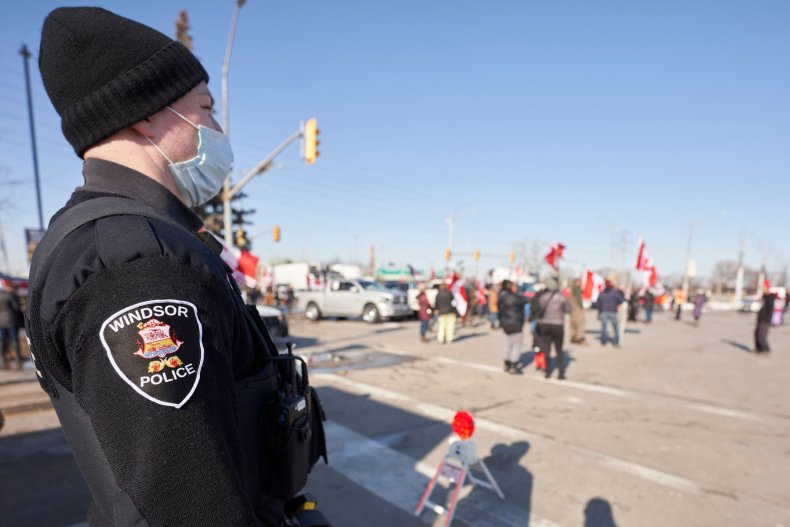 U.S. officials have called on the Canadian government to quickly deescalate the situation and reopen traffic, but Dilkens said it has been difficult to negotiate with the "leaderless" protesters because of a lack of unity among them.
"I can tell you that the hallmark of democracy in the United States or Canada is the ability to protest, the ability to express yourself. That's okay," he said. "What's not okay is to choke off and have an illegal blockade at the busiest international commercial border crossing between our two countries."
Dilkens said that while negotiations seem to be unproductive, local and provincial police are prepared to forcibly remove people from the blockade if necessary, stressing that neither country can handle "many more hours of shutdown."
"If there's no desire to leave, or willingness by these protesters to leave, they need to be removed," the mayor warned.
"We have called in and requested additional police support from the Ontario Provincial Police. They are starting to arrive now. We've requested some additional support from other police services. Those officers are coming into town as we speak and if the protestors don't leave, there will have to be a path forward," he said. "If that means physically removing them then that means physically removing them and we're prepared to do that."
Truck drivers in Canada have been demanding that the federal and provincial governments lift all COVID-related restrictions over the last two weeks.
The convoy, which was created in response to the federal vaccine mandate for cross-border truck drivers, left Vancouver for Ottawa last month over a week-long journey. Protesters have remained on Parliament Hill since arriving on January 28, creating a gridlock in the downtown core and causing disruptions for local residents.
They have refused to leave until their demands are left.