Windsor Mayor Says Police Cut Off Convoy Trying to Retake Ambassador Bridge
The mayor of Windsor, Ontario, said that police had intercepted a convoy of trucks allegedly traveling to the Ambassador Bridge on Tuesday, days after it reopened following disruptions by the Freedom Convoy protests.
Windsor Police Chief Pamela Mizuno said Wednesday that there were "six or seven" trucks about 155 miles from Windsor when authorities intercepted them on the 401 westbound freeway, The Detroit News reported.
Deputy Police Chief Jason Bellaire added that the drivers said they were going to the Canadian capital of Ottawa, which was in the other direction. Mizuno said that the convoy has since switched course and began traveling eastbound on the 401.
A key trade route between the U.S. and Canada, the Ambassador Bridge connects Windsor with Detroit. The bridge was one of several areas throughout Canada blockaded by truckers protesting COVID-19 restrictions in the country until it reopened for traffic late Sunday.
About $360 million is moved across the bridge every day, making up 25 percent of the value for all goods trade between the U.S. and Canada, Reuters reported.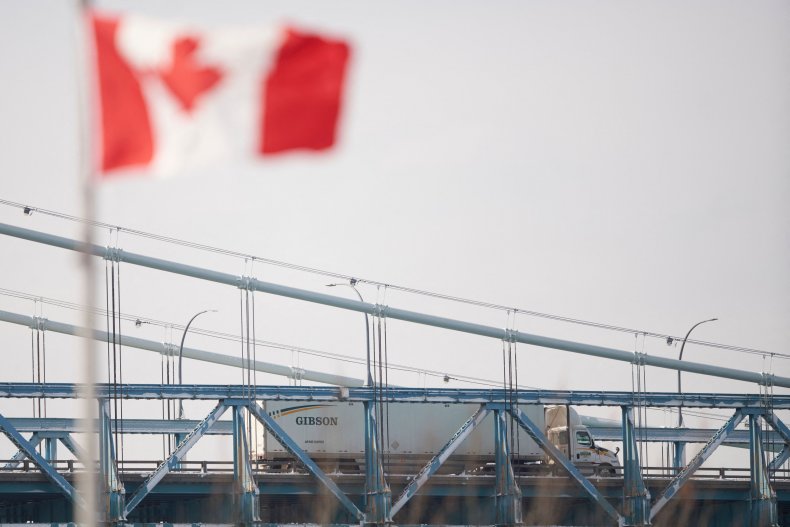 Bellaire said during Wednesday that he and other authorities were "very concerned" that there would be additional attempts to reoccupy the bridge, the News reported.
Windsor Mayor Drew Dilkens also said Wednesday that returning to the normal flow of traffic from before the Ambassador Bridge disruption was "not yet possible." Some barriers are still in place along Huron Church Road, which leads up to the trade crossing and was blocked for nearly a week by demonstrators participating in the Freedom Convoy.
Dilkens acknowledged residents and businesses "frustrated or upset" by the remaining barriers during the briefing, but said that they were still needed, the News reported.
"Let me be clear; this remains a national security situation that prevents police from simply reopening Huron Church Road to regular traffic at this time," Dilkens said.
Police arrested 46 people in Windsor and 37 vehicles were seized in connection with the protests and blockade at the Ambassador Bridge. Those arrests led to 90 charges, according to the Windsor Police Service.
Newsweek has reached out to the Windsor Police Service for comment, but did not hear back by publication time.
The Ambassador Bridge blockade has also had a severe impact on the auto industry. Anderson Economic Group, based in East Lansing, Michigan, estimated that the blockade caused a $300 million loss for automakers, the News reported.
This includes $145 million in lost wages, mostly in Michigan and Ontario.
Update 2/16/22, 5:25 p.m. ET: This story has been updated with additional information and background.