Best Wine Clubs to Subscribe to While Coronavirus Is Keeping You Trapped Indoors
You're stuck in the house and you're down to the last bottle of rosé. Now that, my friend, is truly a crisis.
Fret not, though!
The coronavirus pandemic may have you trapped indoors, hopelessly unable to search the streets for a bottle of quality vino, and the outbreak may have caused your favorite local wine shop to close for now (if they can't do delivery). But that doesn't mean your self-isolated, Kathie Lee & Hoda-inspired boozy mornings have to come to an end. You can always just join a wine club.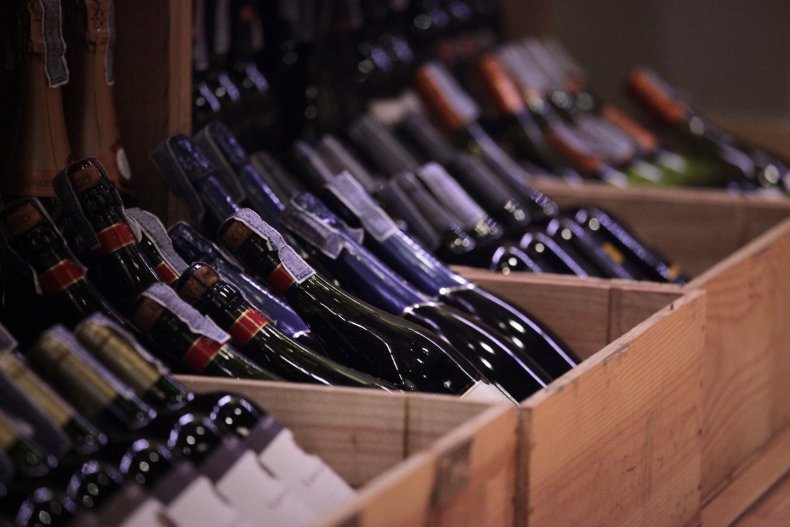 With a wine club membership, oenophiles not only get to have cases delivered directly to their door but they'll also have the pleasure of exploring an abundance of different varietals produced by winemakers that local wine shops and liquor stores may not be privy to.
And what's even better, there are several different wine clubs to suit a range of customers. Whether you're in the beginning stages of your wine journey or if you're a collector looking for a 2009 bottle of Château La Mission Haut-Brion Blanc, there's a wine club equipped to match your palate and your budget.
Check out a few of the best wine clubs to subscribe to below.
For the first-timer....
If all you really know about wine is that you like to drink it, then Firstleaf is the club for you.
Firstleaf is all about developing your palate based on the tastes and aromas you already enjoy. The club curators choose a selection of wines matched specifically to your individual taste profile, which they determine through a short quiz during sign up. Subscribers are asked to rate the wines they receive in their introduction box, which helps curators further refine monthly selections to better match a member's tasting profile. Each shipment of six bottles is just $90 a month, plus shipping. Club members can also visit Firstleaf's website and buy wines a la carte at any time.
For anyone short on time...
You're a wine drinker—a "Cava at breakfast, midday Viognier, love Cabernet Sauvignon for dinner but if we're having bolognese, Barolo please!" type of person. Except you just don't have the time to sort through labels and descriptions. You'd rather have someone handle all that for you.
If that's your prerogative, then get acquainted with Winc.
Easy to join and elegant, Winc offers several perks. And chief among them—aside from the the gorgeous and stylish bottles—is the vast vino library complete with more than 70 styles of wine from producers around the globe. Even if you consume wine on the regular, you'll likely be surprised and delighted by some of the under-the-radar brands and grapes found in each box.
All you have to do is answer six questions about wine to give curators some insight on your palate and then rate the wine that's sent in your first box. The more you rate your shipments, the better the wine coordinators at Winc can provide wines specific to your tastes. But the wine experts are also highly skilled at recommending delectable wines that may be outside your typical flavor profile, if you're up for exploring new and interesting wine varietals. Don't like a bottle included in your monthly box? No problem—Winc's satisfaction-guaranteed policy allows customer refunds on bottle recommendations that members don't enjoy.
The company also offers a pretty flexible membership. Club members can cancel their monthly subscription at any time, or they can skip a month at any time, free of charge. Although members will always receive a box of four wines, they won't pay a flat rate each month. Instead, Winc charges by the bottle, ranging from $13 to $40. Shipping is also included for those boxes that total more than $50 each month.
For the esteemed explorer...
Perhaps you're well acquainted with the world of wine. You buy it regularly and even have a collection going, but you're really interested in discovering small-lot gems and those rare bottles that are just impossible to find in a shop. With Wine Access, you won't just find them—they'll deliver specialty bottles to you four times a year.
Boxes are curated with six unique bottles hand-selected by master sommeliers and an International Wine Judge. Michelin-star somms and producers of some of the world's highest-rated wines also have a hand in selecting bottles that fill boxes throughout the year.
Members pay $150 per shipment, for four shipments a year, which also grants them exclusive access to tasting videos and profiles of each wine they receive. Their membership also grants them a 10 percent discount when they shop for individual bottles on the Wine Access website.
For the picky one...
If you're the kind of person that only likes to drink what you like to drink, Tasting Room has you covered.
Unlike other wine clubs, this is one that lets you sample the selections—all of which are curated based on responses from an incredibly detailed and specific tasting quiz—before actually sending you bottles.
Here's how it works: You'll receive a few mini-bottles to compare for a total of about $9.95—think Chardonnay versus Sauvignon Blanc versus Riesling—and tell the club which ones you like. Then you'll receive a full box of wine completely customized to your liking, limiting the odds of ever ending up with a grape varietal or bottle of wine you don't like. And if you do happen to get a full-sized bottle that's not to your liking, Tasting Room will do its part to accommodate you.
Along with setting the frequency of your shipments, you can also specify how many bottles you want to receive. If you want more reds than whites or vise versa, you can customize that too. Plus, you can preview the sample selections and full-sized recommendations before they're even sent to you.
For the dinner party planner...
Do you love hosting people at your place? Take pride in perfecting the intricate details of a dinner table floral arrangement? Do you scour the internet for recipes to impress your friends with and search for fun ways to fold fancy napkins?
Martha Stewart Wine Club has all the ingredients to help you wow your party guests. The wines are hand-selected by none other than the queen of all things home-related, and each bottle comes with pairings and entertainment suggestions created by Stewart. Shipments come with an assortment of red, white and rosé wines, and an occasional bubbly, straight from the company's cellar.
There are two types of memberships to choose from: six bottles every six weeks for roughly $8.33 per bottle, or 12 bottles every eight weeks for $7.49 a bottle.