You Can Actually Visit Every Vineyard in Amy Poehler's 'Wine Country' and We Have the Complete List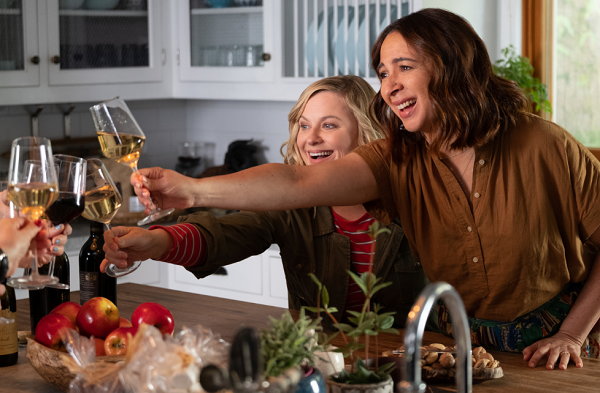 There is a place you can go where the wine pours are nearly limitless; a place where there are plenty varietals of grape-goodness that can fill your glass and your heart as you soak up the vast, green grandeur of rolling hills and sunshine. That place is Napa Valley.
The bountiful wine-scape within the Northern California region set the scene for the Amy Poehler-directed film Wine Country, which premiered on Netflix on Friday. The movie chronicles the trials and tribulations a group of girlfriends face within themselves and their sisterly group as they spend the weekend at a quaint yet lavish Airbnb surrounded by sprawling grasslands and vineyards. A few of Poehler's former Saturday Night Live counterparts and real-life gal pals join her in the film including, Rachel Dratch, Maya Rudolph, Ana Gasteyer, Paula Pell and Tina Fey.
While the witty past-middle-age wisecracks and fart jokes are free-flowing throughout the film, it's the cast's constantly-filled wine glasses that are the real standout.
The women took full advantage of the abundance of wine Napa Valley is renowned for, and there didn't seem to be a scene to go by that didn't include someone either pouring a glass of wine, drinking a glass of wine or—in the case of Rudolph's character Naomi's—doing a full-on Ross Test by taking a whole bottle to the face as Bon Appétit's Wine Editor Marissa Ross has so often encouraged on her Instagram.
The beautiful vineyards the group tours also take center stage. They visit several of them throughout the film—a few of which are also open to the public. Poehler revealed some of the film locations during a March interview with Wine Spectator. What's even better is three of the locations—Artesa Estate, Baldacci Family Vineyards and Quintessa Winery—are all within a 30-minute drive of each other.
Read on for more about each of the vineyards below.
Aresta Estate
While Poehler's character Abby notably referred to the white wine at Aresta as "white wine," Poehler was full of good wine descriptors during her interview with Wine Spectator. "They had an amazing vineyard and winery in Napa," she said of the vineyard. "The Albariño was fantastic. I'm trying to think of a better word. The Albariño was...the Albariño was playful, daring and not afraid to cause a scene, and I was all in on that. Loved it. Highly recommend."
Visitors can try the Albariño for themselves by booking a tour of the winery, which notably produces Chardonnay, Pinot Noir and Cabernet Sauvignon HERE.
Baldacci Family Vineyards
Established by Thomas and Brenda Baldacci more than 20 years ago, the winery offers three different types of experience for wine lovers. Those who live for deep, rich reds can choose the All Cabernet Tasting, which includes tastings of five different Cab Sauvs, or the Portfolio Tasting of five wines from all three of the Baldacci Family estates in Calistoga, Stags Leap and Carneros. The last option—Patio Tasting—is only available from May 1 to October 20 and allows visitors to taste through eight wines in the same outdoor venue where Poehler and the Wine Country crew filmed their visit. For more info on scheduling and pricing, check HERE.
Quintessa Winery
It was in the underground caves of Quintessa Winery where the friction among the Wine Country characters started to intensify. It was above ground, amid the 280 acres of Cabernet Sauvignon, Cabernet Franc, Carménère, Merlot and Petit Verdot vines, where Abby's drone photo moment was ruined. Victors can have a much more enjoyable experience by partaking in one of the three various tasting options at Quintessa. The Salon Tasting offers visitors a private seated tasting of three Quintessa varietals while the Group Estate Experience gives oenophiles the chance to walk the estate grounds and gravity-flow areas. The Quintessential Experience features samples of Quintessa's Illumination Sauvignon Blanc, 2016 Quintessa, two library vintages and barrel pours at a gorgeous window-to-ceiling pavilion on top of Dragon's Hill. A walk through the caves and gravity flow winery is also included in the Quintessential Experience. Tastings and tours can be booked HERE.