Missing Wine Country? Try a Virtual Wine Tasting For Your Next Vino Fix
There is an ethereal beauty in wine that expands far beyond the glass. It's not just notes of florals and stone fruits, blackberries and cherries, tobacco, limestone or slate that zing your palate every time you drink a red, white or rosé wine—it's the essence of adventure and discovery that you taste upon first sip.
More than just something to enjoy with a meal, wine itself is a journey. It starts with a seed that grows into vines which—after much tending, patience and hard work—eventually produces a fruit that can lead one down the luscious hills of Napa Valley, across the sprawling green flatlands of Bordeaux and even along the foothills of the Himalayas, the Andes and even beyond. All you need to experience such worldly wonders is a clean glass.
While some oenophiles have made the voyage to faraway lands to encounter the splendor of fermented grapes for themselves, in the times of coronavirus, it's a luxurious activity no one can enjoy in person. Border restrictions, shelter-in-place orders and social distancing have made sure of that.
However, some wineries are making the most out of the current circumstances and are allowing wine lovers to pleasure their palates without having to venture to France, Italy, California or any of the other many places where wine is made. In the digital age, wineries are bringing the places and the wine to the people.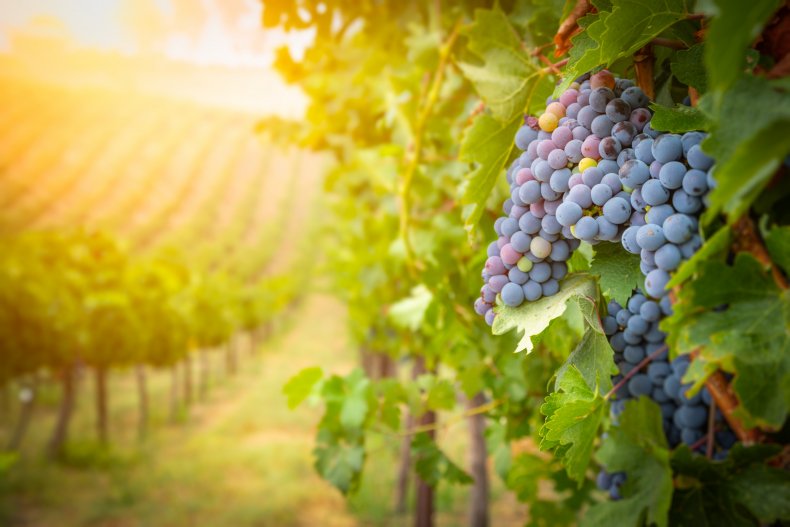 In light of the coronavirus pandemic, wine producers all around the world have given drinkers the chance to indulge in a roster of wine selections through virtual guided tastings led by sommeliers and winemakers alike, using web video apps and social media happy hours to connect with consumers.
All summer long, wine importer Vino Del Sol is giving drinkers a taste of Argentina by hosting several Instagram and FaceBook Live events. Slated to take place on social media every two weeks on Thursdays, each tasting will spotlight the grapes grown throughout the country and wines from a number of estates including Lamadrid, Puramun Valle de Uco, Bodega Tapiz and more. The next upcoming event, led by Altocedro Winery's owner Karim Mussi Saffie is scheduled for May 21 at 8 p.m. ET.
If you're looking to see new places and make new friends in a more intimate tasting, many wineries are using Zoom to bring small groups of drinkers to their tasting rooms. Gary Farrell Winery is among many allowing visitors access to its virtual tasting room regularly. The California winery is currently offering three tasting packages, during which guests—after signing up, purchasing and receiving wine packages via delivery—taste through a curated selection of wine from the producer's catalog like Gary Farrell 2016 Olivet Lane Chardonnay and Rochioli Vineyard Chardonnay, Fort Ross Vineyard Pinot Noir, Grist Vineyard Zinfandel and several others.
Along with tasting packages, the winery is also giving people a chance to dine with the estate's winemaker Theresa Heredia and sommelier Tiffany Kuhn in the new Sunday Supper Virtual Winemaker Dinner. Participants will receive wine and a detailed shopping list well ahead of the event and talk wine pairings with Heredia and Kuhn while they eat together via Zoom. Take a look at the winery's tasting offerings here.
Meanwhile, other wineries are taking a more educational approach with their virtual tastings.
Instead of just sipping wine with strangers on a video call, Wine.com is taking drinkers on guided journeys with question-and-answer-style webinars. Most recently, the online wine distributor's Director of Education and Content Gwendolyn Osborn hosted Domaines Barons de Rothschild Lafite chairwoman Saskia Rothschild, who gave viewers a virtual tour of a few wineries under her family company's umbrella in countries including Chile, Argentina and France. Rothschild discussed her family's lengthy winemaking history as well as the regions, wine-making processes and best pairs for bottles while viewers tasted through a number of wines including Chateau d'Aussieres Chardonnay, CARO Amancaya, Los Vascos Grande Reserve Cabernet Sauvignon, Chateau L'Evangile Blason de L'Evangile.
Wine.com webinars are also featured on the company's YouTube, so wine lovers can tune in and drink up—after ordering the wine, of course—at any time. But for folks who want to follow along in real-time, the next virtual tasting webinar will feature renowned French winemaker Gérard Bertrand, who will give viewers a lesson on all things biodynamic wine while tasting his winery's Château L'Hospitalet Grand Vin Rouge 2017. For more info on the event, check HERE.
So shelter-in-place orders may prevent us from traveling the great outdoors, but the wine industry is at least still some giving drinkers options to escape without having to leave the couch.