Sip and Binge: We've Got the Wine to Pair With Your Favorite Streaming Obsessions
It's another day of self-isolating at home, and there's no better place to curl up than on the couch, basking in the radiant light of the television screen.
By now, you could have become accustomed to this position—too accustomed. And who knows how long your new residence on the big comfy couch could last.? For most of us—depending, of course, on what state you live in—stay-at-home orders have been extended a few more weeks, and even those dates are susceptible to being pushed back. So on the couch it is, flipping through channels and streaming networks for something to help pass the time.
That routine can get a bit mundane, especially if you've been series-surfing for the past few weeks: Choosing a good show out of the hundreds of options gets exhausting. But there are some ways to add fresh excitement to your viewing habits. You can always sip on some quality wine while binge-watching. The right bottle of vino and a thrilling series can result in ultimate viewing pleasure if done properly.
To help take your mind off all the options and another week in the house, we've narrowed it down, pairing few binge-worthy shows with specific (and delectable) bottles of wine. Check out the TV and wine pairings below.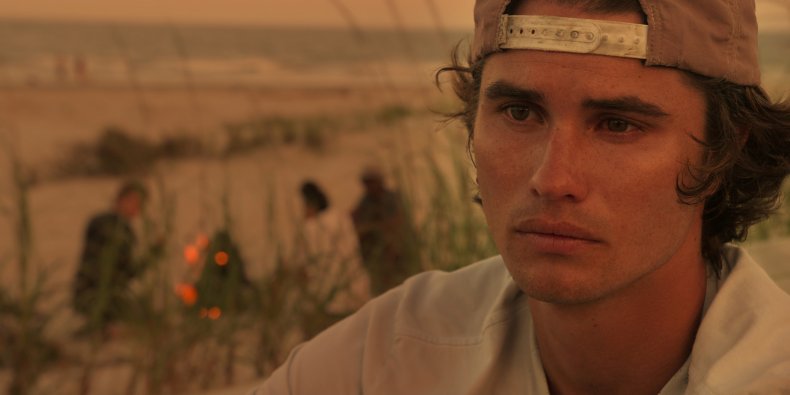 Adventure, mystery and the great big open sea. These are all components that embody not only Netflix's newest teen drama, Outer Banks, but they are also the elements that capture the pristine taste of Cloudy Bay's Sauvignon Blanc, a product of the coastal island beauty that is New Zealand. Intense and bright on the palate, it's a wine that becomes increasingly complex with every sip. It's a perfect match for an equally complex series that follows a group of surfer teens—series stars Chase Stokes, Madison Bailey, Johnathan Daviss, Rudy Pankow and Madelyn Cline—living in North Carolina's Outer Bank islands as they find themselves on a treasure hunt that leads to uncovering hometown secrets greater than gold. Wine retails for about $30.
Now here's a reality show to make you sweat. Sexy singles from all across the globe live together in a tropical paradise for summer with only one thing standing between them and a $100,000 prize: celibacy. No kissing, no petting, no self-isolated pleasure—contestants must abstain from anything that will impact their already raging hormones, or else the prize money will decrease. You'll need a thirst quencher while watching these hotties attempt to avoid temptation, and that's where Casa Di Malia Prosecco comes in. Crisp and ripe with citrus fruit flavors, it's exactly the bubbly splash of cool to fan down pheromones. Wine retails for about $16.
Zinging with notes of strawberry and passion fruit—what really makes this elegant rosé so captivating is it's surprising effervescence. Made with Portugal's popular Vinho Verde grapes, each sip of the still pink drink unravels with unexpected fizzy minerality resulting in a delectable taste that is as dramatic as the secrets and suspense that unfolds in Hulu's newest thriller starring Reese Witherspoon and Kerry Washington. Wine retails for about $15.
If you're going to watch a show about a black father living in luxury why not drink a wine made by one? Created by and starring Kenya Barris, Netflix's #blackAF is a satirical play on the award-winning writer's life at home with his wife and six kids. But the show isn't the cookie-cutter family-friendly series Barris is known for (i.e., black-ish, grown-ish and mixed-ish), in his Netflix spot, Barris plays a more unruly version of himself, griping through fatherhood and his place in the black entertainment zeitgeist. Meanwhile, Wade Cellars is the winery lovechild of another beloved entertainer or sorts: newly retired NBA star D'Wayne Wade. The company's Three By Wade Red Blend is a balanced yet structured mélange of Zinfandel, Syrah, Malbec and Petite Sirah that displays notes of black fruits, currants and baking spices that result in a sophisticated and enjoyable finish. Wine retails for about $35.
The Netflix series' second season release on the horizon, so there's no better time than to reacquaint yourself with Jen (Christina Applegate) and Judy (Linda Cardellini), the broodingly funny and slightly deranged comical duo of Dead to Me, a series about two women who meet in a grief support group become unlikely friends and essentially accomplices in a murder. You'll need something red and juicy to pair with all the blood that spills out in Judy's backyard in the Season 1 finale, like the Gamay used in Marcel Lapierre's Raisins Gaulois. Unlike the corpse the women must hide on the show, this wine is light-bodied and lively. It's incredibly fruit-forward and easy to drink, too. Wine retails for about $20.
Over the course of nine episodes, the Netflix docuseries tells the true untold stories behind eight cases of the Innocence Project, a sector of the nonprofit organization the Innocence Network, which fights for the wrongfully convicted. The eye-opening series shines a light on the dark truths and flaws within the American criminal justice systems and the people who suffer immensely because of the disparities within the system. A wine as bold and earthy as Skyside Cabernet Sauvignon may make the series' difficult revelations easier to swallow. Wine retails for about $23.