Alphabet's Wing Begins First Commercial Drone Delivery Service in U.S., Beating Amazon, Uber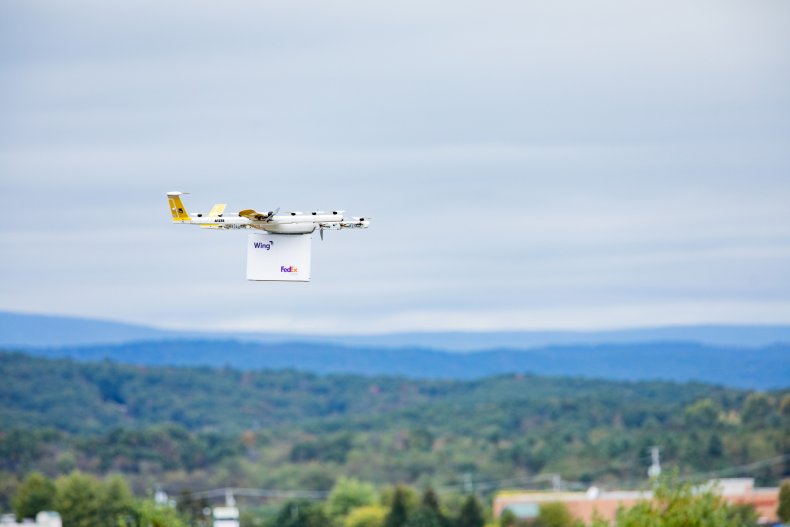 Wing, an offshoot of Google parent company Alphabet, officially launched its drone delivery service Friday, delivering a FedEx package—a birthday gift for Susie Sensmeier from her husband, Paul—through the air from a distribution center to the couple's home in Christiansburg, Virginia, according to the company's blog.
Wing was the first company to receive Federal Aviation Authority approval for door-to-door drone delivery, Business Wire reported Friday, beating Amazon's Prime Air, which is awaiting the "regulatory support needed to safely realize our vision," and Uber Eats' drone delivery program to market. The meal delivery service launched a test program in San Diego over the summer in partnership with McDonald's, but that project only uses drones for a portion of the delivery process, depositing packages at a drop-off point for collection and final distribution by a delivery person.
While "Uber is focusing on drone delivery in dense, urban environments" according to TechCrunch, Wing decided to launch its pilot program in small-town Christiansburg. Snuggled in the foothills of the Blue Ridge Mountains with a population of 22,000, Christiansburg describes itself as a "tight-knit community." Without high-rises or other obstructions, Wing's drones can fly from their "Nest" in North Christiansburg, pick up parcels from local retailers, and deposit them at the doorsteps of qualifying homes.
Along with FedEx, Wing will also deliver packages from Walgreens and local boutique Sugar Magnolia.
In a statement to Newsweek, Tom Raub, co-owner of Sugar Magnolia expressed delight at watching his products break new commercial ground. "We were at [the customers'] home when they ordered our products and watched with great excitement as the drone delivered their order about eight minutes later," he wrote.
Raub continued, pointing specifically to Wing's value-add for independent businesses like his: "We are thrilled, honored, and humbled to be the first small business in the United States to have our products delivered by drone. We are a purpose-driven company and our mission is to nurture the human connection and build community. The drone delivery program fits perfectly in our mission and is a unique way for us to reach a wider audience and invite them into our Sugar Magnolia family. With the future of retail being experiential, we recognize and have witnessed the amazing experience it is for our customers to have a drone deliver their orders."
Walgreens called the service "a piece of cake" in a Friday press release. At present, customers in the Christiansburg area can select products online—up to 3 lbs—or order from six ready-made packs for delivery by drone, including the "Kid's Snack Pack" containing crackers, pretzels, Red Bull, gum, an energy bar and other items; the "Baby Pack" to help parents care for under-the-weather children; and the "Cough/Cold Pack" just in time for flu season. Drone delivery is free during the pilot program, the release stated, but prescriptions are not available for drone delivery.
With a three-foot wingspan and weighing a little over 10 pounds, Wing drones can fly at speeds up to 70 miles per hour. While that combination could cause serious damage in the event of a crash, Wing has taken precautions that it hopes will avoid any safety issues. Notably, the aircraft are equipped with extra motors meant to prevent falls, and all flights are overseen remotely by certified pilots. Also, Wing drones don't land at drop-off sites; instead, they hover 23 feet in the air and lower their cargo to the ground on a tether.
Correction: Prime Air does not have a planned launch date.