Winn-Dixie Face Mask Policy: Grocery Stores to Require Masks From Next Week
Winn-Dixie grocery stores will require customers to wear face coverings in store. Southeastern Grocers announced the new policy shortly after previously saying that masks would not be mandatory.
In a statement issued on Monday, Winn-Dixie announced that it would be requiring customers to wear masks from July 27. The statement said: "Our communities count on us, and we are counting on our customers to show kindness as we go through these challenging times together.
"We believe that the enforcement should be placed upon our state and federally elected officials, and we will continue to work with our peers in the retail industry to advocate for this sensible mandate to be passed into law to remove the burden from employers and their heroic frontline associates."
Masks were already required in the majority of the grocery stores under either local or state government mandates, according to Winn-Dixie.
The decision to enforce masks came soon after the parent company announced that they would not be issuing a face mask policy.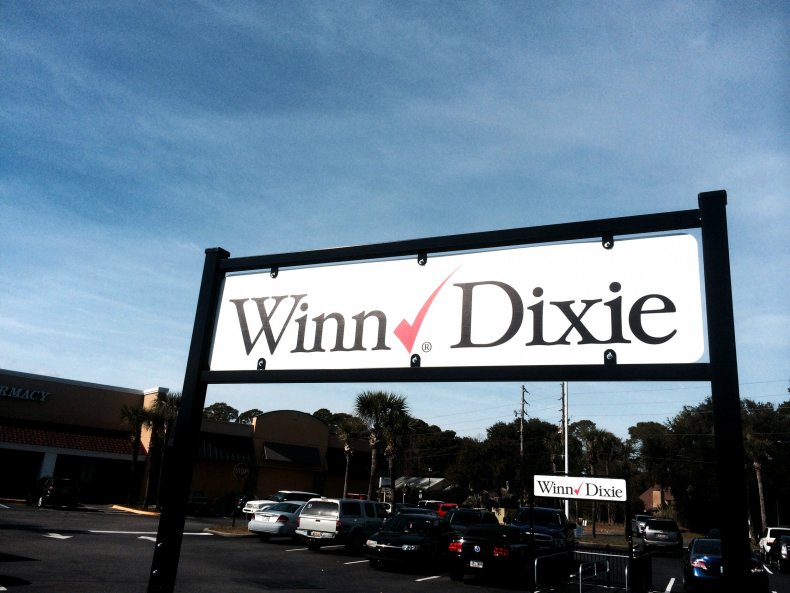 Over the weekend, Southeastern Grocers said it would encourage masks but was reluctant to enforce a rule due to the conflict that grocery store employees have experienced when dealing with customers who refuse to wear masks.
As reported by the Washington Post, Joe Caldwell, director of corporate communications and government affairs for Southeastern Grocers, wrote in an email: "Our associates have seen that mask mandates are a highly charged issue with our customers.
"We do not want to put our associates in a position to navigate interpersonal conflict or prohibit customers from shopping in our stores."
Caldwell said that the turnaround was due to customer feedback and was not related to President Trump sharing a photo of himself wearing a mask and declaring it patriotic. Southeastern Grocers' decision was announced around an hour after Trump's tweet.
Winn-Dixie joins a list of multiple major grocery store chains that are enforcing a face mask policy, including Whole Foods, H-E-B, Costco, Walgreens, Walmart, Sam's Club, Kroger, and Kohl's.
Winn-Dixie has stores in Alabama, Florida, Georgia, Louisiana, and Mississippi, so some grocery stores will not be affected by this recent announcement, as masks are already required.
Alabama has had a statewide mask mandate in place since July 16, which will stay in place until at least July 31, and Louisiana has had a statewide mask mandate since July 13, which is set to expire on July 24 but could be extended.
However, there is no statewide face mask mandate in Florida, only local guidelines that enforce masks, despite Florida being the epicenter of the coronavirus pandemic in the U.S.
Georgia residents and visitors are strongly encouraged to wear face coverings but there is no statewide policy. Governor Brian Kemp of Georgia also signed an executive order banning municipalities from enforcing their own face mask policies.
There is also no statewide mask mandate in Mississippi, but certain counties within the state do require masks.