NHL Team Cracks Aaron Rodgers Joke After NFL Star Reveals Jets Intention
Aaron Rodgers has disclosed his intention to play for the New York Jets next season and is now waiting for the Green Bay Packers to complete a trade.
The 39-year-old quarterback revealed his decision when speaking on Pat McAfee's podcast on Wednesday, after social media was flooded with the news that he would soon be a Jets player.
Following the announcement, one team was quick to share the news of his arrival. But it wasn't the New York Jets that gave fans the confirmation they had been waiting to hear.
The Winnipeg Jets, an NHL team, were one step ahead of the rest, with a glorious mock-up image of Rodgers wearing the team's ice hockey jersey. The caption read: "Confirming Aaron Rodgers' report."
The meme has been viewed more than 1.4 million times on Twitter, with many congratulating the NHL team for its reaction to Rodgers' stated intentions.
The joke was well received by many. One Twitter user said this could be the missing piece to get the team to the postseason, writing: "Decent pickup for the playoff run!"
Others congratulated the social media team, with one commenting: "Well Played Winnipeg....well played....."
The social media reaction came after Rodgers had declared on the podcast: "At this point as I sit here, I think, since Friday, I made it clear that my intention was to play, and my intention was to play for the New York Jets.
"I haven't been holding anything up at this point, it's been compensation that the Packers are trying to get. The Packers would like to move on, they have let me know that in so many words, and have let other people know that in direct words," he said.
This declaration came after Rodgers had spent time in a darkness retreat (a cabin built for prolonged isolation in the dark) so he could contemplate his future.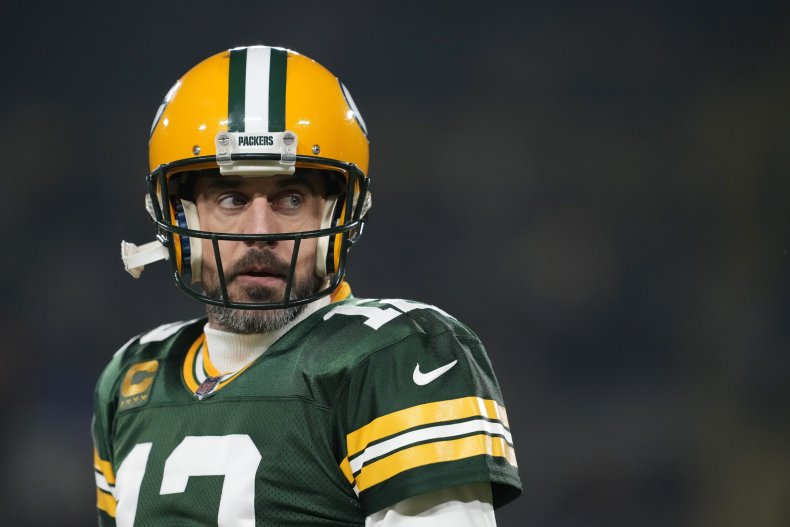 The quarterback said that before he went away he was 90 percent certain he would retire and walk away from the NFL.
But rather than being in the dark about his future, Rodgers came out realizing that he wanted to continue his career and that the Packers were not where he wanted to be, especially because he feels they have not indicated they want him back next season.
Rodgers also said he is not the only new face that should be walking into the Jets locker room during the offseason.
ESPN reported that he supplied the NFL team with a wish list of free agents that he'd like them to pursue and acquire.
On Rodgers' wish list is Odell Beckham Jr., along with wide receivers Allen Lazard and Randall Cobb, whom the QB played with in Green Bay, as well as Packers tight end Marcedes Lewis.
Do you have a tip on a sports story that Newsweek should be covering? Do you have a question about the NFL? Let us know via entertainment@newsweek.com.