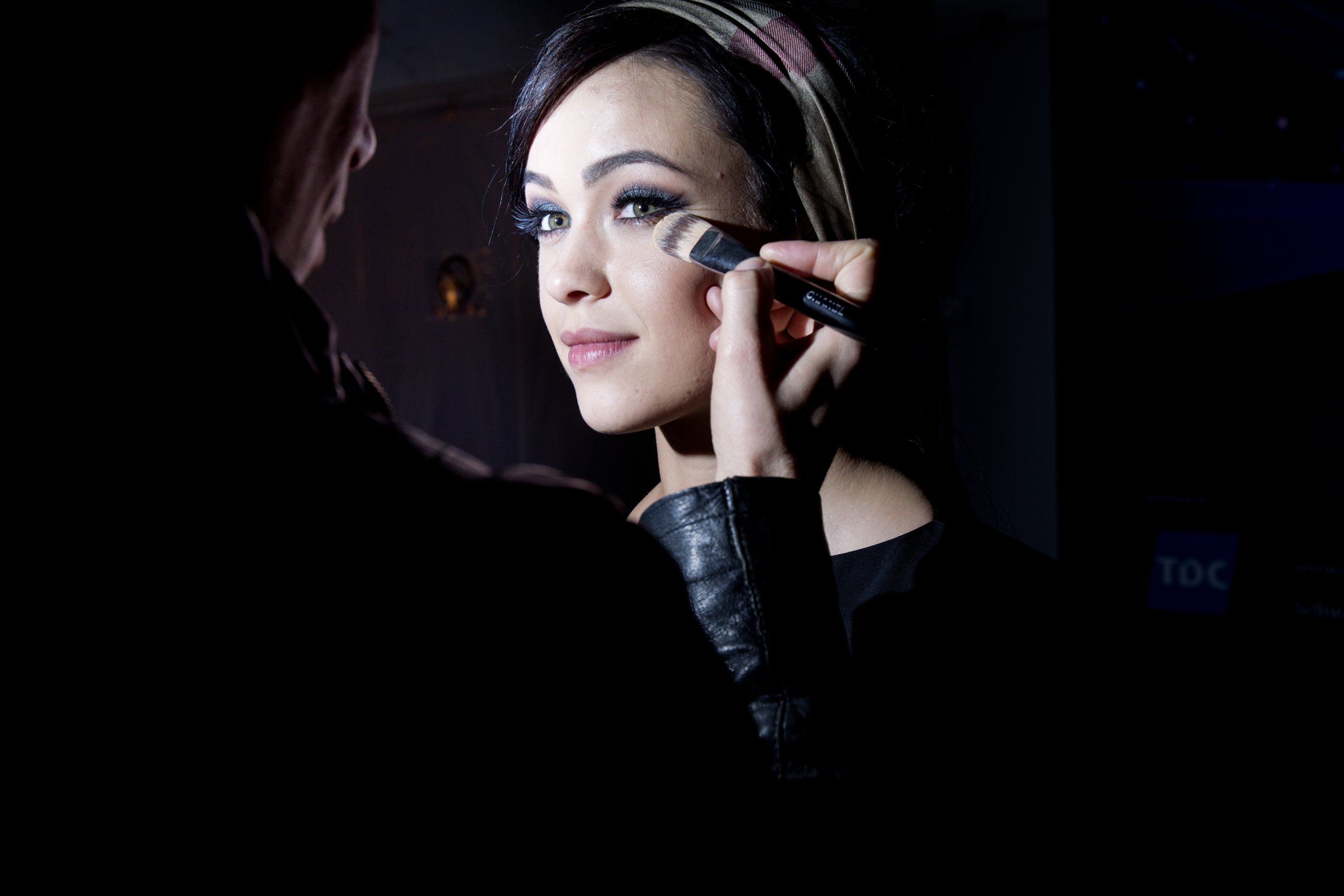 Ukraine's acting president, Oleksandr Turchynov, on the last day of April, has just admitted that the country's security forces are "helpless" in their efforts to quell pro-Russian rebels in the eastern regions of Donetsk and Luhansk. In Copenhagen, 1,335km away, Ukraine's 2014 Eurovision contestant, Mariya Yaremchuk, is making a statement of her own. Sitting on a bench on the rooftop veranda of the Phoenix Hotel, she wears a blue dress with a yellow coat. Depending on the vantage point, she sometimes -resembles a Ukrainian flag that's grown a head and two arms.
The 21-year-old singer motions for me to lean in closer: "You know what I've done today?" she says, clutching a yellow-and-blue ribbon. "We went to see the Little Mermaid. She has this stripe on her hand. She is Ukrainian now."
Despite her act of rebel tourism, Yaremchuk says she isn't political. She's spent the past thirty minutes talking about shopping for cosmetics and her misshapen right ear, which she compares to an elephant's. But whether she likes it or not, Yaremchuk will become a political symbol for Ukraine when she competes in the Eurovision song contest in Copenhagen. With more than 180 million viewers in 45 countries expected to watch this year's contest, journalists and politicians will dissect her every move and interpret it through the lens of tensions with Russia. How she fares against the Russian contestants (a pair of acid-blonde, 17-year-old twins known as the Tolmachevy Sisters) will signal where European sympathies lie.
Yaremchuk knows the score. She also understands the influence that Ukrainian Eurovision artists wield at home. She remembers when Ruslana became the first Ukrainian artist to win the contest in 2004. Dressed as Xena, the Warrior Princess, the singer bared her midriff and belted her way through a high-octane dance number called "Wild Dances". She returned home a national hero, became a figurehead of the Orange Revolution, and later a member of parliament.
"There is this very special feeling when you represent the country," Yaremchuk says. "You fight the strongest fight because you are fighting for your nation. I'm fighting for 46 million Ukrainians. I have to do it."
SERMON IN UKRAINE
21st Dec 2013, My apartment, southwest London. Four months before my encounter with Yaremchuk in Copenhagen, I'm sitting in my apartment watching a live web stream of Ukraine's Eurovision national contest. Twenty artists with names like neAngely (No Angels), Lissa Wassabi and Illaria are howling into the cameras. Illaria stands under a special light that makes her look radioactive. I find myself whispering, "You glow girl!" at the screen.
As the editor of wiwibloggs.com, the world's most-read independent Eurovision website, my diary revolves around these seemingly obscure contests. Our team of 30 bloggers – in places like Croatia, Hungary, Greece, and Romania – scour the internet in search of stories, and criss-cross the continent to attend the selection shows. For fans who attend these finals, and for aspiring pop stars dreaming of pan-European stardom, Eurovision becomes a religion, its songs a sort of holy scripture.
And on this morning, I watch Yaremchuk delivering her sermon. She's drenched in spray tan and her hair extensions could do with a wash. Male dancers in leather outfits brandish canes and she puts her hands in places that would make her mother blush. When I put the computer on mute, she looks like a drunk woman slurring into the microphone. When I turn the sound back on she still does: "Tick-tock, tricky, tricky, tock tock tock."
She wins Ukraine's vote in a landslide.
THE VIKING ROBOT
5th March 2014, Operaterassen Restaurant and Theatre, Stockholm, Sweden. Three nights before the final of Melodifestivalen – Sweden's national Eurovision selection event – the ten finalists have gathered in a swanky restaurant adjacent to the Opera House. The menu includes lobster bisque and roasted breast of guinea fowl with potato-truffle purée and pan-fried red cabbage. Helena Paparizou, who won Eurovision for Greece in 2005, has made the final in Sweden this year. When I hug her she smells of flowers; her foundation rubs off on my shoulder.
In Sweden, a country of 9.5 million people, Melodifestivalen is far and away the most popular show on television. The six-part series attracts up to four million viewers each week, or around 80% of the television viewing audience. In the months leading up to the contest, the country's top songwriters squirrel themselves away writing songs, hoping that their entry will be among the 32 semi-finalists selected from nearly 3,000 entries. The series holds immense sway over the Swedish music charts; in the week after the contest, the top four singles on the Swedish charts would be entries from Melodifestivalen.
The favourite this year is Sanna Nielsen, the Queen of Swedish schlager who is competing for the seventh time. Clearly descended from the Vikings, she's blonde, stands well above 1m 80 in a pair of heels and is wearing a white pantsuit with bright red lipstick. She's slightly robotic. I want to pour water on her to see if smoke will come out of her ears. The final takes place in the Friends Arena in front of 30,000 fans. Swedes cast a total of 3,273,285 votes. Sanna narrowly defeats Ace Wilder, a Swedish woman raised in Florida, by just 24,000 votes. On the plane ride back to London I sit next to a cage-fighting enthusiast. His neck is probably thicker than my thigh. He looks at the Melodifestivalen supplement I've pulled out of Sweden's Aftonbladet newspaper. "Ace should have won," he says, explaining that her song, Busy Doin' Nothin', is fresher with more edge. And what about the winner? "Poor Sanna. She looked 30 at 18."
A HOTBED OF SODOMY
5th April 2014, Stadsschouwburg, Amsterdam, The Netherlands. With the first semi-final one month away, the campaign trail is heating up. All 37 competing countries have picked their performers and 20 of the finalists have gathered in Amsterdam's Municipal Theatre to meet with bloggers and journalists. We're in a grand foyer. I see chandeliers, oil paintings and an Austrian drag queen named Conchita Wurst.
Part woman, part sausage, Conchita sports a beard and has already become a flashpoint in this year's contest. Last September, within three days of Austria's announcement that she would sing for the country at Eurovision, an anti-­Wurst Facebook group attracted more than 31,000 fans. Protesters in Belarus and Russia soon wrote to their respective governments asking that they edit Wurst out of their national broadcasts, saying she would help turn Eurovision into "a hotbed of sodomy".
By late March, Aram Mp3, an Armenian singer and the bookies runaway favourite to win, gets drawn into the fire. In a series of interviews in Armenia, he says that Conchita "is not natural" and that his team "will help her to figure out whether she is a woman or a man". He also says that he speeds up his car when passing through the Armenian capital's gay district.
Conchita is magnanimous: "He said some very awful things and I really have to talk to him about that because this is the reason I'm doing this," she says. "I want to show the world that if you want to be a bearded lady you are allowed to do it without being discriminated against."
Hours later, Aram Mp3 spots Conchita in a corridor. He hugs her and cameras flash. He compares her song "Rise Like a Phoenix" to a Bond anthem. They wish each other luck and blow a kiss to the cameras. Conchita heads back to the interview room. Aram heads to the toilet.
BURGER QUEEN
11th April 2014, Royal Vauxhall Tavern, London. Inside the Royal Vauxhall Tavern, a gay bar in south London, the floors are sticky and the clientele are getting trashed. Upstairs, in a dingy dressing room, Conchita is eating a hamburger. Seated in front of a large mirror, she wears pink and grey sweatpants and a black jumper. In the mirror she can see a reflection of tonight's costume – a black leotard with brass-studded shoulder pads – and the grease running down her beard.
Born Tom Neuwirth, Conchita grew up in a small Austrian village in Obersteiermark. He started cross-dressing as a child, and from an early age his classmates called him a faggot. Fire drills were a nightmare. "When everybody is on their feet and the whole school is in front of the building, nobody talked to me. I really felt stressed out all the time."
In 2011, Neuwirth competed on Die große Chance, the selection contest for Austria's Eurovision contestant, as Conchita. The version of Celine Dion's "My Heart Will Go On" proved to be a defining moment that led to other reality TV appearances. Eurovision has already turned Conchita into a gay icon, and she's headlined gay pride events and Eurovision parties in Stockholm, Berlin, Brussels, Dublin and beyond. I ask her about Tom. "Conchita does so many things that Tom wants to do but he could not because he is shy. Conchita is in my life because she expresses my beliefs better . . . there are so many things I can do because of her."
WILLIAM VS THE TWINS
26th April, 2014, Westminster Tower, London. I'm sitting alone on the eighth floor of a London broadcasting tower staring at a picture of myself on a TV monitor against a background of the Houses of Parliament and Big Ben. The lights are hot and my forehead is shiny. The monitor is pointed at me like a gun.
I can't see them, but three time zones to the east in a Moscow TV studio, a live television audience is erupting into hysterics as Anastasia and Maria Tolmachevy, the twins singing for Russia, walk into the studio to film a special programme about their journey to Eurovision 2014. Their parents and grandparents sit with them on the stage, while the audience waves red, white, and blue balloons.
One month earlier, the girls had released a video for their entry "Shine" – disposable pop about love and perseverance. But the song seemed to hint at Russia's territorial ambitions. The lyrics read like a veiled love letter to Crimea: "Living on the edge/ closer to the crime/ cross the line a step at a time . . . Maybe there's a place/ maybe there's a time/maybe there's a day you'll be mine." Singing with total commitment and dancing in matching white dresses with black hearts, the twins look like poster children for Putin's ­revitalised Russia.
I'd thought the title of my blog post – "Do the Tolmachevy Sisters Support the Annexation of Crimea?" – was sufficiently tongue-in-cheek to avoid backlash. But it seems something was lost in translation. The Russian media report that I believe the twins are deliberately provoking Ukraine and I'm invited to appear on this show. I feel as if I am about to be fed to the lions.
Back in the Russian studio, the host builds sympathy for the twins. We learn that Anastasia is eight minutes older than Maria. Producers flash pictures of them as toddlers contrasted with images of Conchita naked in a bathtub of rose petals. Guests speak of "a sickness in the West" and claim that the Tolmachevys will cure the world with their purity and innocence.
The commentator addresses me: "William, there is no mention of Crimea in the song. Why did you write this?" I explain that Russia is in a difficult position: journalists will interpret any song it sends to Eurovision through the lens of current events. I add that Russia's Eurovision producers probably understood the ambiguity of using the word "crime". I keep it to myself that Russia may not be able to count on support from voters in the former Soviet Republics this year. Or that votes cast from mobile phones in Crimea may still count as belonging to Ukraine.
When they ask me what the Tolmachevy Sisters can expect at Eurovision, I channel Miss Universe, saying that Eurovision is one of the happiest places on earth and that the girls will receive a lot of love. They'll certainly come off as relatively innocent: most of their competitors wear skirts that stop well north of their knees. The host approves of this: "Now there is one less Western journalist against us," he says.
"I HURT HIM A LOT"
28th, April 2014 The Press Centre, Eurovision Island. The three live shows that make up Eurovision will take place in the B&W Hallerne, a hastily renovated industrial complex in Copenhagen where ships were forged in the 1960s. It looks like a giant slab of raw concrete. A Bangladeshi journalist and I end up parking in a neighbouring housing estate, where 20-somethings are smoking pot and drinking beer on a stoop. They kindly guide us through a hole cut out of a metal fence.
I spend the first day watching rehearsals. The Estonian contestant Tanja appears to have escaped from the Cirque du Soleil. Wearing white lingerie and a white sarong, she maintains pitch perfect vocals while a male dancer throws her around like a volleyball and spins her around his neck. Afterwards she tells me that the song is about her "magical connection with dreams". Her dancer represents this magical ability. "I hurt him a lot," she says of their four-hour rehearsals, which have taken place every day for the past two months. "He got kicked in the head, in the face, and everywhere . . . it's the artist's life."
For her song "Tick Tock," Ukraine's Mariya Yaremchuk appears on stage next to a giant hamster wheel. A man is running inside it as she does her best to writhe and rhyme: "My heart is like a clock/ I'm steady like a rock/ Sch, don't stop/ kiss and kiss me till I drop." I'm watching alongside a press attaché who represents one of the Balkan contestants. "Mariya's red and black dress is so dark," he says. "Black for death, red for blood. The spinning wheel is never-ending war."
THE PIMP SPOT
29th April 2014, Press center, Copenhagen. Rob Furber sits in the press center jotting down notes and crunching numbers. For Furber, who is the editor of EntertainmentOdds website, the Eurovision season represents a sizeable chunk of his annual income. "I have a betting bank of $135,000," he says. "That's my war chest and my aim is a minimum of 25% return on investment."
He rests his black-rimmed sunglasses on the top of his head, and when he talks about betting odds he sounds like Paul Newman in The Hustler.
Furber began betting in 2010 and has turned a profit every year. He bets on the outright winner, but focuses on "real value bets" in more than 20 other markets – including on who will finish in the top three of the first semi-final and which Balkan entry will be the highest place. He doesn't see Conchita as a winner, but is backing her to finish in the top three of her semi-final: "I knew the money was going to come for Austria," he says. "I bet big and early, and have watched the price collapse."
One of Furber's cleverest bets was to back Greece to win its semi-final in 2011. He got odds of 66:1, and made almost $7,000. It wasn't just a lucky break. Among other things, Furber delved into historical voting data (finding that Greece could depend on votes from Albania and Spain in its semi-final), and assessed the show's running order (Greece was performing last, in what he calls "the pimp spot").
He's made so much money that several betting sites have banned him. "I have to use other people to place the bets for me. I have friends who open accounts. They give me their username and password and I use a proxy server to hide my IP address. Now I'm even having those accounts closed."
MY DRAG SISTERS HATE ME
30th April 2014, St Petersburg, Russia. Newspapers around the world publish excerpts of a letter written by Vitaly Milonov, a St Petersburg politician, to Russia's Eurovision selection committee. In it, he calls on them not to send contestants to Copenhagen this year.
"Even just broadcasting the competition in Russia could insult millions of Russians," the excerpt says. "The participation of the obvious transvestite and hermaphrodite Conchita Wurst on the same stage as Russian singers on live television is blatant propaganda of homosexuality and spiritual decay."
Conchita probably hasn't had time to read the news. That morning she stands on stage in a hip-hugging sequin gown for her first rehearsal. During a press conference afterwards a journalist dances around a question of where she stores her genitals during her performance but, out of embarrassment, turns it into a question of how she squeezes into women's shoes. "I have tiny feet," Conchita says. "My drag sisters all hate me."
CHERRY BLOSSOM
30th April 2014, Phoenix Hotel, Copenhagen. When I step onto the hotel terrace to meet Yaremchuk, she's seated on a throne-like bench in front of a cherry blossom tree. She's travelled to Copenhagen with an entourage of 30 people – choreographers, videographers, stage directors, stylists, and make-up artists. She spots me, squints her eyes, and starts asking about a poll on our blog called "Eurovision's Next Top Model". Some 80,000 votes have been cast and she's trailing Romania's singer by more than 4,000 votes.
"The Romanians are playing dirty," she says. "Why aren't I winning?"
I explain that the Romanian contestant has posted the poll on Facebook and Twitter. She yells at her entourage: "Why didn't I post this on Facebook and Twitter?"
THE RED CARPET
4TH May, 2014, Copenhagen City Hall. After a year of preparation, the mayor of Copenhagen stands on the steps of City Hall to officially open the Eurovision Song Contest 2014. A red carpet stretches from one end of the square to the grand entrance of the building, where contestants will gather for cocktails.
As well as the 37 songs Europe will hear in the coming days, tonight's clothing choices reflect varying notions of good taste. Armenia's Aram Mp3 looks like a golf caddy in a green Burberry blazer. Ireland's Kasey Smith seems to be ­wearing little more than a white napkin. The four members of Pollapönk, an all-male punk band from Iceland, appear in brightly coloured dresses. "We are here on the red carpet supporting women all over the world," the bearded one in pink says. "Mothers, women, sisters, daughters."
Ukraine's Yaremchuk is the last contestant to arrive. She has kept a low profile over the past 48 hours — since dozens of people died in Odessa after ­skirmishes between Ukrainian and Russian activists. Her eyes are particularly smoky this evening. She and her entire entourage are wearing black.
"Symbolically we wear black clothes and black ribbons to express solidarity for the mourning in Ukraine and to express respect for all the suffering," she says. "Our hearts and our souls are now in Ukraine with our people. We feel a lot of sadness."