Government Shutdown Ends With One Clear Loser: Democrats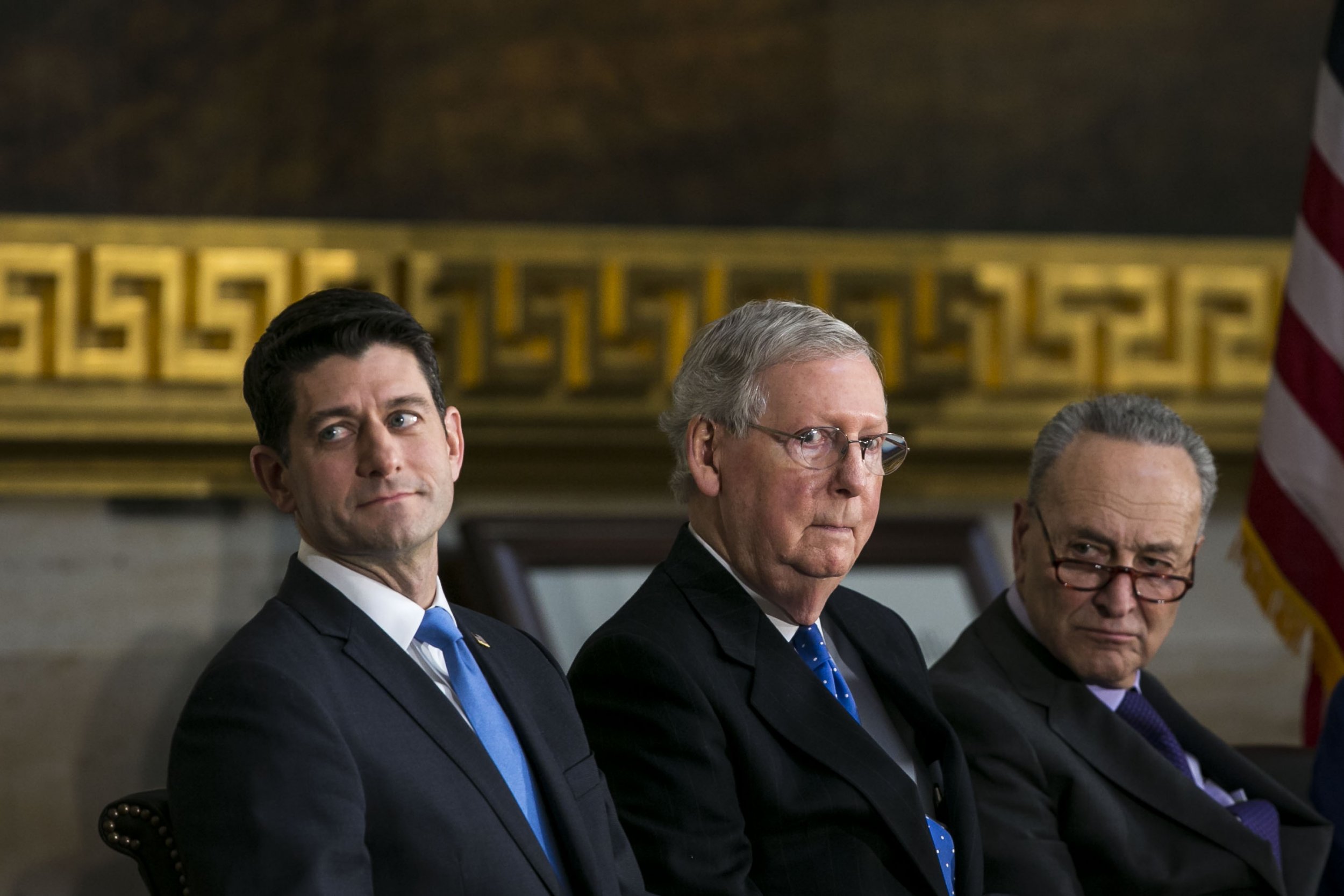 Senate Democrats bowed to Republicans and agreed to measures that would fund the government through February 8. There are winners and losers on both sides of the agreement:
LOSERS
The Democrats
The Democrats essentially shut down the government to fight for young immigrants covered under the Deferred Action for Childhood Arrivals program—and then decided to reopen the government three days later without any deal to help said immigrants.
Senate majority leader Mitch McConnell is now on the record promising a vote to protect the immigrants, known as DREAMers, but promises can easily be broken, especially in McConnell's case. In exchange for her vote on the Republican tax plan, McConnell promised Senator Susan Collins that he would pass legislation to stabilize health insurance premiums before the end of 2017. He did not follow through on that promise.
The deal also exposes a growing divide between the center-left and progressive factions of the Democratic party. Even House minority leader Nancy Pelosi is speaking out against the deal, "I don't see that there's any reason — I'm speaking personally and hearing from my members — to support what was put forth," she said at a press briefing after the deal was passed.
"Today's cave by Senate Democrats — led by weak-kneed, right-of-center Democrats — is why people don't believe the Democratic Party stands for anything," said Stephanie Taylor, co-founder of the Progressive Change Campaign Committee in a statement.
President Trump
Republicans and Democrats made it clear that President Trump not only hurt government funding negotiations, but was also likely responsible for the shutdown.
The president's muddled views on the Children's Health Insurance Program and the U.S.-Mexico wall kept both parties on their toes, causing Senate Minority Leader Chuck Schumer to say that negotiating with the president is like "negotiating with Jell-O."
McConnell suggested on Wednesday that the president's mercurial nature was hurting congressional negotiations. "I'm looking for something that President Trump supports, and he has not yet indicated what measure he is willing to sign," he said. "As soon as we figure out what he is for, then I would be convinced that we were not just spinning our wheels."
Senator Lindsey Graham took to the floor Wednesday to deliver a message to the president, "What I saw Tuesday was a man that understood what America was all about," he said. "What I find today is complete chaos."
Also, the president had to skip his big inauguration anniversary celebration at Mar-a-Lago.
DREAMers
The 800,000 young immigrants protected under the Obama-era DACA program are once again facing an uncertain future, with possible deportation to country's they have never known. Democrats had said that they would not vote to keep the government open until their protection was guaranteed, but ended up capitulating only with a promise from McConnell that a vote will come within the next three weeks.
"Unless Speaker Ryan also agrees to allow a vote in the House, Mitch McConnell's hopes and intentions are worthless," Representative Julian Castro tweeted.
TOO SOON TO TELL
2020 Democratic hopefuls
Seventeen Democratic Senators voted against Senate minority leader Chuck Schumer's deal to keep the government open; several of them, including Cory Booker, Kamala Harris, Kirsten Gillibrand and Elizabeth Warren, plus Independent Bernie Sanders, have likely aspirations to run for president in 2020.
"The Majority Leader's comments fell far short of the ironclad guarantee I needed to support a stopgap spending bill. I refuse to put the lives of nearly 700,000 young people in the hands of someone who has repeatedly gone back on his word," tweeted Harris, staking out turf.
WINNERS
The Republicans
McConnell gets to keep his title as most cunning man in Congress. McConnell told the Senate that it was his "intention" to bring a DACA bill to the Senate floor and that was enough for Democrats to pass a resolution to keep the government open. Even if McConnell does bring the vote to the floor of the Senate, there's no guarantee it will pass.
McConnell appears to have taken the reigns from the president, and was able to negotiate a deal that Trump couldn't. Congressional Republicans appear stable and savvy in this outcome, making them winners.
Come 2018 they can now point to this negotiation and say that Democrats caused a shutdown, and they were able to talk them out of it without giving an inch.
Stephen Miller and John Kelly
Immigration hardliners and Trump advisers Stephen Miller and John Kelly have made it clear that when it comes to the executive branch, they're in charge. The two successfully worked to foil Republicans and Democrats from coming together on a plan that would aid immigrants.
"Every time we have a proposal it is only yanked back by staff members. As long as Stephen Miller is in charge of negotiating immigration, we're going nowhere," Graham said during negotiations.
Not only did they get a deal that benefits their views on immigration, but they've proven that they have the ear of the president and successfully moved Republicans to the right on the topic.
Federal Employees
All furloughed federal employees will be back to work tomorrow, and will continue to receive benefits and a full paycheck. Oversight agencies will also be back at full-capacity, keeping American workers safe from potential hazards.
This guy
A San Francisco writer snapped a picture on Monday of a shuttered entrance to Yosemite National Park. But the gatehouse will soon be open.