Winnie-the-Pooh Illustration Breaks Auction Record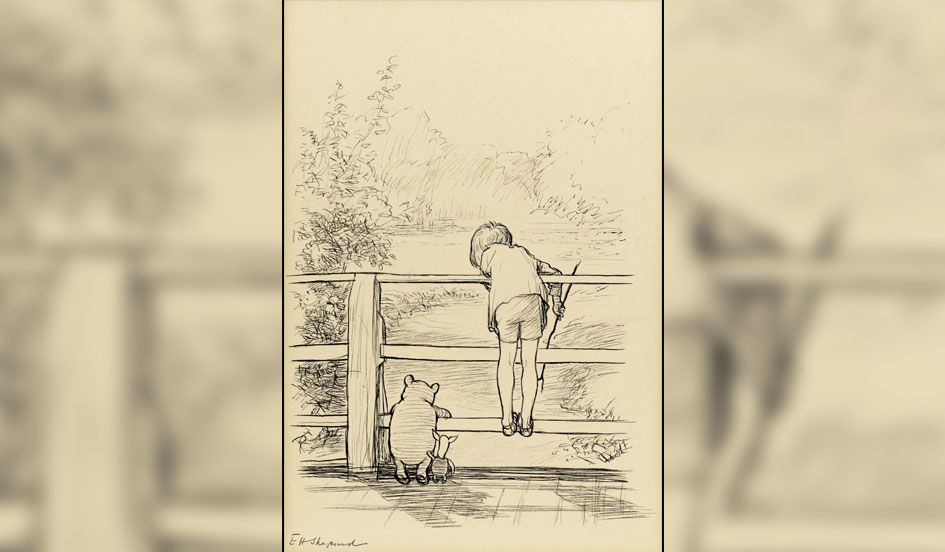 It's a treasured image from a beloved story.
In E.H. Shepard's illustration, first published in A.A. Milne's The House at Pooh Corner in 1928, Christopher Robin, Pooh, and Piglet stand on 'Poohsticks' bridge. Christopher perches on the bottom rung of the fence, clutching the rail with one arm and a stick with the opposite hand as his companions look on.
The drawing graced the pages of several subsequent editions. On Tuesday, the original ink version sold in a Sotheby's auction in London Tuesday for £314,500, breaking the world record for any book illustration sold at auction, according to the auction house.
"Unseen in public for 40 years, we knew that this drawing would really capture people's imagination, but today's result exceeded all expectations," Philip Errington, director of books and manuscripts at Sotheby's, is quoted as saying in a press release announcing the sale.
"The illustration is central to the Winnie-the-Pooh books and in turn has become one of the most familiar cultural references of the 20th century."
The drawing was one lot in a packed auction of English literature, history, children's books and illustrations which took place at Sotheby's in London Tuesday afternoon local time.
Other items included more illustrations by E.H. Shepard, a handwritten manuscript from poet and writer Dylan Thomas (sold for £104,500), dozens of works by artist and designer Eric Gill, a 1632 folio of Shakespeare's works (£74,500) and a pencil drawing by Charlotte Bronte (£13,125).
The record-breaking illustration appears in chapter six of Milne's book as the characters play a game called 'Poohsticks.'
"And that was the beginning of the game called Poohsticks, which Pooh invented, and which he and his friends used to play on the edge of the Forest," writes Milne in the beloved children's classic. As the chapter comes to an end, it reads: "For a long time they looked at the river beneath them, saying nothing, and the river said nothing too, for it felt very quiet and peaceful on this summer afternoon."
The bridge in the story is based on a real one originally called Posingford bridge at Hartfield Farm in Sussex, England. It was restored by Milne's son Christopher—the inspiration for the children's book character of the same name—after falling into disrepair. At the 1979 ceremony to reopen the bridge, Christopher Milne reportedly said it was ""as important a bridge as any in the world."
All sales prices include the auction house's premiums, or commission, on sales.