The LA Lakers' story is so much deeper than just basketball according to the cast of the new HBO comedy drama Winning Time.
To use its full title, Winning Time: The Rise of the Lakers Dynasty, is set in the late '70s and early '80s and tells the story of how owner Jerry Buss reinvigorated the franchise and the NBA as a whole. John C. Reilly, Sally Field, Adrien Brody, Gaby Hoffmann, Jason Segel and so many more recognizable names appear in this sports biopic.
The team behind the show also recruited some incredible unearthed talent with Quincy Isaiah playing Magic Johnson, Solomon Hughes playing Kareem Abdul-Jabbar while DeVaughn Nixon plays his real-life father Norm Nixon.
Created by Max Borenstein and Jim Hecht, the behind the camera team also includes Adam McKay (Don't Look Up) who produces and directs the first episode, which will air on HBO on Sunday, March 6.
Ahead of the start of the exciting new show, Newsweek spoke to the cast and creators of Winning Time: The Rise of the Lakers Dynasty.
Meet the Busses
Reilly leads the cast as the soon-to-be owner of the LA Lakers Jerry Buss, joined by his accountant mother Jessie Buss, played by two-time Oscar winner Field, and his intelligent daughter Jeanie Buss, played by Hadley Robinson.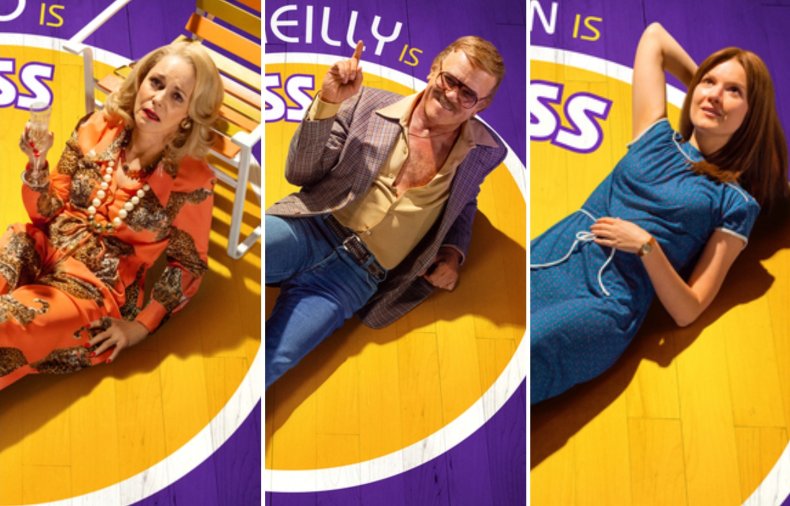 A movie star making a rare appearance in a TV series, Reilly told Newsweek: "I'm at this point in my life as an actor where I try to pick things that are true to real life, as opposed to like violence has no consequence or more kind of phony movie stories.
"I think this really tells the truth about human beings, what it feels like to win or lose and what it feels like to subject your family to the ups and downs of your career."
In a shoot that was interrupted heavily by the COVID-19 pandemic, Reilly admits he's not rushing back to watch the show for himself just yet. "I had such a wonderful experience making it," Reilly said. "But it was so intense and emotional, and it required everything that I had to pull this off. I'm not in a hurry to watch another version of this, other than the one that exists in my heart."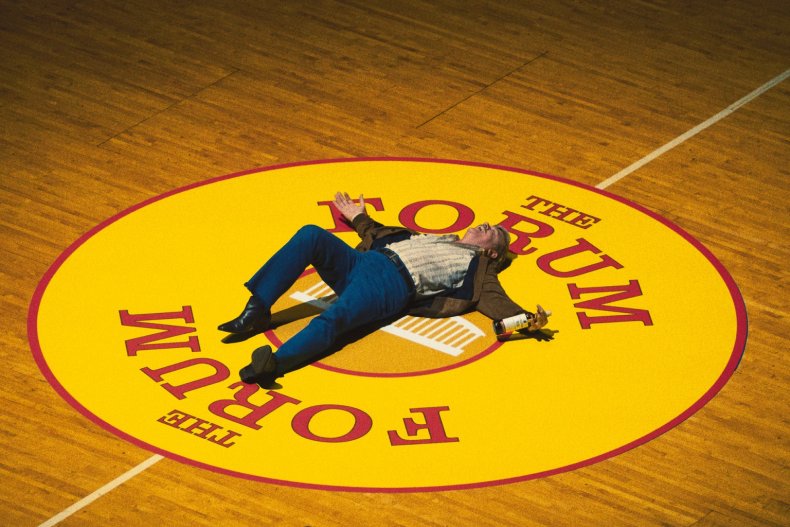 Field can pretty much choose any project she wants and admits there was a major selling point to help sign her up to Winning Time. She told Newsweek: "They had me at Lakers, because I'm a huge fan. And to take a look at LA and the culture of LA in the late '70s, early '80s, I was there.
"It takes a look at so much, it takes a look at business, it takes a look at sports and the weight of it. It covers a lot of territories, like all of these families. Not just Jerry's, but all of the coaches and players."
"There's so much excitement and it moves to quickly," Robinson added when discussing the first time she read the script for Episode 1. "This script with Adam [McKay's] work and these producers and everybody on the cast, I just had high hopes. Sports is just the vessel to explore so many different types of themes too."
More Than a Basketball Biopic
"Saying this show is about basketball is like saying Mad Men is just about advertising," Hoffmann told Newsweek. "It's a great tactic. It's a key to a door that opens up a really wide view of the human experience, and it's such a smart way of doing it."
Hoffmann plays Claire Rothman, an underappreciated behind the scenes staff member at the LA Lakers who has to deal with casual sexism and patronizing attitudes from her male co-workers.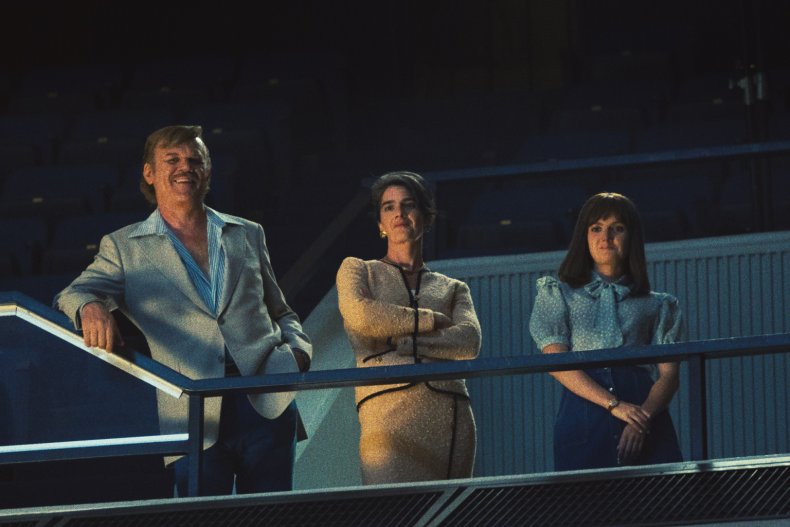 "The thing that's interesting to me about all of these shows, is not the details of the behavior in these specific times. I mean, they're fun, they're interesting, they're juicy, but it's that the human experience is always the same." Hoffmann said. "Watching the first few episodes, I realize like, 'Oh, this is like Shakespearean what they're pulling off here.' There is a big dramatic stage, the stakes are high, and the characters are outrageous."
The Lakers story isn't all told from the behind-the-scenes perspective though. Rodney Barnes wrote a lot of the episodes and admits he's seen too many basketball biopics done badly—a mistake he could correct. He told Newsweek: "I've seen a lot of bad, or just limited, basketball, TV shows and movies where the players were relegated to the verb of what they did. They didn't get a whole lot of story, it was pretty one dimensional.
"Here we had an opportunity to really add dimension and scope to the guys that played the game and that was important to me. We're able to talk about race, racism, drug addiction, but we do it in such a nuanced way that speaks more to a human being."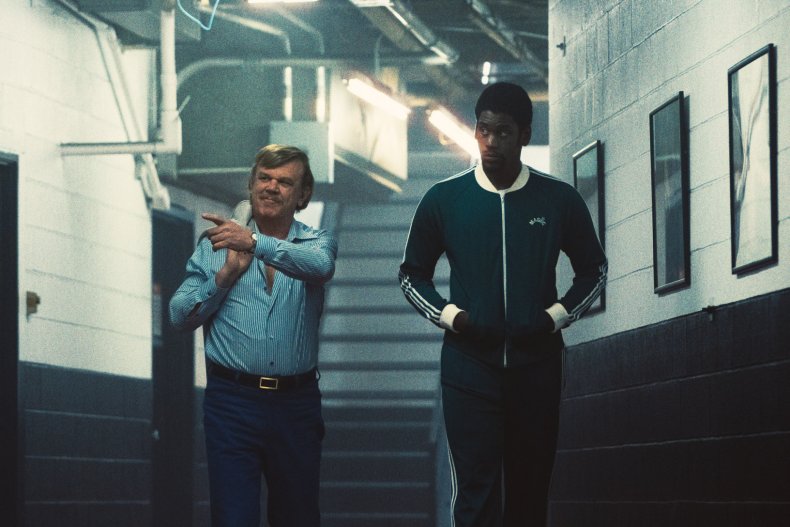 The series is actually based on Jeff Pearlman's book Showtime: Magic, Kareem, Riley, and the Los Angeles Lakers Dynasty of the 1980s, and Winning Time's co-creator Borenstein explained why the story deserved a TV adaptation. He said, "I didn't realize until reading Jeff Perlman's book and looking into the era more that was really the moment where sports and entertainment collided and merged. The extent to which that transformed both the NBA and American and global culture, I think is impossible to deny and ignore."
Tracy Letts, a Pulitzer Prize and Tony Award-winning writer in his own right, appears as the mercurial coach Jack McKinney. He's admittedly a "harsh critic" when it comes to reading scripts, but once he sat down to watch the pilot which had already been shot, he knew Winning Time was the project for him. He told Newsweek: "The pilot was so good, so much fun, so interesting, the writing was so compelling. I couldn't believe how well done they were. Later Max [Borenstein] and Rodney [Barnes] told me the reason they were so good was because they had time to polish the scripts in the pandemic."
Newsweek will continue to cover Winning Time: The Rise of the LA Lakers as the show continues on HBO, bringing you new interviews from the cast and creators of the show.