An unknown actor, a Ph.D. and an NBA star's offspring were recruited to play some LA Lakers legends in the new HBO biopic Winning Time: The Rise of the Lakers Dynasty.
Adam McKay produces the new show which stars John C. Reilly as Jerry Buss, the owner and eventual legend of the LA Lakers basketball franchise. Created by Max Borenstein and Jim Hecht, Winning Time tells the story of how the Lakers became one of the most successful teams in NBA history throughout the '80s.
In order to tell the story convincingly, the producers needed to cast people to play iconic players like Magic Johnson and Kareem Abdul-Jabbar. Fortunately, after a nationwide search and some outside-of-the-box thinking, Winning Time found their guys.
Newsweek spoke to cast members Quincy Isaiah, Solomon Hughes and DeVaughn Nixon to discover the unique stories behind their casting in Winning Time: The Rise of the Lakers Dynasty.
Quincy Isaiah — Earvin 'Magic' Johnson Jr.
Winning Time begins with the signing of Magic Johnson in 1979, which proved to be the springboard for the LA Lakers' success. Johnson will be an integral part of the TV show so the casting agents needed to find someone who was as talented, tall and charismatic as the young Magic.
After a nationwide search, they found the actor Quincy Isaiah, who previous to Winning Time, didn't have many acting credits to his name.
"I did have an IMDb page, it was just blank," Isaiah told Newsweek. "But that's part of it, you know? It's like, creating your own opportunities and really trying to speak it and push things into existence before they're there, and inventing yourself."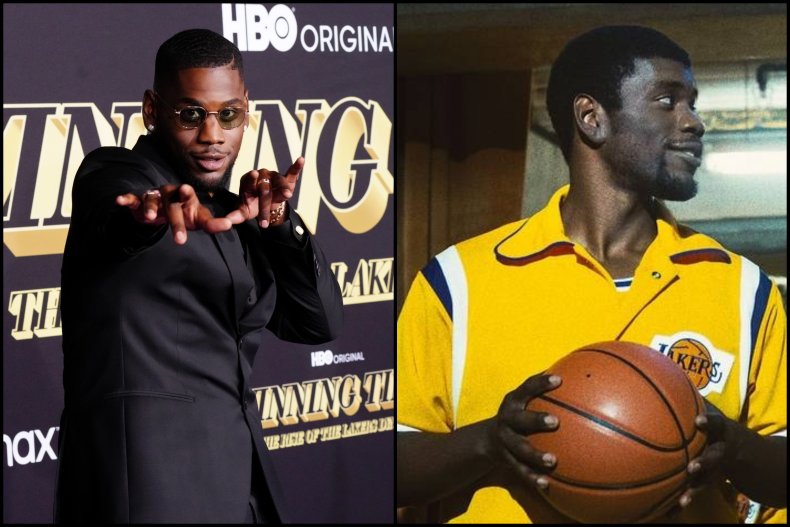 Isaiah moved to Los Angeles to try to break into the business. He signed up to Actors Access to build up a portfolio of videos, which eventually landed him an agent who sent him to auditions.
"I didn't book anything, but then this comes along and it's the biggest role of a lifetime. So it's one of them things where everything just kind of lined up how they were supposed to for my career, and it ended up paying off," Isaiah said.
One of the Winning Time writers, Rodney Barnes, is full of praise for Isaiah's performance as Magic because the two have so much in common. He told Newsweek, "To find a guy that not only can play the game of basketball, but also act and has the spirit of Magic Johnson and that smile, that's Quincy. And that attitude is 24/7. It's not just acting, that's him."
Co-creator Borenstein remembers receiving Isaiah's audition. "We got a tape from somewhere in Torrance, California from this young guy, Quincy Isaiah who was just beginning to pursue a career as an actor" Borenstein told Newsweek. "There was something about him, his smile, his charisma and his talent, he was clearly a very talented actor. We brought him in and we discovered he's also a tremendous guy, really bright, really warm, really hard working and extraordinarily talented."
Solomon Hughes — Kareem Abdul-Jabbar
There are not many actors on television who get a role in a major HBO show despite having no previous acting credits to their name—there are even fewer who have a Ph.D.
Solomon Hughes Ph.D. is a 43-year-old university teacher who was drafted in to play the imposing NBA legend Abdul-Jabbar in Winning Time.
Speaking to Newsweek, Hughes said, "Since college I've always aspired to creatively express myself in the realm of like, TV or film. So when the casting call came along, like honestly, I was just so excited to get the opportunity to do an audition." After he sent a self-tape in to the producers, they flew him down to LA for an in-person meeting. "We were through the roof, me and my wife. We said 'this is a win, this is a win, you get to audition, you get to meet Adam McKay'."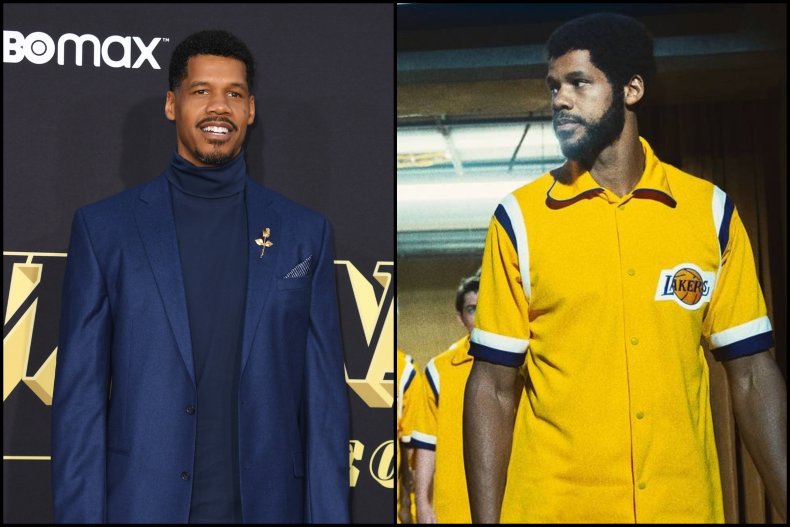 Hughes continued, "Then to come into this community of these brilliant actors, like Jason [Clarke] and Adrien [Brody] and John [C. Reilly] and Quincy [Isaiah] etc. — I've used the word surreal. I've overused it, but I can't think of anything that really captures what it felt like.
"I've joked with friends that I feel like somebody slipped something in my drink back in 2019 and I'm on this psychedelic journey right now. But oh, my gosh, such an incredible incredible experience," he said.
Borenstein couldn't believe his luck when someone tracked Hughes down. Not only was he intellectually a match for Abdul-Jabbar, but he had superb basketball prowess too.
"That intellectual weight that Kareem Abdul-Jabbar has is something that you can't act. You have to bring some element of your personality." Recalling the phone call, Borenstein said," They say, 'Well, there's a guy, he's never acted before but he has a doctorate in education policy, and he teaches at Stanford, and he played on the Cal Berkeley basketball team and he's almost seven foot tall' and we thought to ourselves 'Are you kidding me?'"
DeVaughn Nixon — Norm Nixon
It could be said that DeVaughn Nixon literally got the role he was born to play as he's portraying his real-life father, NBA legend Norm Nixon.
DeVaughn didn't get the role for his likeness alone though, as he is an actor in his own right after starring in recent projects like Marvel's Runaways and NCIS.
"It was an honor playing him, it was pretty cool," Nixon told Newsweek, on playing his dad in Winning Time. "When I first heard about this role, I was like, 'This is my shot. This is it right here'."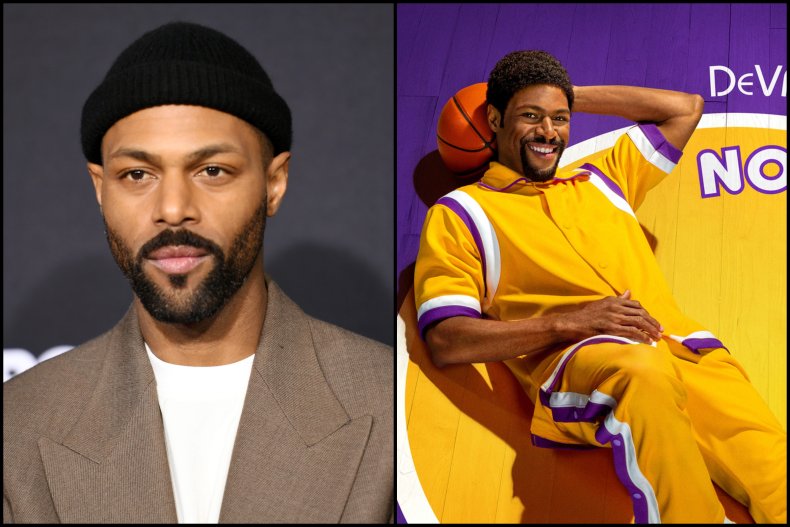 Nixon wasn't the only one going for the role within the Nixon family though as he faced stiff competition from a familiar face. "I auditioned against my brother funnily enough. He didn't really have any acting experience, he's done a couple of things but he's a brilliant comedian. We had a silent battle but it was all love in the end."
After landing the job, Norm Nixon had some advice for his son. "He told me 'Make me look good. Don't make me look silly out there'," DeVaughn recalled. "He helped me out. He came down to the court with me, Quincy and Delante [Desouza] and he was open arms, talked a little trash to all of us but showed us some drills. I appreciate him for that."
Episode 1 of Winning Time, "The Swan" is available to watch on HBO Max now. New episodes air on HBO every Sunday.