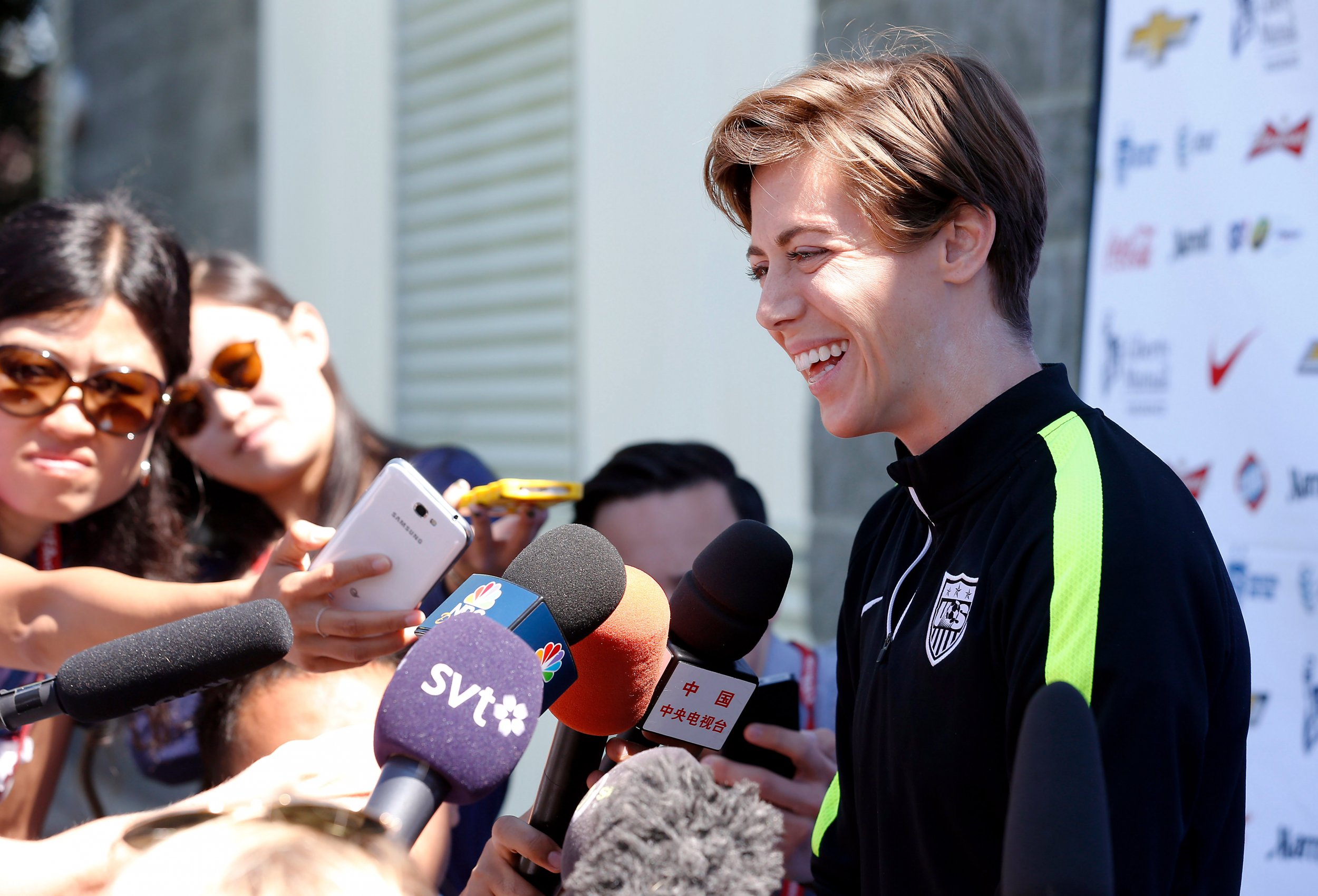 Heading into Friday night's World Cup quarterfinal match versus China in Ottawa, the U.S. women's soccer team seems determined to apologize its way all the way to a title. "We know that it's not our best," midfielder Carli Lloyd said Wednesday, referring to a squad that had gone 333 minutes without allowing a goal in Canada. "We know that we're capable of so much more."
This is a new one for the sports pop psychologists: women being the objects of scorn because of their body-of-work image. Team USA has allowed just one goal, to Australia, in four matches thus far, and yet its performance has received only slightly more favorable reviews than United Passions. (That would be the FIFA-endorsed biopic of Sepp Blatter that did $918 at the box office in its opening—and closing—weekend earlier this month).
"The performance was pathetic, and it's not the players' fault," said Fox soccer analyst Eric Wynalda, a former U.S. men's national team member, following the women's disjointed 2-0 round of 16 defeat of Colombia on Monday. "We have plenty of players who can score goals, but the reins have been pulled on them."
The object of Wynalda's, and other analysts' scorn, has been manager Jill Ellis, an English native who was named head coach in May 2014. After Ellis said she was "pleased" with her team's play in the win against Colombia, Michelle Akers, who played on the 1991 U.S. squad that won the inaugural World Cup, became unhinged. "If she is pleased with the way we played tonight, then what the hell is she doing coaching our U.S. team?" said Akers in a radio interview. "Do you know what I'm saying? This is frustrating. Heartbreaking."
It's been a curious month for women's soccer coverage stateside. When the U.S. opened the tournament on June 8 against the Matildas, as the Aussies are known, the preponderance of stories concerned the vexing question of whether Hope Solo should be in goal for the Yanks. In terms of talent, Solo's a keeper in every sense of the word.
However, Solo has a domestic violence charge dating back one year that is still pending in court. It was a bizarre incident that involved Solo, who is 5 feet 9 inches and 150 pounds; her half-sister, Teresa Obert, who is 10 years older; and Solo's nephew (not named), who at the time was 17 but stood 6 feet 8 inches and 270 pounds.
With each clean sheet, or shutout, that came at the expense of Sweden, Nigeria and then Colombia, the hue and cry against Solo's presence in goal has diminished. Other issues have filled the drama void, though, while the Americans continue their trek through the Great Whine North.
Abby Wambach, the squad's grande dame at age 35, has been heard to squawk both about the fields of play (all artificial turf) and the officiating. After Monday's match, in which two of her teammates, midfielders Megan Rapinoe and Lauren Holiday, were sent off with their second yellow cards in as many games, resulting in one-game suspensions, Wambach suggested referee Stephanie Frappart had an agenda.
"It seemed like she was purposefully giving those yellow cards to the players she knew were sitting on yellows," Wambach said.
Wambach is the all-time leading goal scorer in international play, man or woman, with 183, but she has scored just once in this World Cup. On Monday she sliced a penalty kick wide of the net. Perhaps Wambach, like her teammates, is simply frustrated with the squad's output—six goals in four games—but such displays are unflattering. Who wants to watch a team brood its way to a World Cup final?
The manager, Ellis, has imposed both a defensive philosophy and formation, a 4-4-2, and unlike some of her players, is not altogether concerned with the integer on the right side of the hash mark in the score as long as it belongs to her side and it's higher than the one on the left. "This is the World Cup," Ellis said after Monday's 2-0 defeat of Colombia. "I'm really satisfied with advancing."
When the U.S. won its two World Cup titles in 1991 and 1999, the United States was far more advanced in terms of team sports than most other nations. The pack has since caught up (psst: Mia Hamm has retired), and the Yanks have failed to advance to the World Cup final in two of the past three tournaments. They lost to Japan on penalty kicks in 2011. This year, Team USA entered the tournament ranked second in the world by FIFA, between Germany and France, who will meet in a knockout match on Friday afternoon.
"In order for us to win this thing, in order to show the world what we've got," said Lloyd, "we've got to take some risks at some point."
Perhaps. But holding opponents to zero goals is also a workable M.O. Or, as defender Meghan Klingenberg says, "we've gotten the result that we've needed to get every single game we've played."
The most indelible image in the history of women's soccer, if not all of women's sports, has to be this one of Brandi Chastain of the United States women's soccer team exalting in her goal that clinched the 1999 World Cup at the Rose Bowl before the largest crowd (90,185) to ever attend a women's sporting event.
While it may not have been the first time a female striking a pose in a two-piece made the cover of Sports Illustrated (and Newsweek), Chastain's photo is as much a sociological landmark as Muhammad Ali's hulking form above the prone figure of Sonny Liston. Everyone recalls the Chastain photo. Few remember that it happened only after 120 excruciatingly prudent minutes of play against China that resulted in a 0-0 draw.
The U.S. won that World Cup on penalty kicks.
"If we keep teams to zero goals and only score one per game, I wouldn't say that's a deficiency," says Klingenberg. "I'd say that's winning."
Correction: This article originally incorrectly stated that Abby Wambach of the United States had yet to score a goal in the 2015 World Cup. Wambach scored in a match versus Nigeria.
Uncommon Knowledge
Newsweek is committed to challenging conventional wisdom and finding connections in the search for common ground.
Newsweek is committed to challenging conventional wisdom and finding connections in the search for common ground.
About the writer
John Walters is a writer and author, primarily of sports. He worked at Sports Illustrated for 15 years, and also at NBC Sports where he won two Sports Emmys for his on-air writing at the Athens and Beijing Olympics. He has also worked at AOL Fanhouse and The Daily, as well as waited at a popular Manhattan steakhouse. Walters is the author of The Same River Twice: A Season With Geno Auriemma and the Connecticut Huskies. He is the founder of mediumhappy.com, a pop culture blog that he updates daily. He holds a B.A. from the University of Notre Dame, where he studied pre-med and rowed crew.