Winter COVID Surge Starts Hitting States With High Vaccination Rates
Experts have been warning about a winter surge in COVID-19 cases and an early increase in case numbers indicate the next wave could even impact states with high vaccination rates.
Michigan, New Hampshire and Minnesota are leading the United States in most COVID-19 cases per 100,000 over the past seven days. Both Minnesota and New Hampshire have fully vaccinated more than 70 percent of their adult residents, and Maine, where more than 80 percent of adults are fully vaccinated, is starting to see a concerning rise in cases.
Maine Governor Janet Mills attributed the surge in cases largely to unvaccinated individuals and said the state is seeing higher case rates in counties with lower vaccination rates. While the same is somewhat true for New Hampshire–that counties with lower vaccination rates are seeing upticks in cases–that's not always the case.
New Hampshire has the second-highest number of COVID-19 cases in the country and that surge is highest in the city of Nashua as well as Coos and Sullivan counties, according to data from the New Hampshire Department of Health and Human Services.
Both the city of Nashua and Coos County have an average percent positive rate of 14.5, significantly higher than the state's overall percent positive rate of 9.4. The data provided by the state separated Nashua from the rest of Hillsborough County, where it is located. According to state data, the rest of Hillsborough County without Nashua has an 11.5 percent positive rate.
Nashua has the seventh-highest vaccination rate in the state and Coos County has the sixth.
Sullivan County, with a 13.9 percent positive rate, isn't far behind in cases and has the second-worst vaccination rate, just above the city of Manchester.
Grafton County, which has the highest county vaccination rate in New Hampshire, is seeing the lowest number of COVID-19 cases, something that isn't entirely surprising. However, the city of Manchester has fewer cases than more than 50 percent of the state's counties despite having the lowest vaccination rate.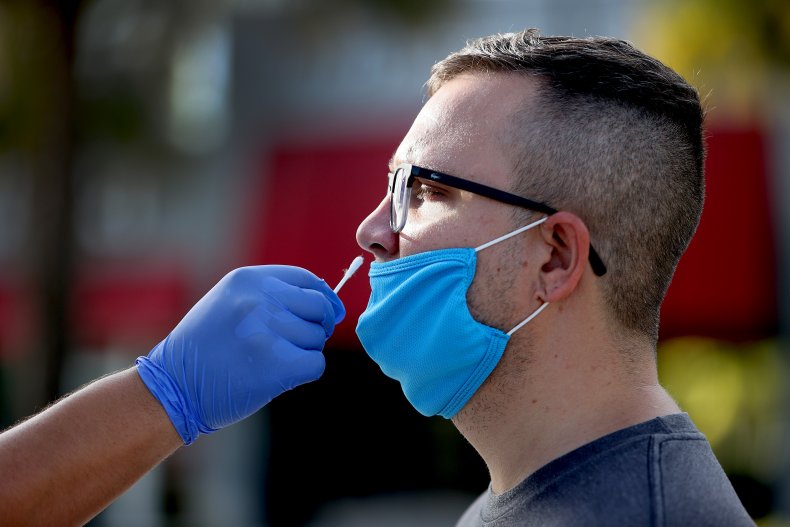 On Tuesday, New Hampshire Governor Chris Sununu announced he sees a "bumpy road" ahead as cases surge and said the next few weeks will be "very telling."
"COVID is not gone," he said. "I know we're all tired of it. But we have to stay vigilant on it, we really do. It's when we become lax that we start to see those numbers skyrocket."
Cases are expected to trend upwards for the next two to four weeks, something that Sununu believes will put a "lot of pressure" on the state's hospital system. He signed an executive order to help increase hospital capacity by adding beds in non-traditional spaces and rehabilitation centers.
Of the 10 states with the highest COVID-19 cases, only two states–North Dakota and Alaska–aren't seeing an uptick in cases, which indicates they could be on the tail end of their surge.
Only two of the top 10 states for COVID-19 cases that are seeing an uptick in cases have vaccinated fewer than 70 percent of its adults, according to data from the Centers for Disease Control and Prevention (CDC). Arizona and Michigan have vaccinated 65 percent of their adult population, according to a tracker maintained by Brown University.
Three other states with the highest number of COVID-19 cases–New Mexico, Wisconsin and Colorado–have all crossed the 70 percent threshold with fully vaccinated adults.
Five of the 10 states with the highest number of COVID-19 cases––Maine, New Hampshire, New Mexico, Colorado and Minnesota––have vaccinated more than 60 percent of their total population, regardless of age.
While unvaccinated people are more likely to fuel surges in cases and hospitalizations, Dr. Anthony Fauci, director of the National Institute of Allergy and Infectious Diseases (NIAID), warned vaccinated people could be at risk in looming waves.
Fauci said at the STAT Summit on November 16 that America is going to see more breakthrough infections because of waning immunity from the vaccine and the highly transmissible Delta variant.
"The somewhat unnerving aspect of it is that if you keep the level of dynamics of the virus in the community at a high level—obviously the people who are most vulnerable are the unvaccinated—but when you have a virus as transmissible as Delta, in the context of waning immunity, that dynamic is going to negatively impact even the vaccinated people," Fauci said.
New surges in cases come as people nationwide prepare to gather for the Thanksgiving holiday, which helped fuel a spike in COVID-19 infections last year. Officials have also warned that the winter surge in COVID-19 cases could coincide with an increase in flu cases, making it all the more important people get inoculated against the flu.