How Bad Will Winter Be? Winter Forecast, Outlook for 2018-2019 Season, NOAA Report
The latest forecast update for winter was released by the National Oceanic and Atmospheric Administration Thursday. Those who are already dreading the coming cold might be in luck, as much of the continental United States is expected to see a mild winter for the 2018-2019 season.
The winter outlook covers December through February, and for those months, there are above-average temperatures expected across the northern and the western part of the country. Alaska and Hawaii can expect above-average temperatures as well. This covers a large portion of the country and in other regions, mainly the Southeast, Tennessee Valley, the Ohio Valley and the Mid-Atlantic have equal chances of seeing below average, near average or above average temperatures. No region is expected to see below average temperatures for the winter months.
The updated outlook also included the predicted precipitation and possible drought conditions for the winter months. "Drought conditions are a significant concern in large parts of the west," Mike Halpert, deputy director at NOAA's Climate Prediction Center, said on a call with reporters Thursday.
Drought conditions are already present in some regions but are expected to continue through the winter months in the Southwest, Southern California and the central Great Basin, central Rockies, Northern Plains and even parts of the Pacific Northwest, NOAA said. There were a few areas where the drought conditions might improve though, such as in Arizona and New Mexico, along with a few other areas.
Where there is no drought expected, there are some places that should expect to see above-average precipitation. In the southern tier of the country and all the way up to the Mid-Atlantic, the forecast calls for an above-average season of precipitation. Up in the Great Lakes, northern Ohio Valley, northern Rockies and the Northern Plains conditions are expected to be drier than normal.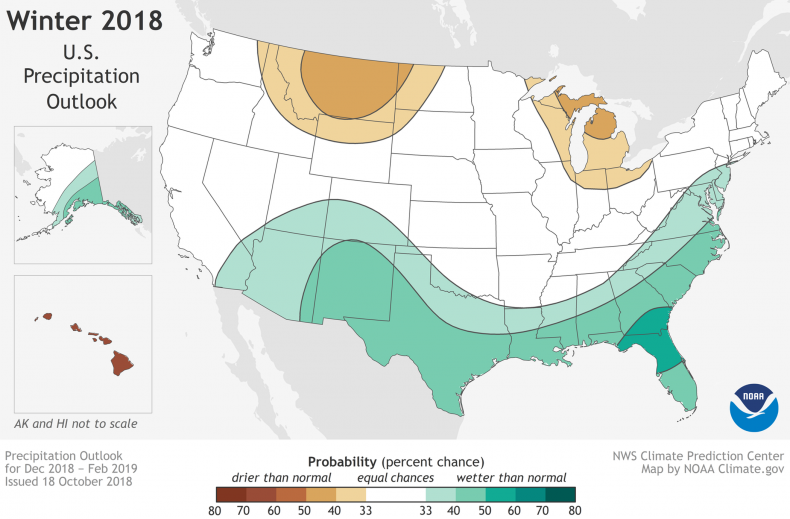 In addition to temperature, precipitation and possible drought, there's a 70 to 75 percent chance of El Niño developing. While NOAA expected it to be a weak El Niño, any development would be enough to potentially affect the winter outlook. The wetter conditions in the South and the drier conditions in the North are typical of an El Niño season. It will likely be in place by late fall or early winter this year, according to NOAA.
​