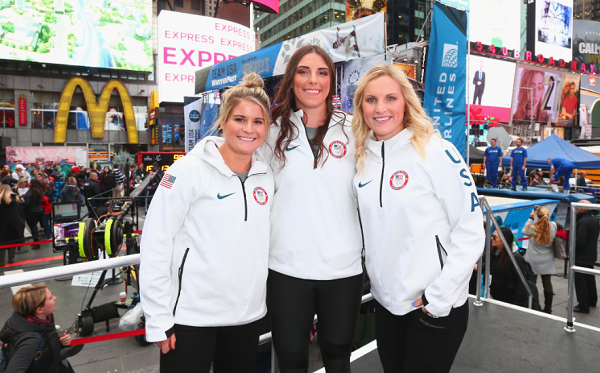 Temperatures may be below freezing when Team USA arrives in Pyeongchang, South Korea for the 2018 Winter Olympics in February, but participating athletes will be nice and warm inside their uniforms, thanks to some fashionable heat technology added to their parkas and bomber jackets.
Sketches and photos of the Team USA uniforms, by American designer Ralph Lauren, were released on Monday. The full collection includes wool hats, scarves, moto-inspired slim-cut jeans, intarsia-knit wool sweaters, and brown suede gloves. Brown suede mountain boots with red laces completes the look.
Most exciting, though are the red, white and blue winter coats and jackets designed with an innovative heating device on the lapel. The wearable heater is made out of carbon and silver ink printed and bonded on an American flag patch.
Operated by slim batteries, the device's temperatures range from high to low heat settings, which athletes can manage on their cell phones. The heater, which dies out after five hours on the highest setting, can last up to 11 hours at the lowest.
"It's the most technologically advanced jacket ever produced," David Lauren, Ralph Lauren Corp's chief innovation officer, and the son of Ralph Lauren, told USA Today on Monday. "There have been heatable blankets for kids before but they have wires. This is a fabric with ink that heats up—it's weightless, it's conductive and it's immediate."
Team USA will sport the heated parkas during the Winter Olympics' Opening Ceremony, switching to their heated bombers for closing events.
The partnership between Lauren and Team USA marks the sixth time Polo Ralph Lauren has designed for the USA Olympics and Paralympics. The 2018 Pyeongchang outfits were made in the U.S., just like those donned by Team USA in 2016.
In addition to keeping Team USA warm during the games, Lauren is using the uniforms to encourage charity. For every social media post that uses the hashtag #HeatTheWayForTeamUSA and receives a like, the fashion giant will donate $1 to the U.S. Olympic Committee.