Winter Snowstorm Weather Warning for Michigan, Cheboygan and Emmet Counties
Winter storm warnings are in effect for Cheboygan and Emmet Counties, Michigan, due to lake-effect snow and additional snowfall. According to the National Weather Service (NWS), until midday EST today it is forecast that snowfall will range between one to three inches, with "locally higher amounts."
This additional snowfall is expected to affect the morning commute in the northern counties, with slippery road conditions and reduced visibility creating hazardous conditions. The forecast from the NWS Prediction Center states that the Keweenaw Peninsula and eastern sections of the Upper Peninsula will be most hit by the heavy snowfall.
In other parts of the U.S, the southern Appalachians through to New England will face a stong surface cold front today, which will eventually move off of the East Coast this evening and overnight. Due to the cold air, rain will change to snow, which is expected to affect the morning commute for Washington D.C. and Boston. According to the NWS, one to two inches of snow will fall across the regions, with heavier totals forecast for portions of the central Appalachians and southern New England.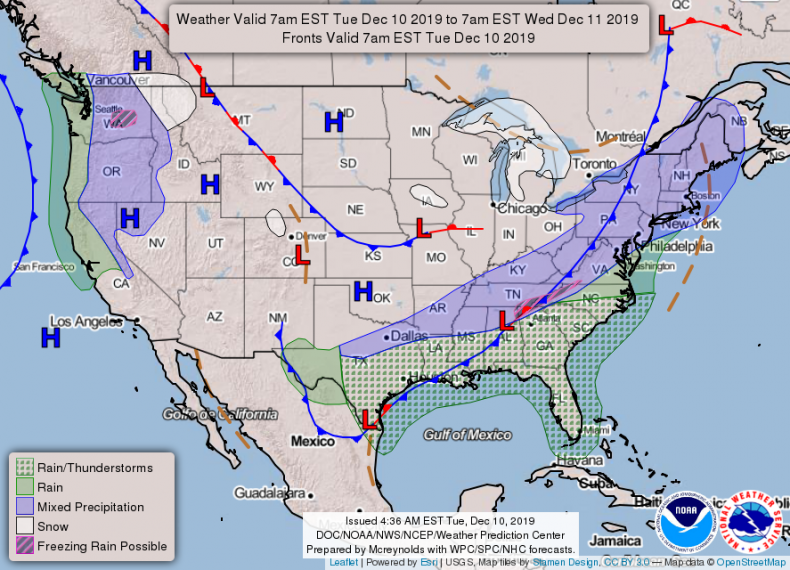 In north central, northeast and northwest Georgia, the NWS has put out an advisory for "snowfall accumulation at elevations." For areas that sit between 1,000 and 2000 feet, half an inch of snow is expected, and those above 2,000 feet, higher amounts up to one inch are possible. For roadways at lower elevations, while there might not be snowfall, overnight freezing temperatures could result in "patchy black ice", especially on bridges and overpasses. The advisory is active until 5:00 a.m. ET today.
In Minnesota and Wisconsin, an advisory for "wind chill" is in effect until midday CST today. The NWS reports that wind chills could go as low as -25 to -33 degrees Fahrenheit, which could result in frostbite in as little as 10 minutes. This advisory mainly affects portions of the central and west central counties in Michigan and western Wisconsin.
Portions of northern Connecticut, south central and eastern Massachusetts, as well as Rhode Island, are expected to see snowfall until midday today, resulting in hazardous travel conditions for the morning commute. According to NWS, motorists should expect untreated roads to become snow covered and slippery.
New Yorkers also need to tread carefully this morning; NWS warns that roads that were wet from earlier rain could be icy this morning due to freezing temperatures.
For those traveling in these areas over the course of this morning, calling 5-1-1 can get the latest traffic information. If drivers come across any flooded areas on the roads, it is advised by the NWS to turn back and not drive through.
For the latest weather information, visit the NWS website.
Winter Snowstorm Weather Warning for Michigan, Cheboygan and Emmet Counties | U.S.