Winter Storm and Avalanche Warnings Issued for Washington and Idaho As Heavy Snow Continues
The northwest of the U.S. continues to be battered by heavy snow and storms, disrupting travelers and school opening hours.
According to the National Weather Service (NWS), a winter storm warning remains in effect until 7:00 a.m. PST for San Juan, Western Whatcom and Western Skagit counties. Areas such as Shelton, Seabeck, Belfair, Brinnon, Bremerton, Poulsbo, Indianola and the East Puget Sound Lowlands, including Friday Harbor, Eastsound, Bellingham, Blaine, Point Roberts and more, are forecast up to five inches of snow accumulation in places.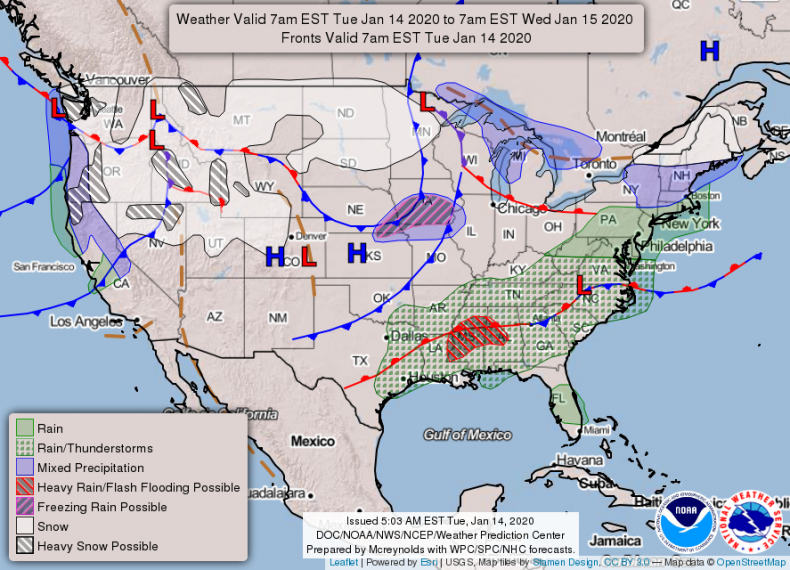 The warning comes as a band of heavy snow was predicted to develop over the Olympic Peninsula and Puget Sound last night, moving north. Concerns were raised as it was forecast the snow would fall after the evening commute, causing tree damage, power outages and impact travel overnight and for the morning rush hour. By this morning, the snow will lift north towards the Canada border, according to NWS.
An avalanche warning was also issued at the request of the Payette National Forest Avalanche Center in McCall, Idaho. In effect until 6:30 a.m. local time, the warning says that the avalanche danger scale in the west central Idaho mountains, including the Payette National Forest, will rise to high through the night. According to NWS, recent heavy snow and high winds have produced widespread areas of unstable snow and avalanches will be likely on steep snow-covered slopes and gullies. It is likely that some natural or human-triggered avalanches might be very large.
NWS warns that backcountry skiers, snowboarders, snowmobilers and other users should stay off of and out from underneath slopes steeper than about 30 degrees. It also urges that people use extreme caution, as the avalanches might run long distances and can run into mature forests.
According to Avalanche.org, there is a considerable risk of avalanches for the Washington Cascades. The forecast from the Northwest Avalanche Center says that the danger will increase throughout today as "winds pick up and transport low-density snow into wind slabs."
There is also a chance of loose dry avalanches, according to the Avalanche.org forecast. Loose dry avalanches start at a point and fan out as they move downhill and can be initiated by humans, tree bombs or snow falling off cliffs. This can then entrain lots of snow as it travels downhill, possibly triggering slabs.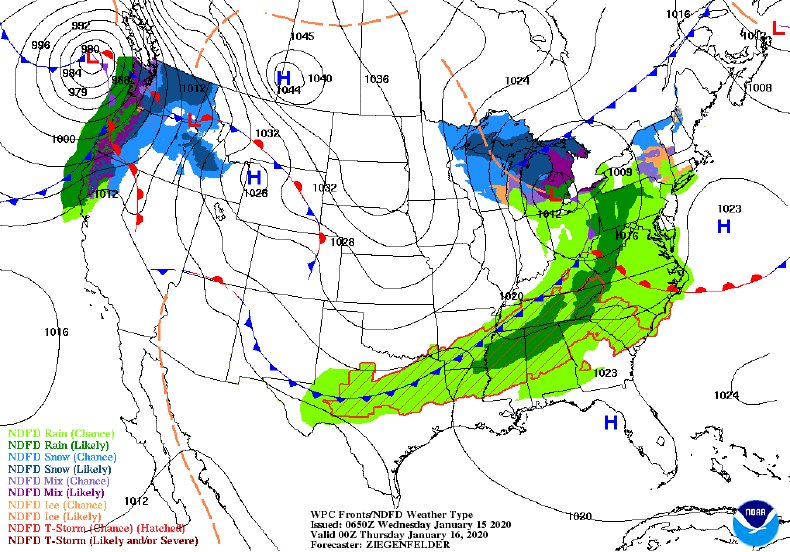 Cold temperatures and low-density snowfall during this winter storm have prevented slabs from forming as much as we are accustomed to, according to Avalanche.org. "Observations still tell us that slabs are lingering, so you should keep them on your radar," says the forecast. "Unsupported slopes, large terrain features steeper than 35 degrees, and any slopes with evidence of wind-drifted snow have a higher likelihood of avalanches and should be avoided."
Those in Washington or Idaho should watch for changing conditions including recent avalanches, heavy snowfall or rain, strong wind or rapidly warming temperatures, says NWS. If people must travel, they need to keep an extra flashlight, food and water in their vehicle in case of an emergency. For the latest road conditions call 5-1-1.
For people concerned about school opening delays or closures, they can check mynorthwest.org.