Winter Storm Avery Track, Path Forces Flight Cancellations, Airlines Waive Change Fees
Winter storm Avery is barreling through the South, Midwest and Northeast with snow and ice. The storm has already caused the cancellations of flights throughout the U.S.
More than 89 million people were under a winter weather advisory due to the storm in New York, New Jersey, Pennsylvania and Washington D.C., NBC News reported. As of 1 p.m. EST, more than 4,000 flights have been delayed and more than 1,000 flights have already been canceled, according to flight-tracking service FlightAware. Most of the problems are coming from airports dealing with snow and ice.
The airports hit hardest by the storm as of Thursday includes Washington D.C.'s Reagan National, Newark Liberty International, St. Louis, and New York City's LaGuardia. In the New York area, there are 57 canceled flights at LaGuardia airport, 42 cancellations at John F. Kennedy airport and 53 cancellations at Newark Liberty airport, according to the flight tracker.
The flight tracker also lists that Philadelphia International airport has 67 flight cancellations, Reagan National airport has 58 cancellations, Baltimore/Washington International airport has 43 flight cancellations and St. Louis Lambert International is currently experiencing 28 flight cancellations, according to the flight tracker.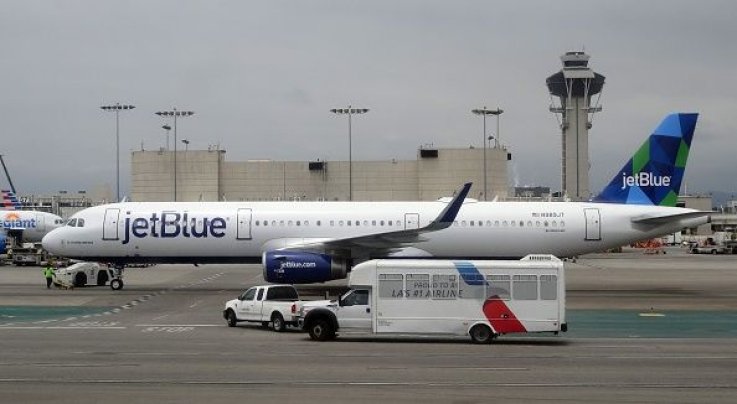 Some of the airlines serving the heavily affected areas are waiving fees. Here are some of the airlines waiving fees for flyers:
American Airlines: The fee may be waived if the ticket was purchased by Wednesday, November 14; if the flight was scheduled for Thursday, November 15, and Friday, November 16; and if the change of origin to destination city doesn't change, according to the website. The airline covered over 20 airports.
Southwest: Waivers were given to those in the New England, mid-Atlantic, and Midwest regions. Although the airline does not charge change fees, the waiver allowed some flyers on routes to make a change without paying a new fare, according to its website.
JetBlue: The airline's rebooking policy covered travel on Thursday travel to at least a dozen airports across the mid-Atlantic and Northeast. while Spirit's covered seven airports across Ohio, Pennsylvania, Maryland, Connecticut, New Jersey and New York.
United Airlines: The airline's waiver covered about 36 airports from Virginia all through New England and Canada. The airline also waived the fees in Newark Liberty and Washington Dulles.
Delta: The waiver covered customers traveling Thursday travel at 14 airports from Virginia through Massachusetts. New York JFK and New York LaGuardia were also waived, according to the website.
Spirit: Seven airports in Ohio, New England and the mid-Atlantic were included in a waived fee for traveling on Thursday, November 15 to Saturday, November 17.
Winter Storm Avery Track, Path Forces Flight Cancellations, Airlines Waive Change Fees | U.S.