Winter Storm Avery Warning: Snow Causing Early Dismissals in New York, Pennsylvania, New Jersey
Winter storm Avery was bringing snow and wintry conditions to the mid-Atlantic and Northeast Thursday and promising to continue to do so throughout the day. Avery was the first winter storm of the season to earn a name from the Weather Channel and was causing some school closings and early dismissals.
The storm hit Washington, D.C., with some snow early Thursday morning and though the D.C. public schools were opening on time other public schools in the area were already closed or had delays. The schools in Culpeper, Fairfax, Fauquier, Howard, Manassas, Spotsylvania County among others were all closed.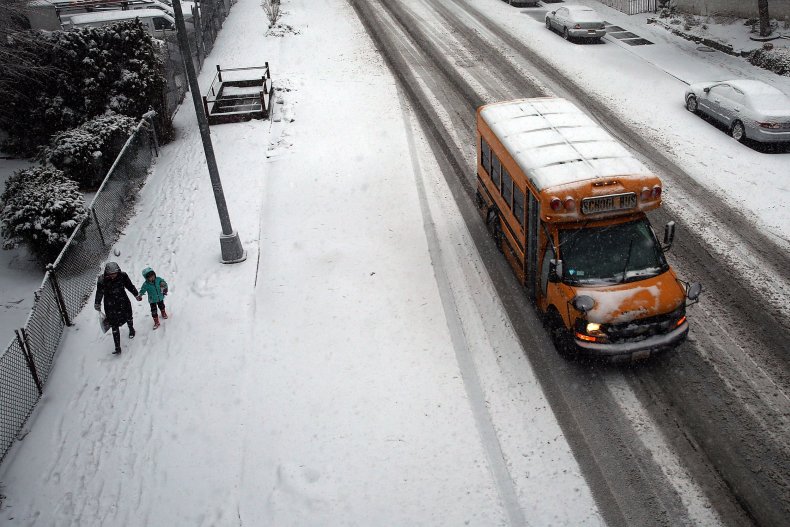 Delaware:
North of D.C. up in Delaware there were two early closings for Thursday due to the coming weather. The Edison Thomas A. Charter School was set to close at 1 p.m. EDT Thursday and the Providence Creek Academy Charter School was set to close at 2 p.m. EDT, according to the Delaware state closings site.
Pennsylvania:
In Pennsylvania there were a number of early dismissals already ordered by mid-day Thursday. Colleges were closing early as were several school districts. Abington, Antietam, Avon Grove, Boyertown Area, Cheltenham Township, Colonial, Council Rock, East Penn, Exeter Township, Garnet Valley, Kutztown Area, Lower Merion, Methacton, Morrisville Borough, Nazareth Area, Norristown Area, North Penn, Octorara Area, Oley Valley, Owen J. Roberts, Oxford Area, Palisades, Perkiomen Valley, Phoenixville Area, Pottsgrove, Pottstown, Souderton Area, Tredyffrin-Easttown, Upper Dublin, Upper Merion Area, Upper Moreland Township, Upper Perkiomen, West Chester Area, and Wissahickon school districts all had early dismissals or canceled after-school programs, if not both.
New Jersey:
In New Jersey the snow wasn't expected to hit until the afternoon but school districts were still preparing and some were closing early. The dismissals Thursday afternoon were for Hampton, Tewksbury, Monroe Township, North Brunswick Township, Dover, Hanover Park, Mendham Borough, Morris, Roxbury Township, Washington Township, Mountainside, Hackettstown and Warren Hills Regional school districts.
Connecticut:
Snow was expected to hit Connecticut a bit on the later side so for the most part afterschool activities were canceled but many students still had a full day of school expected. Easton, Guilford, Monroe, New Fairfield, Newtown, North Branford, Redding, Ridgefield, Shelton, Sherman, Trumbull, Waterbury, Weston, Winchester and Wolcott public schools all had early dismissals scheduled for Thursday afternoon.
New York:
Across New York state more schools were closing early and students were heading home ahead of schedule. Bedford Central, Boonton Township, Bound Brook, Brewster Central, Clarkstown Central, Dover, East Hanover, East Ramapo Central, Ellenville, Fallsburg Central, Florida, Franklin Township, Hardyston Township, Hendrick Hudson Central, Highland Central , Hillsborough Township, Jefferson Township, Lincoln Park, Mahwah, Mendham Borough, Minisink Valley, Monroe-Woodbury, Morris, Mountainside, Netcong, Newburgh City, North Rockland, North Salem, Onteora Central, Passaic, Pine Bush Central Pleasantville, Port Jarvis, Randolph Township, Rondout Valley, Tarrytown, Somerset Hill, Tri-Valley Central, Valhalla, Wallkill, Warwick Valley Central, Watchung Borough district schools were all going to have early dismissals as well.
​