Midwest Winter Storm Path Update: Snow, Blizzard Conditions Expected as Storm Progresses
A storm promising to deliver more than a foot of snow to some areas of the Great Plains and the northern Midwest was bringing heavy snowfall and strong winds as of Thursday. Parts of North Dakota, South Dakota, Nebraska, Minnesota and Kansas were getting a slew of weather warnings, watches and advisories.
The system causing the stormy and wintery conditions was named winter storm Eboni by the Weather Channel and was making its way east. The National Weather Service (NWS) does not name winter storms.
The section of the storm that was prompting a blizzard warning covered the eastern half of each of the Dakotas as of Thursday morning, as well as parts of Kansas and Nebraska. A blizzard warning is issued when the following conditions are either happening or expected to happen in the following 12 to 18 hours: blowing snow that reduces visibility to a quarter-mile for at least three hours and sustained winds or frequent gusts of wind of 35 mph greater, according to the NWS.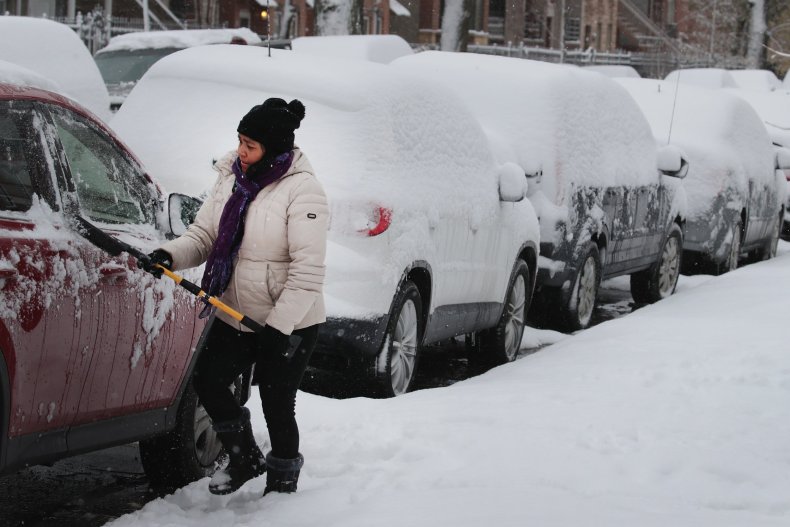 Winter storm warnings deal more with the amount of snow either falling or expected to fall. They're issued when 5 inches of snow is expected in a 12-hour span or 7 inches in a full day, along with or instead of snow and sleet strong enough to damage power lines or other life-threatening conditions.
Winter storm warnings were issued for much of Wisconsin along with parts of the Dakotas, Kansas and Nebraska. "The snow will end over the Southern Plains by Thursday evening and over the Northern/Central Plains by Friday evening. Overnight Thursday, snow will start over parts of Northern New England, ending by Friday evening," according to the short-range forecast from the Weather Prediction Center.
All of the counties under the various watches, warnings and advisories are listed on the NWS website, along with a map of all the areas that should expect the extreme weather. Another storm system coming from the Pacific Northwest was expected to move down to the Southwest and Great Basin area by Friday, causing heavy rain and snow there as well, according to the NWS.
Anyone in the areas affected by the warnings and watches should monitor their local forecasts and follow any direction from authorities.
​