Winter Storm Bruce Blizzard Updates: Chicago Flights Canceled, School Closures and Power Outages Across Midwest
Unsettled weather forced the cancellation of hundreds of flights across the Midwest in one of the busiest travel periods of the year. Tens of thousands of people had also reported power outages.
Blizzard-like conditions have caused chaos across Missouri, Illinois and Kansas. Parts of Interstate 80 between Lincoln and Omaha in eastern Nebraska were closed at the end of Thanksgiving weekend, the result of multiple accidents on the snow-covered roads.
As of Monday morning, several schools in Kansas, Missouri, Iowa and Illinois were forced to close as a result of the snow. Dozens of schools were closed in the Owosso Public Schools, Durand Area Schools, Waterbrook Christian Academy (Genesee Township), New Lothrop Public Schools, and North Huron Schools (Huron County) areas, all in Michigan, reported M-Live.
Kansas Governor Jeff Colyer issued a state of disaster emergency declaration in response to the winter storm, which had forced the closure of several roads and produced power outages across several counties, reported KSHB.
According to AccuWeather, there were reports of more than 84,000 power outages across the northern half of Chicago as of midnight on Monday.
More than 240 incoming and outgoing flights were canceled at Chicago O'Hare Airport on November 26, with hundreds more having been canceled the previous day, reported Flight Aware.
Similar problems were reported at Kansas City International Airport, which got 5.3 inches of snow, according to the National Weather Service.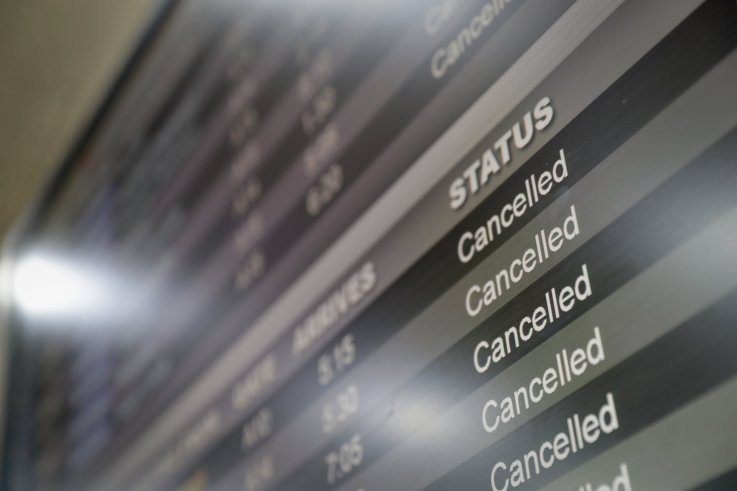 "The accumulation of the snow and ice coupled with the wind has been a lot for our crews to contend with," said Joe McBride, a spokesman for the Kansas City airport, told The New York Times. "Visibility is improving, but we have too much snow covering the airfield."
The National Weather Service warned residents to take care as the winter storm continued on Monday. Areas of Chicago are expected to get several more inches of snow.
"The winter storm that has dropped over a foot of snow across the Mississippi Valley northward into the Upper Great Lakes will begin winding down later this morning [November 26]," the service said in a forecast.
"As the upper-level low and surface low slide eastward, snow and rain will taper off while increasing across the Lower Great Lakes and Ohio Valley. However, heavy snow will still continue through the early hours of Monday morning, with blizzard warnings still in effect through 6 a.m. local time from northeast Missouri northward into southeast Wisconsin/northeast Illinois, including the greater Chicago area.
"Winter storm warnings and winter weather advisories are also in effect from central Missouri northward into eastern Michigan; these warnings and advisories will also come to an end by this afternoon."
"The combination of increasing winds, heavy snow and poor visibility will create localized blizzard conditions at times," added AccuWeather senior meteorologist Alex Sosnowski.
Winter Storm Bruce Blizzard Updates: Chicago Flights Canceled, School Closures and Power Outages Across Midwest | U.S.