Winter Storm Caleb Track, Path and Forecast: Arctic Blast Could Cause Record Cold Temperatures
An arctic blast that the Weather Channel dubbed "Winter Storm Caleb" could cause record cold temperatures, making residents in parts of the country feel like they're in the "middle of winter."
Caleb swept through the Plains, Midwest and New England on Monday, bringing up to six inches of snow to certain areas. Precipitation levels caused airlines to cancel flights and schools from Austin, Texas, to Buffalo, New York, to start on a delayed opening schedule or cancel classes on Tuesday.
Along with the Plains, the arctic blast was expected to cause record cold temperatures along the East Coast, Ohio Valley and the upper Texas Coast by Wednesday morning, according to the National Weather Service (NWS). Early season snow in northern New York and northern New England was expected to taper off on Tuesday, but low temperatures would make it feel like "middle of winter."
"This is an air mass that's more typical for the middle of January than mid-November," NWS meteorologist Kevin Birk told the Associated Press. "It is pretty much about the coldest we can be this time of year [and] it could break records all over the region."
Newsweek subscription offers >
In Illinois, Wisconsin and Iowa, temperatures could drop into the single digits or teens on Tuesday, according to Birk. If the forecasted 21 degree high comes to fruition, the previous record for November 12 of 28 degrees would be broken.
Snow accumulation could be as much as 12 inches in the interior Northeast near the Canadian border, including parts of upstate New York, Vermont and Maine. On Tuesday, central upstate New York and north-central New England could expect to experience freezing rain and the NWS urged motorists to use caution when traveling.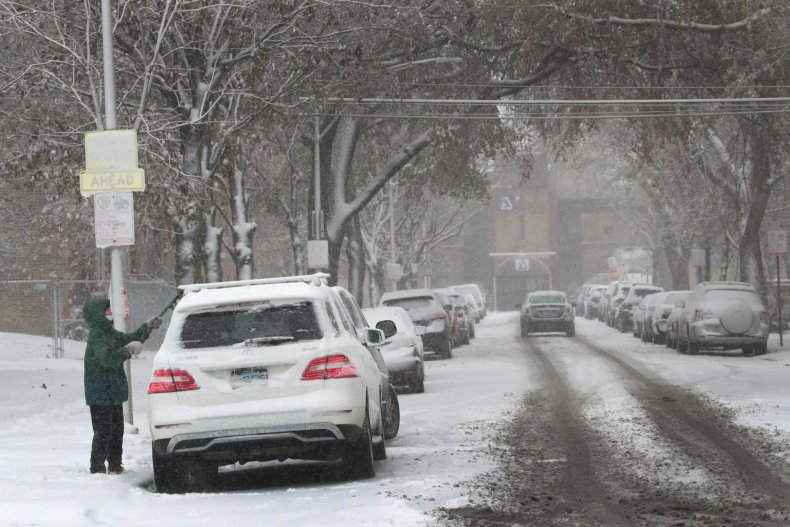 Ice and snow from the storm have already proven to be hazardous to travelers on the roads and were the cause of at least four deaths in the Midwest, according to CNBC. An 8-year-old girl was killed when a pickup truck lost control and crossed the centerline of an icy highway, hitting the SUV the girl was in head-on. Poor road conditions also contributed to the deaths of three people involved in a two-car crash in Michigan.
Newsweek subscription offers >
As states dealt with the arctic blast, an area of low pressure that developed along the arctic front brought a "wide swath" of snow from the Tennessee Valley into Northern New England, according to the NWS.
Given the weather conditions forecasted, the NWS issued winter weather advisories for parts of more than 11 states, including Vermont, New Hampshire, Maine, Pennsylvania, Ohio and Kentucky. Areas under a winter weather advisory should expect snow, sleet or freezing rain to cause travel difficulties, including slippery roads and limited visibility.
On Thursday, the center of the arctic blast is expected to move off New England and toward the Canadian Maritimes, according to the NWS.
Winter Storm Caleb Track, Path and Forecast: Arctic Blast Could Cause Record Cold Temperatures | U.S.