Winter Storm Could Bring Upwards of 50 Inches of Snow to Montana and Other Parts of Northern Rockies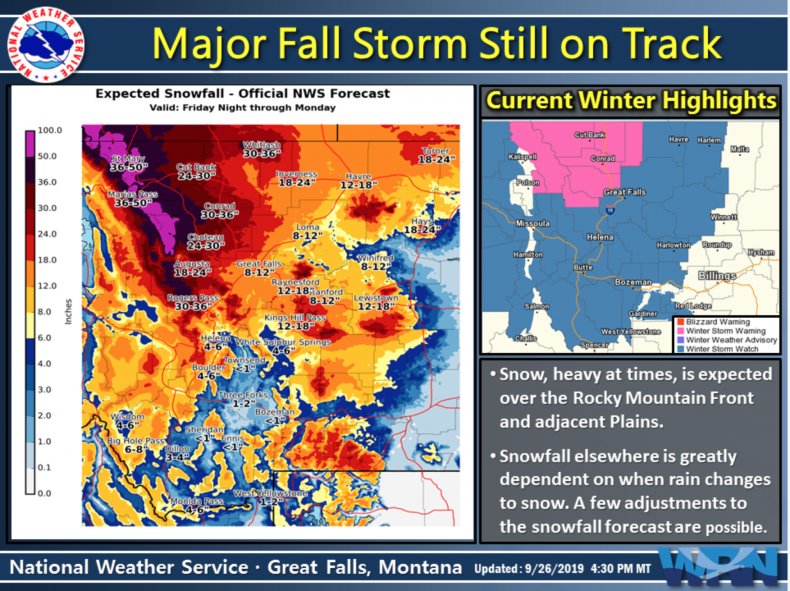 It may only be autumn, but a major winter storm is likely to bring record cold temperatures, heavy snow and blizzard-like winds to the northern Rockies this weekend, according to the National Weather Service.
The storm is developing along a front above the Northern Rockies, a region which includes the states of Montana and Idaho, and will begin producing snow over the area overnight Friday and until Sunday, an NWS short range forecast discussion published Friday morning read.
Temperatures in the region are expected to get lower than 50 degrees Fahrenheit, or 10 degrees Celsius, according to AccuWeather. The Weather Channel reports that this is significantly below average for this time of year.
The NWS said that the region has not seen a storm of this magnitude since 1934.
"Treacherous travel conditions are likely to develop, especially in Montana and Idaho," the NWS website said. "Some areas may see over two feet of snow. From the central Plains to the Great Lakes region, severe thunderstorms and heavy rainfall will be possible on Friday."
While virtually all of northwestern Montana is expected to see snow, the areas around Maria's Pass and the community of St. Mary were forecasted to accumulate the most — between 36 to 50 inches — according to a Thursday NWS forecast.
As of 7 a.m. Friday, every county in the western half of Montana and most counties in the Idaho Panhandle had been issued winter storm watches by the NWS, while several Montanan counties along the Canadian border had been put under a winter storm warning.
An area is issued a winter storm watch when meteorologists believe "significant and hazardous winter weather" could possibly affect that area within the next 48 hours, according to the National Weather Service. A winter storm warning, on the other hand, is issued when inclement winter weather such as more than five inches of snow within a 12-hour period or a dangerous combination of wind and ice accumulation is imminent.
Montanan communities are already preparing to keep their communities safe during and after the incoming weather.
"Our snow policy, strategy is that we'll get the emergency snow routes done first and then go onto the rest of our priority routes and make sure that everything is sanded and cleared as appropriate to make travel safe," David Knoepke, transportation systems director for the City of Helena, said in an interview with AccuWeather.
The NWS advised residents of the areas expected to be impacted by the storm to prepare and stay tuned to forecasts as they update. Its website advises that residents should have water and food available that does not require electricity to prepare, have batteries for a flashlight and a radio on-hand in the event of a power outage and consider moving vehicles away from power lines, which could become dangerous if snow were to accumulate on them.
"What makes this storm more significant is the snowfall will be wet/heavy and
with leaves still on the trees, significant tree damage along with power line
damage is possible," a NWS report read.
"It's Montana, and this is kind of the characteristic of Montana, freak snowstorms," Rebecca Connors, public information officer for the City of Helena Public Works said in an interview with AccuWeather. "Our seasons are short except for winter."
Correction: This story originally stated 50 degrees Fahrenheit is equal to 25 degrees Celsius. The story has since been updated to reflect 50 degrees Fahrenheit is equal to 10 degrees Celsius.