Winter Storm Expected to Delay Travel Across Country on Sunday After Thanksgiving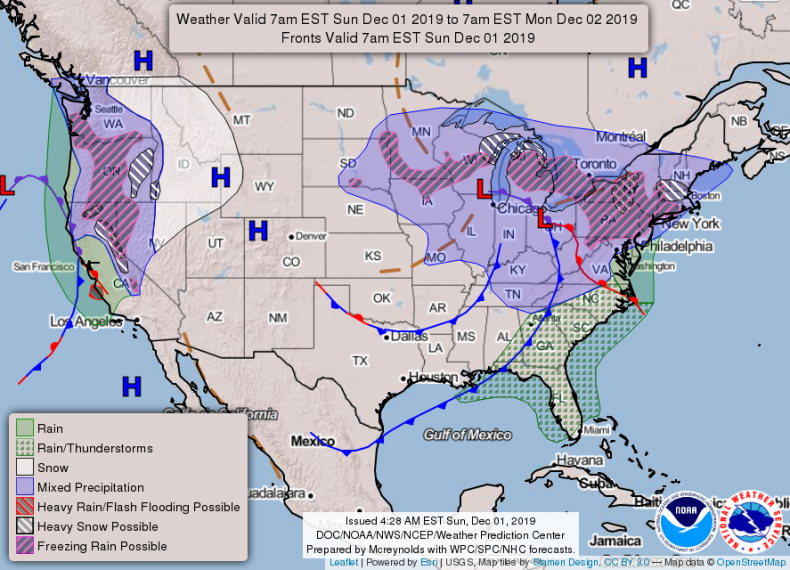 A winter storm and precipitation are expected to "cause havoc for Thanksgiving holiday travelers," according to an early Sunday forecast from the National Weather Service (NWS).
According to the forecast, the winter storm that brought snow and fierce winds to the Western and Great Plains states on Thanksgiving Day has been on the move to the east. The NWS said that the storm will produce many conditions that may impact travelers returning home after the holiday weekend—including thunderstorms across the southeast and blizzard conditions in the upper Midwest.
"Heavy snow can be expected from the eastern Dakotas to northern Michigan on Sunday, with potential snowfall accumulations on the order of 6 to 12 inches," the forecast read.
However, the storm is expected to "wind down" in the Midwest as the afternoon turns into the evening, according to another forecast from the NWS issued at 11:35 a.m. EST. Some areas are still under winter storm warnings.
The Weather Channel predicted heavy rain in the southeastern portion of the country, which could make roadways dangerously wet for vehicles.
The NWS said that it expected a significant accumulation of ice in the Mid-Atlantic and parts of Appalachia.
"Farther to the south across the central Appalachians, freezing rain will be more of a problem with the potential of up to a quarter inch of ice accretion from extreme western Maryland to central Pennsylvania where ice storm warnings are in effect," the early Sunday NWS forecast read. "Severe travel disruptions are likely for many of these areas."
In the Northeast, the NWS predicted that a system will become close to a nor'easter, with heavy snow and strong winds.
"The potential exists for 8 to 16 inches of snow across interior portions of New York and extending eastward to southern Maine, with winter storm warnings in effect," the forecast read.
The Sierra Nevada could receive also receive snow, according to the Weather Channel.
NBC News reported that the weather could impact the travels of some 56 million travelers in America, and that 423 flights were cancelled on Sunday. At noon EST, flights out of four major airports in the Northeast—Newark International Airport, Teterboro Airport, LaGuardia Airport and Logan International Airport—were subject to ground delay programs due to snow and ice, according to the Federal Aviation Administration. The situation was similar out west at the San Francisco International Airport, where some flights were delayed due to strong winds.