Winter Storm Ezekiel Update: Track, Path, Expected Snowfall
Winter Storm Ezekiel brought more than two feet of snow to parts of the Northeast by Monday afternoon and precipitation was expected to continue overnight.
Ezekiel, as it's been dubbed by the Weather Channel, started hitting New York, Connecticut, Rhode Island and Massachusetts on Sunday, bringing the most snow to Delanson, New York, at 27 inches. While some areas, such as Philadelphia and Boston, had rain, the Weather Channel forecasted the precipitation would change to snow, as was the case in New York City.
Areas of the Northeast, such as Pennsylvania and Maryland, were under a Winter Storm Warning on Monday afternoon, set to be in effect in most areas until Tuesday morning.
The combination of snow and ice could create slippery road conditions from West Virginia to Maine, making traveling difficult, including for those trying to get to work on Tuesday morning. The National Weather Service (NWS) advised people to keep an extra flashlight, food and water in their car in case of an emergency.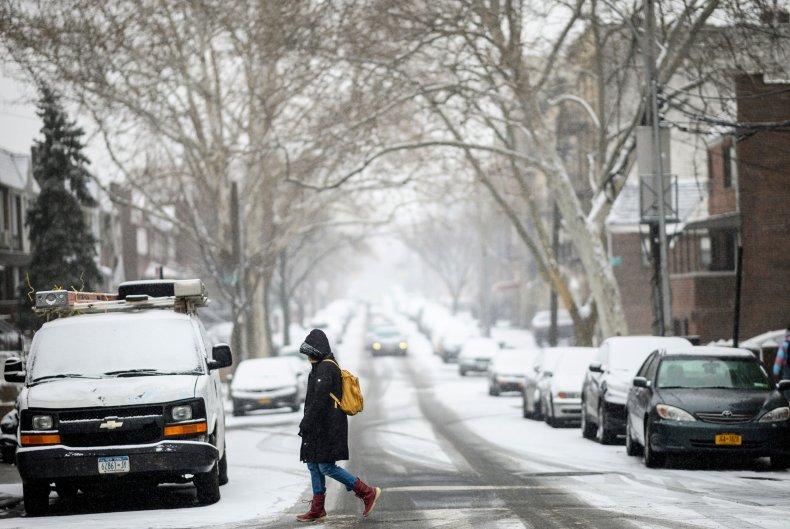 Parts of New Jersey, Pennsylvania, Massachusetts and West Virginia could experience up to 10 inches of snow by Tuesday evening, with up to 12 inches in Pennsylvania and West Virginia. The worst snowfall in Maine was expected for Penobscot, Aroostook and Piscataquis Counties, areas of the state the NWS forecasted would have up to nine inches.
The worst part of the storm, 30 inches of snow, was expected to hit New York in higher elevation areas, such as the Helderberg and Catskill Mountains. Other parts of the area, including Mohawk Valley, could experience up to 24 inches of snow, making travel "difficult to impossible," according to the NWS.
On Monday, New York Governor Andrew Cuomo declared a state of emergency for Albany, Columbia, Greene, Rensselaer, Schenectady, Saratoga and Ulster Counties. Cuomo also activated 300 National Guard members to assist with snow removal and clean up operations and nonessential State employees were allowed to stay home from work without using their allotted time off.
"Our state is no stranger to this type of extreme winter weather and these additional measures will be critical in our efforts to keep all New Yorkers safe throughout the remainder of this storm," Cuomo said in a statement.
The snow was expected to taper off by Tuesday night and then pull farther out to sea, according to WBZ. As it does, winds will diminish but areas of the northeast, including Massachusetts, will continue to have chilly temperatures, so snow may be slow to melt.
Ezekiel arrived in the Northeast from the West Coast and on Monday morning, about 46 percent of the contiguous U.S. had snow on the ground. That amount was well above the December 2 average for the past 16 years, according to The Weather Channel.