As Winter Storm Gage Hits, Tens of Thousands Across Michigan, Ohio, New York Lose Electricity
Winter Storm Gage has brought a belated and unwanted holiday gift to thousands living in the midwest and northern New England—high winds, ice and power outages.
A state of emergency was declared Monday afternoon by the town of Otis, Massachusetts in the wake of Gage, with many power lines down and trees damaged.
"We're advising residents not to travel, go outdoors unless it's an emergency due to the imminent danger of falling trees. Widespread hazardous road conditions as well as extreme risk to lives and property," said Otis Police Chief Daniel Hamill to Western Mass News.
"It's just not safe. Trees are falling at such a random rate, you just don't know where they're going to fall next. I don't want to see someone get hurt. I want to let our residents know this storm is not to be taken lightly, this is a serious storm and residents need to be careful, vigilant of these falling trees and the ice buildup."
There is a shelter at the Otis Town Hall for those in need.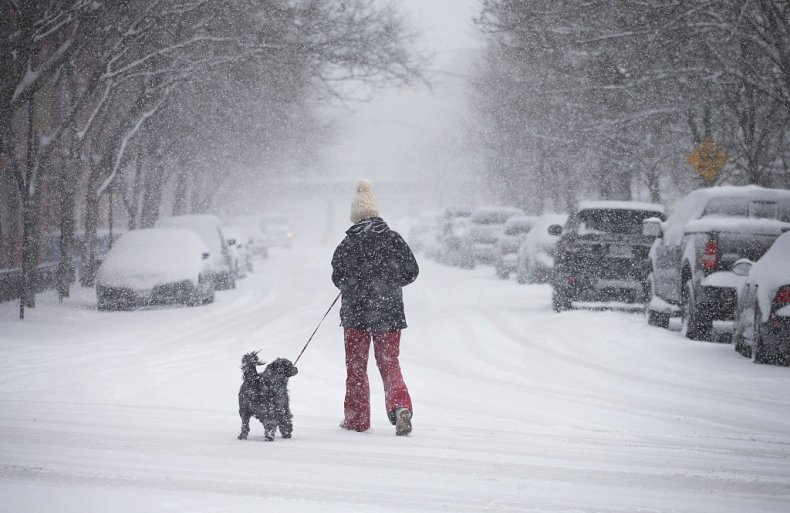 Approximately 300 customers are without power in Otis at press time according to Western Mass News. Meanwhile, 44,500 electrical customers in Michigan were facing an outage post-Gage Monday afternoon, according to poweroutage.us. Another 100,000 residents in Ohio were also faced with a blackout. 10,000 are also without power in upstate New York at press time.
Steady winds topped out at 30 miles per hour Monday afternoon in Ohio, with gusts reaching 70 mph, according to The Weather Channel. This included major cities such as Columbus, Cleveland and Dayton. Michigan and Minnesota saw gusts of 60 miles per hour.
Snow and ice plagued the midwest, New York and Western New England, causing multiple traffic accidents. 470 crashes were reported statewide in Minnesota, according to KMSP, causing 43 injuries, two of them fatal.
The two fatalities occurred in separate incidents—the first when an 82-year-old man rolled his car into a ditch after sliding off an icy road on Saturday and when another man crashed his car into a telephone poll on the same day.
Fargo, North Dakota issued a rare no travel advisory in the wake of the storm on its Facebook page.
"This is one the worst storms we've had, just because we had ice on the bottom of it and we received several more inches than we expected. We're telling people to be patient. Help your neighbor if you can. If you can make it a little easier for them to get around, please do that," Fargo Mayor Tim Mahoney told The Weather Channel.
"As a pool of cold air rotated southeastward from the Upper Midwest through the central Appalachians from Monday night to Tuesday, the combination of steady snow in some areas and snow squalls in others, combined with just enough of a temperature drop to create slippery conditions on the roads and dangerous conditions for motorists from southern Michigan and northern Ohio to northern Pennsylvania and western and central New York state. AccuWeather warned of this potential as early as Friday, Dec. 27, 2019," said AccuWeather senior meteorologist Alex Sosnowski.
Updated: (1/2/2020 4:13 p.m.): With a comment from AccuWeather meteorologist Alex Sosnowski.