Winter Storm Gail hit the northeast U.S. overnight as people in central Pennsylvania and south-central New York state wake up to 1 to 2 feet of snow.
Fresh snowfall today could add 6 to 12 inches in parts of New England.
Although weather conditions will improve in most areas on Thursday, the interior northeast and New England will continue to see snow, though it will gradually come to an end from west to east by tonight.
Winter Storm Gail may produce coastal flooding and the National Weather Service has issued warnings and advisories from North Carolina to Massachusetts. Flooding is also expected to affect the Jersey Shore and coastal Delaware during Thursday morning's high tide.
The storm's final flurries will fall across Maine and Cape Cod late this evening, though forecasters say a few lingering snow showers could be possible across the central Appalachians on Friday.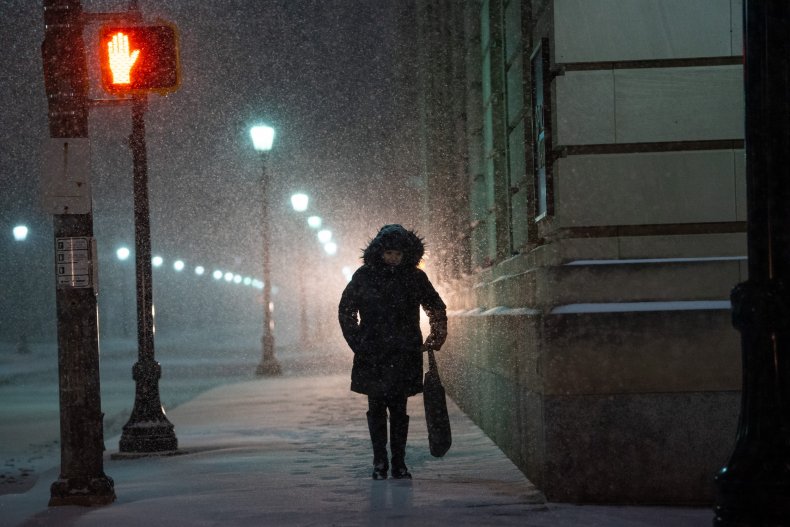 Although Winter Storm Gail is expected to end tonight, it has already had devastating effects in Pennsylvania, Virginia and Maryland.
The Weather Channel reported that at least two people had died and many others had been injured in a multi-vehicle pile-up on Wednesday in central Pennsylvania. The incident happened at about 3.05 p.m. on Interstate 80 westbound, near mile marker 183 in Clinton County. It was snowing at the time, but the cause of the crash is under investigation.
Police in Virginia and Maryland also responded to hundreds of crashes, according to the Weather Channel.
On Wednesday evening, the Virginia Department of Transportation warned residents against driving on icy roads. "Assume that anything that is snowy, slushy, or wet will turn to ice," it said. The department has been working overnight to make the roads safe.
Additionally, more than 35,000 homes and businesses are currently without power in Virginia, according to the PowerOutage.US website. Customers of Dominion Energy and Rappahannock Electric Cooperative are the worst affected.
State leaders have urged residents to remain cautious, including Pennsylvania Gov. Tom Wolf, who issued a winter weather emergency proclamation.
Wolf said on Tuesday: "The commonwealth's emergency preparedness teams have spent a great deal of time and energy over the last several months supporting efforts to mitigate the COVID-19 pandemic and help the commonwealth weather this public health emergency and ensure vaccines are delivered as planned.
"This proclamation makes it easier for all of those involved in vaccine delivery and keeping people safe to do their jobs."
New York City Mayor Bill de Blasio said on Wednesday evening: "The winter storm is here and New York's Strongest are ready to go. Plows and salt spreaders are out this evening. Help us keep the streets safe: stay home.
"If you must travel, use public transportation. This could be the biggest storm of the year. Stay home and stay safe."