Winter Storm Gail Warning As Heavy Snow Forecast for New York and Boston
Winter Storm Gail will impact parts of the mid-Atlantic and the northeastern U.S. today, with heavy snow is expected in major cities New York and Boston.
The storm is being produced by a combination of a deep upper-level trough swinging across the mid-South, an area of low pressure developing off the southeast coast, and a strong arctic high-pressure system located over southern Quebec, Canada. These elements will produce an expanding area of snow that will spread over the Ohio Valley, central Appalachia and northern mid-Atlantic.
Due to the snow in the north and the rain in the south, forecasters expect a wintry mix to stretch across the southern Appalachians and the interior mid-Atlantic, generally along the I-95 corridor. Forecasters are mainly concerned about the freezing rain as a quarter-inch of ice is possible, which could lead to tree damage and power outages.
Additionally, heavy snow will affect areas northwest of I-95 in the mid-Atlantic, as major cities including Washington and Philadelphia will likely experience a wintry mix and rain, in areas to the southeast.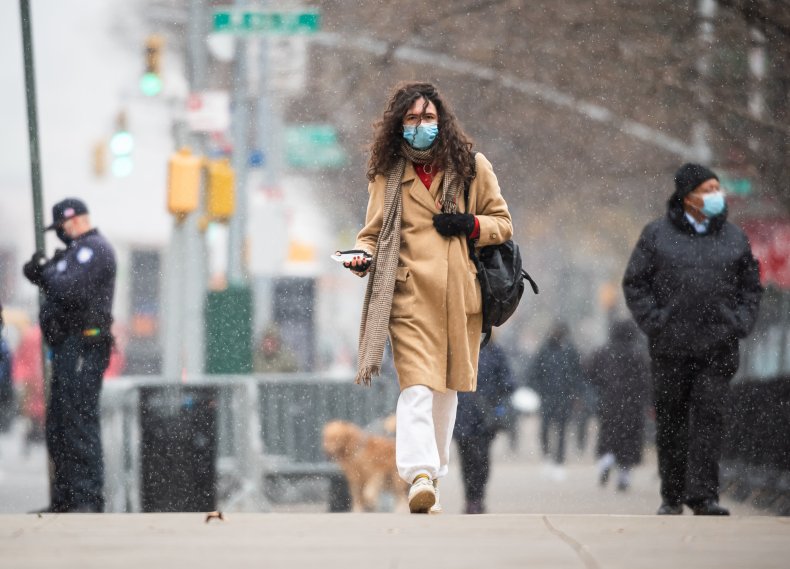 However, further north and east, heavy snow will impact major cities including New York and Boston on Wednesday evening. The storm will strengthen off the New Jersey coastline tonight, producing strong northeast winds that are expected to result in coastal flooding from Delaware to Cape Cod.
Furthermore, the heavy rain may result in flooding in areas of the mid-Atlantic where the temperatures are too warm for a wintry mix. Forecasters say that severe thunderstorms could also be possible, with areas across the Outer Banks in eastern North Carolina at risk of damaging winds and isolated tornadoes this afternoon.
Central Pennsylvania is expected to see the heaviest snowfall amounts, which could be as much as two feet. This snowfall is expected to result in very dangerous or impossible travel conditions, as well as isolated power outages.
In areas from eastern West Virginia to far southern Maine, a foot of snowfall is expected. This means that certain areas will see more snow in one event than they saw all of last winter.
However, forecasters say that snowfall amounts are expected to drop off dramatically to the south and east as sleet and rain mix in. Like yesterday, they are still uncertain of where the rain/snow line will fall, and areas just a few miles apart could experience substantially different weather conditions.
Residents in these areas are encouraged to check their local forecast for updates and more specific details as the storm evolves throughout the day.
What does a Winter Storm Warning mean?
A vast area in the northeastern area of the U.S. is under a Winter Storm Warning, which means that forecasters are confident that a winter storm will produce snow, sleet, freezing rain, or ice that could cause significant impacts and anyone under this warning should take action now.
Areas of Maine, New Hampshire, Massachusetts, New York, New Jersey, Pennsylvania, Delaware, Washington D.C., Maryland, and Virginia are under a Winter Storm Warning.