Winter Storm Gail is a major winter storm expected to produce heavy snow and freezing rain in the mid-Atlantic and northeastern U.S. from Wednesday. Snow is also expected in portions of the central Plains this evening, especially in Oklahoma, before the system moves eastward and strengthens.
Firstly, an area of low pressure will move across central Texas today, producing moderate snow across the central Plains. West-central Oklahoma may see snowfall of around four to six inches and travel will be difficult due to slick road conditions and reduced visibility.
The low-pressure system will then move eastward and is expected to strengthen off of the southeast coast. This will then produce major winter weather impacts from the central Appalachians and mid-Atlantic to the northeast on Wednesday and Thursday.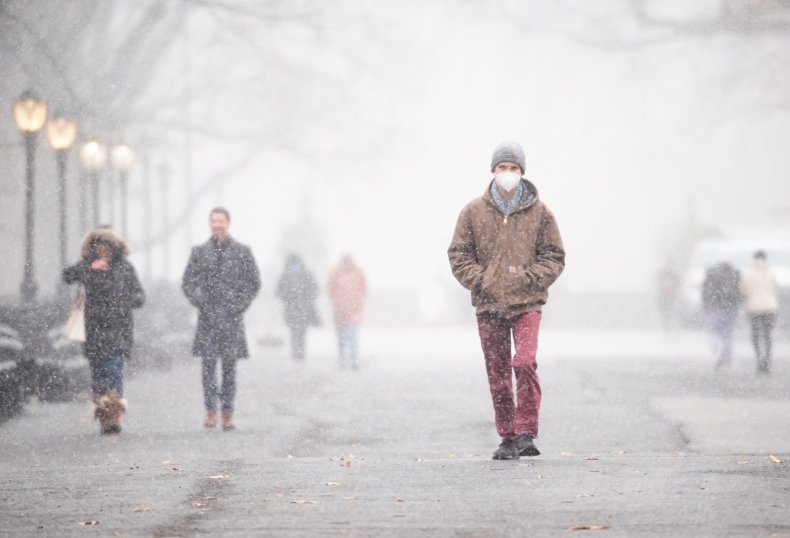 Additionally, a strong area of high pressure over Quebec, Canada, will filter colder air east of the Appalachian Mountains, which will help generate Storm Gail.
Then, on Wednesday morning, a wintry mix of rain, freezing rain, sleet, or snow, will begin across western North Carolina and southwestern Virginia. Forecasters are mainly concerned in this area about freezing rain, of which as much as a quarter of an inch is possible. This freezing rain is worrying as it could cause scattered tree damage and power outages.
Major cities towards the southeast, including Washington D.C. and Philadelphia, will feel the impact of Winter Storm Gail and are expected to see a wintry mix and rain. In the northeast, including northern New Jersey and southern New York state—encompassing New York City—heavy snow is forecast, while southern New England will also be impacted by snow by Wednesday night.
Western Maryland and south-central Pennsylvania will likely see the heaviest snowfall during Winter Storm Gail, with up to two feet of snow possible. Forecasters warn that this snow would produce very dangerous travel conditions and isolated power outages.
Furthermore, areas ranging from eastern West Virginia to southeast Massachusetts could see more than six inches of snow.
However, forecasters are uncertain where the rain/snow line of the system will fall and say that a slight adjustment to the north or south could produce different outcomes for areas from central Maryland to Long Island. Residents in these areas are encouraged to check their local forecasts for more updates.