Winter Storm Harold Leaves Over 200,000 Without Power on Christmas Day in New York, Pennsylvania, Connecticut
Thousands of people woke up Christmas Day without power after Winter Storm Harold made its way into the northeast, dumping heavy rainfall and strong winds along the East Coast.
The storm has already battered states with massive snowfall and blizzard conditions as it made its way from the mid-Atlantic to the east. The East Coast should expect excessive rainfall throughout the day on Friday before the weather eventually changes to snow by Saturday morning, according to National Weather Service. The organization also warned of chances of flash flooding in the Northeast as the heavy rain mixes with melted snow some states received days ago.
The rain and winds have already left more than 200,000 people without power in New York, Connecticut and Pennsylvania.
New York
Winds reaching highs over 50 miles per hour early Friday morning resulted in 108,308 power outages across New York. Central Hudson Gas & Electric Corp reported the most outages, with 32,074 customers without power while New York State Electric and Gas reported 24,032 outages. Approximately 24,000 Long Islanders relying on Public Service Enterprise Group's energy were listed without power.
As for parts of New York State and City relying on Con Edison, the energy supplier reported 19,024 outages as of Friday morning.
New Jersey residents were also largely affected by the heavy rainfall, with 54,612 outages reported—32,094 of which were First Energy customers.
Pennsylvania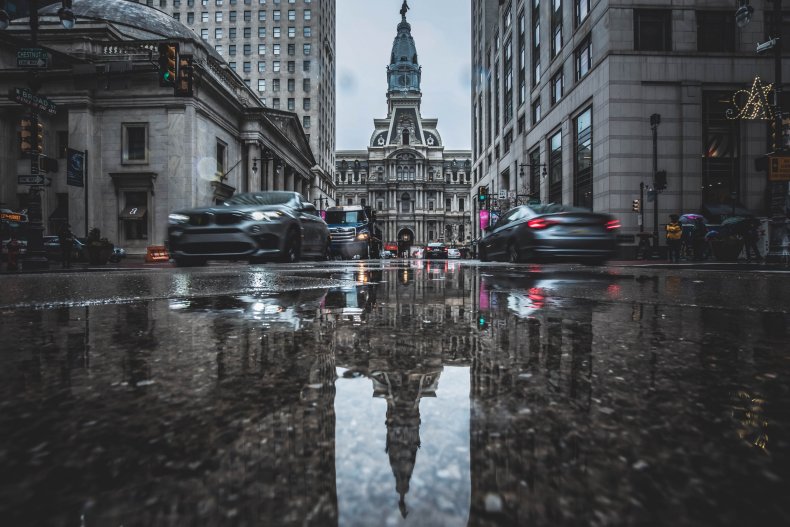 Across Pennsylvania, 59,752 customers were without power. Suburban and rural parts of the state were largely left in the dark while outages in Philadelphia were scarce. Philadelphia Electric Company reported 45,195 outages while PPL Electric Utilities listed 9,285 customers without power. First Energy saw 4,525 outages.
Along with outages, flooding and downed trees became a problem for some parts of the state, particularly across the Delaware and Lehigh valleys.
Connecticut
Wind speeds in Connecticut were tracked between 50 and 60 miles per hour on Friday morning, knocking the power out for 29,896 consumer energy customers in the state. Although EverSource reported more than 34,000 outages initially, by time of post, crews had restored thousands of power lines, only leaving 29,698 in the dark as of 9 a.m. Meanwhile, the United Illuminating Company had gotten outages down to just 198.
Residents in Connecticut were also warned of the possibility of flooding after meteorologists estimated two-to-three inches of rainfall expected to blend with snowmelt in various areas across the state. A Flood Watch was issued for the entire state on Friday morning and is expected to last until the afternoon when rainy, windy conditions are expected to diminish.