Deadly Winter Storm Harper Pounds Midwest and Northeast With Rain, Snow and Ice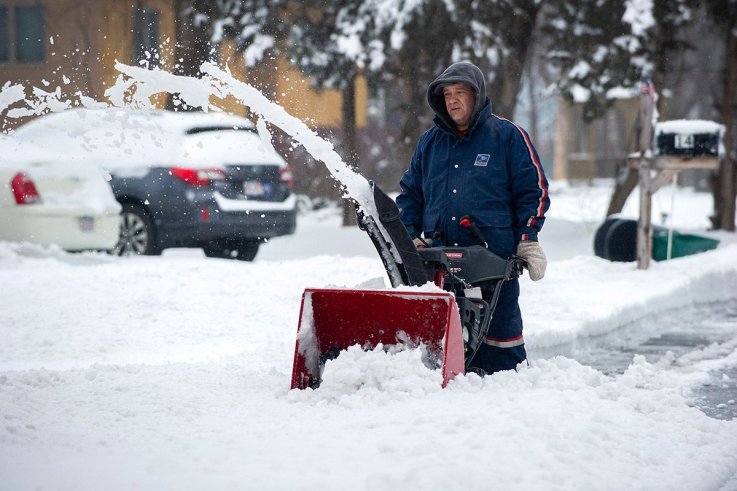 A major winter storm has wreaked havoc across a swath of the country, pounding the Midwest and Northeast with rain, snow and ice and causing multiple fatalities.
More than 100 million people were placed under winter storm watch and almost 4,000 flights were canceled over the weekend, according to FlyAware.
"This kind of storm doesn't come along very often, and it's a severe storm that represents a risk to life and limb," Joel N. Myers, president and founder of AccuWeather, a commercial weather forecasting site, said.
Winter Storm Harper dumped heavy snow across the Midwest and forced the cancelation of hundreds of flights at Chicago's O'Hare International Airport, where a United Airlines plane carrying 129 people skidded off a runway.
The stom then headed eastward, bringing with it bitterly cold Arctic air and yet more snow. The town of Caribou in Maine received 16.9 inches, taking the total for January to a record 46.6 inches, according to Weather Channel report.
As roads, gardens and forests were blanketed with snow, some were able to enjoy themselves outdoors despite the bitter cold—taking to nearby slopes with sleds and building snowmen.
But the harsh conditions are expected to get worse before they get better, and they have already been linked to at least eight deaths, according to CNN.
"Bitter cold and gusty winds behind the departing storm are resulting in dangerous wind chill temperatures for much of the Northeast corner of the U.S.," the National Weather Service warned on its website, on Monday morning.
As wind gusts reach 50 miles per hour and temperatures fall below zero in parts of New York, wind chills could reach as low as 40 degrees below zero, while elsewhere across the east temperatures will be more than 20 degrees below normal, according to the National Weather Service.
On Twitter, President Trump encouraged people to be careful and stay indoors—before taking the opportunity to suggest that such cold temperatures clearly cast doubt on global warming. "Wouldn't be bad to have a little of that good old fashioned Global Warming right now!" he wrote.
It's not the first time that the president has falsely asserted that global warming implies uniformly warmer temperatures across the world, as opposed to far more erratic weather. This is one of the reasons why some scientists prefer the term "climate change" to "global warming," and others are pushing for a stronger term like "climate breakdown."
As the White House's own National Climate Assessment warned in its landmark report published in November: "The impacts of climate change are already being felt in communities across the country."
"More frequent and intense extreme weather and climate-related events, as well as changes in average climate conditions, are expected to continue to damage infrastructure, ecosystems, and social systems that provide essential benefits to communities."