Winter Storm Slams Midwest, Causing Deadly Car Collision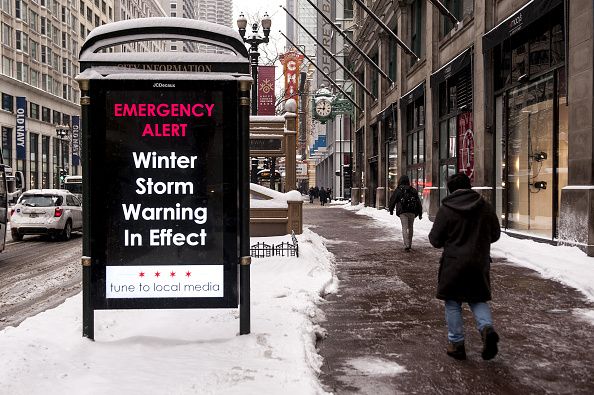 A winter storm has buried parts of the Midwest in up to 14 inches of snow, leading to thousands of canceled and delayed flights, school closings, and car crashes that led to at least one death on Friday.
The storm, which is the first major blizzard of the year in the area, prompted emergency weather alerts for residents across multiple states. The snow is expected to continue through the weekend, primarily targeting the Chicago and Detroit areas.
On a snow-covered highway near Flint, Michigan, a semitrailer crashed into the rear of a car. Authorities say one person was killed, according to ABC News.
A man in his 60s in a Chicago suburb suffered a fatal heart attack while shoveling snow on Friday morning, reports ABC, in an area that received around 8 inches of snow overnight.
More than 1,300 flights were canceled at Chicago O'Hare International Airport, and travelers were warned that more cancellations and delays could be expected through the weekend, primarily for flights between Minnesota, Michigan, Wisconsin, Illinois, Indiana and Ohio.
In Michigan, more than 30 weather-related traffic incidents were reported. In one instance, 38 vehicles, including 16 semitrailers, were involved in a highway pileup, when drivers in Galesburg, Michigan crashed in a chain-reaction collision. No one was seriously hurt.
Schools announced closures in districts across Chicago, Detroit and Milwaukee, as well as some canceled or delayed classes for students in Iowa and Nebraska.
Chicago Mayor Rahm Emmanuel said in a Friday news conference that the city was dispatching salt spreaders and snow plows in anticipation of the weekend accumulation.
"Our city is tackling the first major snowstorm we have seen in several years—and it's clear that Chicagoans are rising to the challenge," he said. "The good news is we're tried and tested here. We're up to it."
The storm's intensity is expected to lessen significantly over the weekend, as it moves east. Light snowfall is anticipated in the northeastern region of the country.