Winter Weather Hits the Midwest Amid Thanksgiving Holiday, May Affect Travel Plans
A strong winter storm entered the Midwest on Wednesday, after bringing snow and heavy gusts of wind to the Rocky Mountains. The storm hit South Dakota, Iowa, Michigan, Minnesota and Wisconsin on Wednesday, and will head east toward New York and Pennsylvania as the weekend approaches.
Two winter storms will affect the Northeast and Midwest early next week, according to Accuweather. The storms are expected to bring both ice and snow, likely causing school delays and closings on Monday and Tuesday. Parts of Pennsylvania, West Virginia, Maryland, New York, New Jersey, and Delaware may receive up to two inches of snow, but roads and sidewalks may still be slippery from the minimal.
Accuweather reported that the second storm will hit the Midwest Monday and Tuesday, which may travel north due to cold air and precipitation.
A bomb cyclone slammed the West Coast that led to blizzard conditions on the border between California and Oregon. Many commuters slept in their cars, after spending at least 17 hours in their cars, stuck in the winter storm conditions, The Associated Press reported. Minneapolis was hit by nine inches of snow.
The Weather Channel also noted that one person was killed after an accident with a pickup truck and three semi-trailers in Colorado on Wednesday afternoon.
Meanwhile, thousands of passengers were left stranded due to flight cancellations throughout the region, according to The Associated Press. Ten inches of snow in Denver caused about 30 percent of flights to be cancelled at the city's main airport. Southwest Airlines saw about 200 cancellations. O'Hare Airport in Chicago faced delays up to 30 minutes.
The National Weather Service issued a hazardous weather outlook for Wisconsin, which warned about slippery roads through Friday morning. NWS also stated that more hazardous travel conditions can be expected towards the end of the holiday weekend: "A slow moving area of low pressure will bring rain or a wintry mix at times to the region, beginning Friday night and continuing through Sunday afternoon. It now appears that the heaviest snow will fall from late Saturday afternoon into Sunday morning."
In addition to travel problems, The Weather Channel reported Wednesday that over 300,000 homes in the Midwest lost power during the storm.
Heavy gusts of wind in the Northeast had threatened to ground balloons at the Macy's Thanksgiving Day Parade Thursday morning. But as NBC's broadcast of the event began, Today co-hosts Savannah Guthrie and Hoda Kotb announced that the iconic balloons would fly.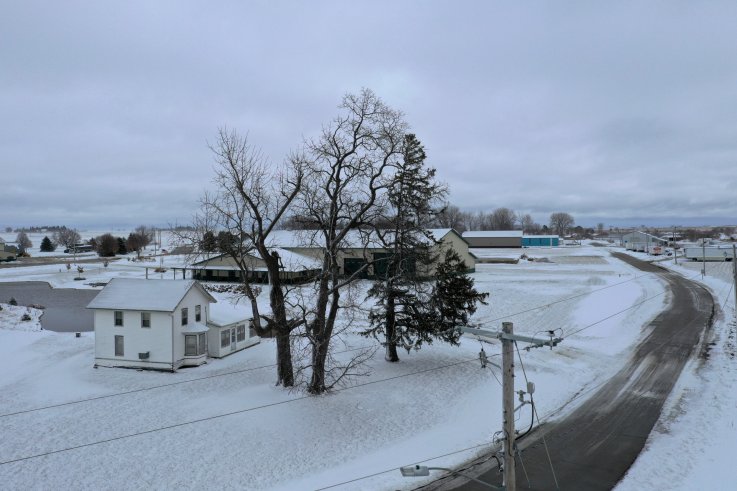 Winter Weather Hits the Midwest Amid Thanksgiving Holiday, May Affect Travel Plans | News