Winter Storm Riley Causes Flight's Bumpy Landing: 'Everyone Threw Up'
Updated | Passengers and crew aboard a United Airlines flight from Virginia to Washington, D.C., got a bit more than they bargained for Friday, thanks to severe turbulence caused by Winter Storm Riley's strong winds.
A report filed by a pilot to the National Weather Service's aviation center revealed nearly everyone on the flight became sick as the aircraft made its descent into Dulles International Airport.
"Very bumpy on descent," one of the pilots said in the report. "Pretty much everyone on the plane threw up."
The pilots themselves did not fare much better. The report continued: "Pilots were on the verge of throwing up."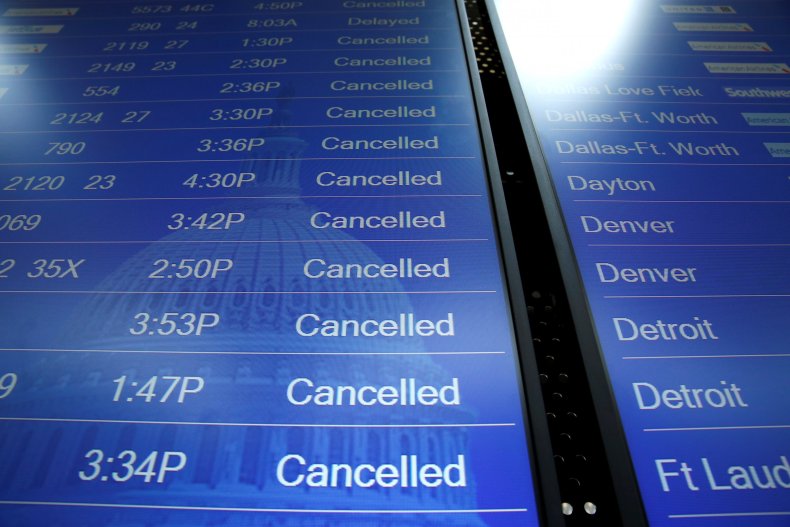 Flight 3833 departed from Charlottesville at 6:30 a.m. Friday and arrived at 7:19 a.m., about nine minutes ahead of schedule, NBC Washington reported. The CRJ-200 has the capacity to seat about 50 passengers in the main cabin. It is unclear how many were on board.
According to an initial statement by Air Wisconsin, which said it operated the flight, the plane "encountered turbulence because of high winds." Air Wisconsin later rescinded the statement, saying the pilot's report was not from them, ABC News's Jeffrey Cooks reported.
United then confirmed to Newsweek that Air Wisconsin had operated the flight.
"Air Wisconsin Flight 3833 operating as United Express from Charlottesville, Va., to Washington Dulles International encountered turbulence because of high winds," United said in a statement.
"A few customers onboard the regional jet became ill as the aircraft was preparing to land. The aircraft landed safely and taxied to its gate. No customers required medical attention because of the turbulence."
Flight 3833 was not the only flight affected by the power of Winter Storm Riley. More than 3,000 flights, both domestic and international, were canceled Friday, according to FlightAware.com. A majority of those cancellations occurred in the Northeast, with LaGuardia, Newark and Boston Logan airports taking the top three spots.
More than 2,600 flights, both domestic and international, experienced delays in the U.S. Around 16 percent of flights leaving from, and 12 percent arriving to, New York's John F. Kennedy International Airport experienced delays Friday.
Pilots in affected airports had interesting reports to air traffic control. In Boston, a pilot referred to the flight as "adventurous," while a pilot landing at JFK described the flight as a "miserable ride on final approach."
This story has been updated to include a statement from United Airlines.