Winter Storm Diego Track Snow Course Emergency Flight Cancellations: Thousands of North Carolina Planes Grounded
A major winter storm is expected to hit southern states of the U.S. Sunday, bringing with it snow, ice and freezing rain.
Governors and local officials declared emergencies ahead of the storm, diverting funds and manpower to brace for the impact.
Read more: Who has Robert Mueller indicted? Full list of everyone charged as result of Russia collusion investigation
"We're preparing for days of impact, not hours," North Carolina Governor Roy Cooper said, reported the Associated Press. "This weekend isn't the time to head out to see the winter wonderland. Stay safe where you are. Getting out on dangerous roads could put your life at risk."
Virginia Governor Ralph Northam urged state residents to "take all necessary precautions to ensure they are prepared for winter weather storm impacts."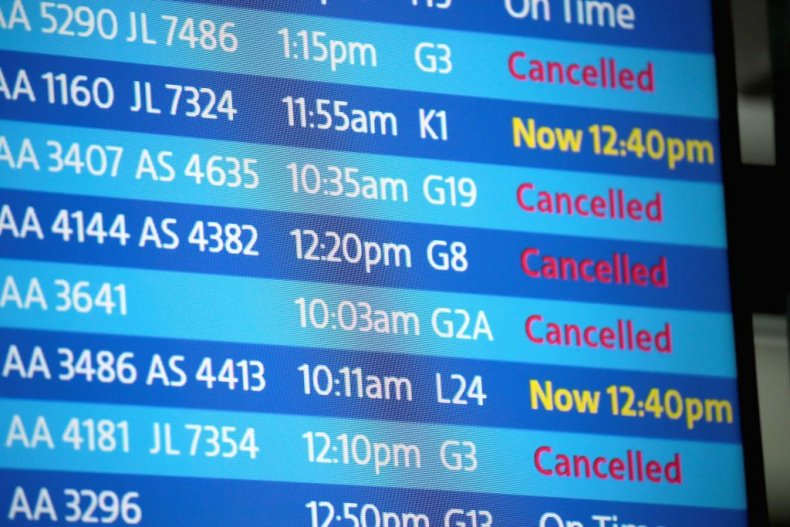 The National Weather Center said Sunday a strong storm "passing just south of the southeast U.S. coast early Sunday morning will result in a high impact winter storm from extreme northeast Georgia and northwest South Carolina to central/southern Virginia."
It said winter storm warnings are in place "from northeast Georgia to central Virginia, and winter weather advisories extend from central Arkansas to eastern Virginia."
"Substantial snowfall is expected "across the southern Appalachians and the adjacent Piedmont of North Carolina and south-central Virginia," with snowfall up to a foot deep expected in some areas.
"Travel will be severely affected across much of these areas, and some power outages are likely," it said.
North Carolina's largest electric utility, Duke Energy, warned that there could be 500,000 power outages.
Thousands of flights have been cancelled as a result of the storm, with American Airlines Sunday saying it had cancelled 1,100 Sunday flights in addition to the 250 cancelled Saturday.
Most of the cancelled flights are too and from Charlotte, North Carolina A major hub for the airline.
Further cancellations are expected at the airport Monday.
Travellers have been urged to check the status of their flights before making their way to the airport.
The cancellations have had knock-on effects to connecting services, with 2,832 delayed and 358 canceled flights across the USA, according to FlightStats.com Saturday night.
The conditions are expected to last till Monday morning, when the storm moves over the Atlantic, said the National Weather Center.