Winter Storm System Set to Bring Rain and Snow to Many Parts of U.S.
A low-pressure system moving from the South into the Northeast will bring rain, snow and icy conditions to several regions of the United States over the coming days.
The National Weather Service said that widespread wintry weather is expected from the central Plans to the northeast through Tuesday, while strong to severe thunderstorms are likely across the Deep South on Monday.
The agency has issued winter storm warnings and winter weather advisories for parts of the Southern Rockies into the Central Plains, mid-Mississippi Valley, Ohio Valley and central Appalachians.
This could cause travel disruption and create icy driving conditions as far north as Boston and Albany in New York state, The Weather Channel reported.
"Freezing rain and mixed precipitation will spread eastward into the Midwest later today and into the Ohio Valley tonight," a statement from the NWS read. "By Monday morning, a wide swath of snow is expected to impact areas from the Central Plains eastward through the Midwest, the lower Great Lakes, central Appalachians, and into the northern Mid-Atlantic states."
"By Monday night into Tuesday morning, much of New England will see snow spreading in while mild air from the Atlantic will likely change the snow to freezing rain across southern New England. The coastal sections of the Northeast should see the snow changing over to plain rain by Tuesday morning."
Meanwhile, thunderstorms will likely strike the Deep South as the low-pressure system intensifies.
"Fueled by increasing moisture, warmth and instability from the Gulf of Mexico, the thunderstorms will likely become strong to severe as they sweep across the central and eastern Gulf states Monday and Monday night," the statement read.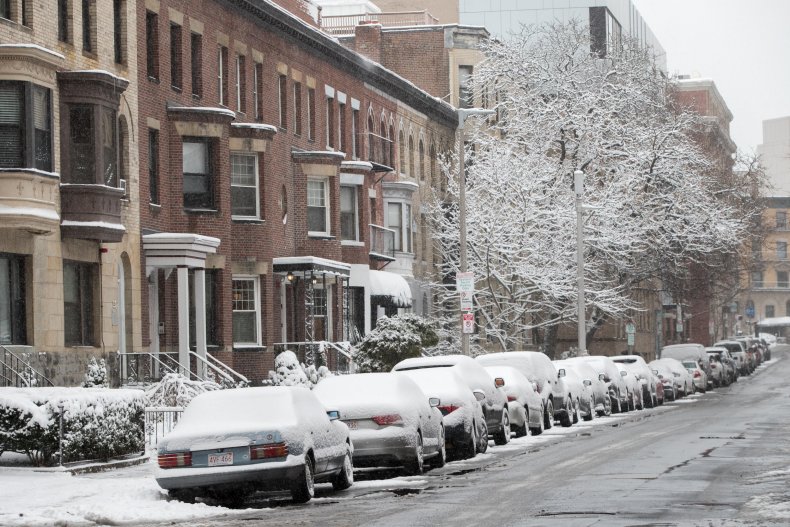 High snowfall is expected from eastern Kansas into southern Illinois, as well as central and upstate New York into western New England. It's possible that some of these areas could see up to 5 inches of snow, The Weather Channel reported.
More than a foot of snow is also expected in the Rockies today over higher elevations in Southern Colorado.
The latest batch of winter weather comes as another low-pressure system moves offshore from New England, bringing an end to the rain and mild temperatures experienced across Maine on Sunday morning, according to the National Weather Service.
This storm system brought more than 5 inches of rain to some coastal parts of New England, leading to flooding, ABC News reported. And yesterday, a tornado was even recorded in northern Florida, First Coast News reported.