Snow and ice continue to impact the upper midwest and northeast of the U.S. today, with winter storm and blizzard warnings in place.
According to the National Weather Service (NWS), the ongoing winter storm across the northcentral U.S. will continue to bring heavy snow to portions of the upper midwest and the Great Lakes through today. Snow accumulations of six to 12 inches are forecast, with "locally higher amounts" possible and gusty winds will blow and drift snow, creating dangerous travel conditions, according to NWS.
A blizzard warning is also in effect for West Marshall, Minnesota, and Eastern Walsh and Nelson Counties, North Dakota until 6:00 a.m. CST this morning. Affecting cities such as Warren, Stephen, Argyle, Grafton, Park River, New Rockford, Lakota, Mcville, Aneta, and Tolna, additional snow accumulations are forecast to range between one and three inches, with wind gusts as high as 40 miles per hour (mph), says NWS. In open country, visibility is predicted to be less than a quarter mile, making travel "very difficult to impossible" and whiteout conditions expected.
Across the Dakotas, a winter storm warning is also in effect. In North Dakota, Wells and Kidder counties are forecast to see three to seven inches of heavy snow until 6:00 a.m. CST this morning. Other counties such as Sioux and Emmons are expected to see heavy and blowing snow, with accumulations of two to five inches. The counties of East Polk, Mahnomen, Pennington and Red Lake are also under snow with a glaze of ice expected, which could cause power outages, according to NWS.
South Dakota is seeing similar conditions, with a winter storm warning in effect until 6:00 a.m. CST this morning with an advisory in place until midday today. However, snow accumulations are not expected to exceed over one inch, according to NWS.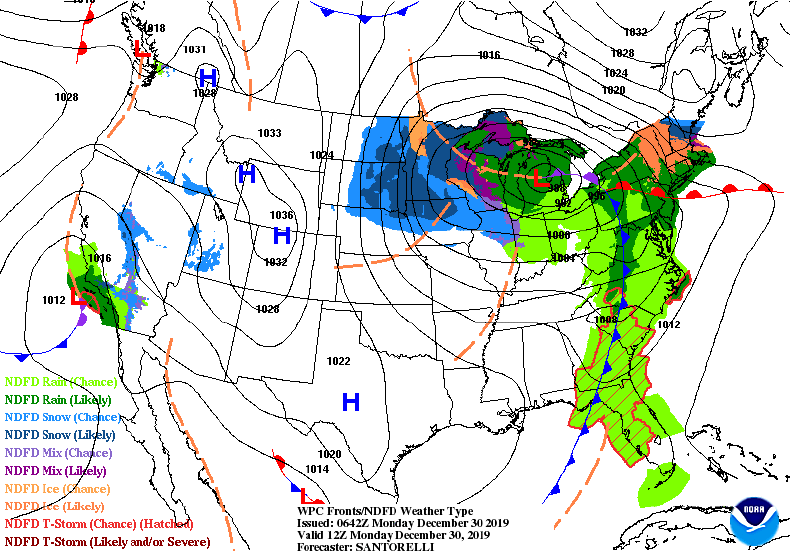 Moving east, an area of low pressure is forecast to move across the western Great Lakes today into tonight, with rain expected to change over to snow this morning. In Wisconsin, total snow accumulations are thought to range between six and 10 inches, with locally higher amounts around a foot expected in northern Vilas County. According to NWS, a wintry mix of rain, freezing drizzle, and snow will "transition to snow along and north of Interstate 90" by late morning and during the early afternoon. The weather service predicts that the greatest threat will be on ridge tops in western Wisconsin and southeast Minnesota and northeast Iowa, with travel along and north of Interstate 94 becoming dangerous into tonight.
In Nebraska, winter weather advisories are in effect for portions of the north center of the state. The counties of Eastern Cherry, Keya Paha, Boyd, Brown, Rock and Holt are expected to be impacted by snow and blowing snow, says NWS.
A long winter storm is forecast to continue to impact the state of Minnesota, with a round of widespread snowfall and falling temperatures. According to NWS, a "light wintry mix of drizzle and snow this morning" will to all snow through the morning, with areas of "moderate to heavy snowfall" developing this afternoon and evening. Rapidly falling temperatures will cause surfaces that are wet to quickly become icy, especially on sidewalks and driveways. Lake effect snow will linger along the south shore overnight. Heavy lake effect snow is expected for Iron and Ashland counties today through to tomorrow, with total snow accumulations of six to 12 inches, except 10 to 18 inches for the higher elevations.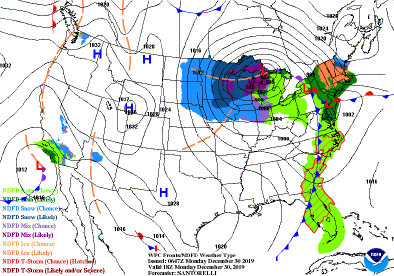 Moving northeast of the U.S., Vermont and Maine will be impacted by the winter storm until tomorrow afternoon. According to NWS, additional snow and sleet accumulations of one to three inches and ice accumulations of one tenth to three tenths of an inch forecast, with winds gusting as high as 40 mph. There is a risk of isolated to scattered power outages and tree damage is likely due to the combination of ice, snow and wind. Other states impacted by the winter storm today and tomorrow include Michigan, New York and Arkansas.
As the winter storm progresses into the week, make sure to follow these tips on how to stay safe in winter weather.