Winter Storm Warning For New York With Record Cold Temperatures, More Than A Foot of Snow Expected In Some Parts
A winter storm warning is in effect for parts of upstate New York, with up to 12 inches of snow expected in some areas followed by record cold temperatures.
"Arctic air will continue south and east bringing areas of snow, freezing rain, gusty winds, and very cold temperatures. Heavy freezing rain is possible in the Northeast on Monday," the NWS added.
"148 daily record lows are currently forecast to be broken, tied, or come within 1 degree between Tuesday and Thursday this week," the NWS Weather Prediction Center (NWS WPC) said in a post on its official Twitter account.
"The coldest surge of arctic air so far this season will bring widespread record low temperatures for much of the central and eastern U.S. even down to the Gulf Coast," with below freezing temperatures forecast as far south as the central Texas coast by Wednesday morning.
"This will make it feel like in the middle of winter rather than in November for much of the eastern two-thirds of the country for the next few days," the NWS WPC notes on its official website.
The Rochester area, which is under a winter storm warning issued by the NWS from 11 a.m. (local time) Monday to 9 a.m. (local time) Tuesday, could see a record low on Tuesday, which will have a high near 26F, while temperatures in most of the country are predicted to drop to an overnight low of 16F on Tuesday, the Democrat & Chronicle reports.
The snowfall is expected to gain intensity over upstate New York and northern New England on Monday night, with 6 to 12 inches of snow (and locally higher amounts) forecast for northern New York and northern Vermont by Wednesday morning, the NWS WPC said.
"Farther west, lake-effect snowfall [produced from cold air masses moving across warmer lake waters] is likely downwind of the Great Lakes where locally more than a foot can be expected," the NWS WPC warned.
Buffalo and its surrounding areas, including the cities of Niagara Falls, Medina, Batavia, Warsaw, Orchard Park, and Springville, are under a winter storm warning in effect from 8 a.m. (local time) Monday to 6 a.m. (local time) Tuesday. Heavy snowfall is forecasted to reach 6 to 10 inches, with the greatest levels expected to be inland at the Niagara Frontier from the Buffalo Metro Area, the NWS advised on Monday morning.
"Conditions will deteriorate during the day today, with the heaviest snowfall rates and worst travel from late this afternoon through tonight [Monday].
"Widespread accumulating snow will create dangerous travel conditions," it adds.
"The first winter storm of the season is coming soon, with snow potentially beginning to stick on area roadways as early as Monday morning," the NWS Buffalo said in a post on its official Twitter account.
The Oneida County area, including the cities of Boonville, Penn Yan, Seneca Falls, Auburn, Syracuse, Hamilton, Oneida, Rome, and Utica, are also under a winter storm warning issued by the NWS from 1 p.m. (local time) Monday to 9 a.m. (local time) Tuesday.
"Heavy mixed precipitation expected. Total snow accumulations of 4 to 9 inches and ice accumulations of a light glaze," the NWS said.
"Travel could be very difficult. The hazardous conditions could impact commutes this evening and Tuesday morning," it added.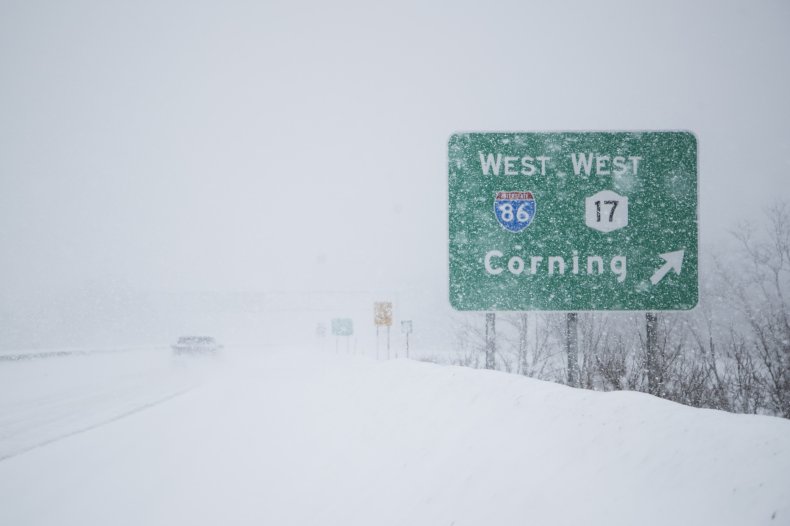 The Binghamton area is also under a winter storm warning, with a "wintry mix changing to snow today and tonight [Monday] followed by cold Tuesday into Wednesday," the NWS said in an official report.
Light snow is expected to cover the entire area, while heavier snow will fall in the Finger Lakes/New York State Thruway counties from Monday afternoon to early Tuesday, while all of Central New York and Northeast Pennsylvania are expected to see near-record to record "Arctic Cold" temperatures from late Tuesday to Wednesday night, the NWS warns.
Locals are being advised "slow down as conditions will become slippery and have your emergency winter car kit items in your vehicle before leaving home," the NWS warns on its official Twitter account.
"If you must travel, keep an extra flashlight, food, and water in your vehicle in case of an emergency. The latest road conditions for the state you are calling from can be obtained by calling 511," the NWS WPC advised locals in the Oneida County area.