Winter Storm Warning in Washington as Snow, Ice and Rain Set to Hit Midwest This Week
A winter storm warning, winter weather advisory and winter storm watch have been issued for parts of the country, with a storm expected to hit the Pacific Northwest before moving across the central and eastern regions later this week.
"A winter storm will move into the Pacific Northwest bringing widespread snow or rain/snow mix, and heavy mountain snow," the National Weather Service (NWS) said in a post on its official Twitter account.
"Heavy snow and freezing rain continue across northern New England. Winter driving can be hazardous," the NWS warned.
Lower elevation areas of the Pacific Northwest will see light snow before the storm arrives Wednesday into Thursday, with a mix of snow and rain expected in Seattle, Washington and Portland, Oregon, The Weather Channel reports.
A Winter Weather Advisory has been in effect until 8 a.m. (local time) Monday in parts of Washington, including in Everett and the vicinity, including Stanwood, Marysville, and Mountlake Terrace and Bellevue and the vicinity, as well as
Mill Creek, Kenmore, Kirkland, and Issaquah, the NWS notes.
California's Sierra Nevada region as well as the northern and central Rockies will see significant snow from Wednesday night into Thursday, before the storm moves across the Plains, Midwest and eastern regions through Saturday.
A Winter Storm Warning remains in effect until 10 p.m. (local time) Monday for the Northern Oregon Cascades and Cascades in Lane County, with the heaviest snow accumulations expected to be at elevation levels of 1,500 to 2,000 feet, the NWS notes.
"Travel could be very difficult. Expect near white-out conditions at times, making it difficult to see other vehicles and snow plows.
"A Winter Storm Warning for heavy snow means severe winter weather conditions are expected or occurring. Significant amounts of snow are forecast that will make travel dangerous," the NWS advises.
A Winter Weather Advisory is in effect for parts of California from 4 p.m. (local time) Monday until 10 a.m. (local time) Tuesday, while a Winter Storm Watch remains in effect from Wednesday afternoon into Thursday night. The affected areas include the Burney Basin/Eastern Shasta County, Western Plumas County/Lassen Park and the West Slope Northern Sierra Nevada region.
"Active weather is expected across NorCal [Northern California] this week with multiple rounds of snow. The first round of snow is ongoing early this morning with another expected tonight [Monday] into Tuesday resulting in mountain travel difficulties," the NWS warns.
"A wetter and more significant storm is expected Wednesday afternoon through Thursday night. This system will bring moderate to heavy snow to elevations above 3,000 feet. Mountain travel during this time will be very difficult with reduced visibility, chain controls, and possible road closures," it adds.
Snow accumulations between 4 and 8 inches, with local amounts of up to 15 inches, are expected at elevations above 3,500 feet on Tuesday. Heavy snow is possible through Thursday night, with an accumulation of 1 to 2 feet of snow, and up to 3 feet in local areas, the NWS predicts.
A Winter Storm Watch indicates the potential for significant snow, sleet or ice accumulations that may affect travel, while a Winter Weather Advisory indicates periods of snow will lead to travel difficulties, including snow covered roads and a possible significant reduction in visibility.
Snow, ice and rain are forecast to develop in the Midwest from Thursday into Friday before moving to parts of the Northeast and mid-Atlantic states, with snow and gusty winds expected to remain in the Great Lakes and upper Mississippi Valley region, The Weather Channel predicts.
With most of the storm having moved into The Great Lakes and eastern region by Saturday, the interiors of the Northeast and the New England area face the highest chance of heavy snow accumulation on Saturday, with snow possibly turning into rain, according to The Weather Channel.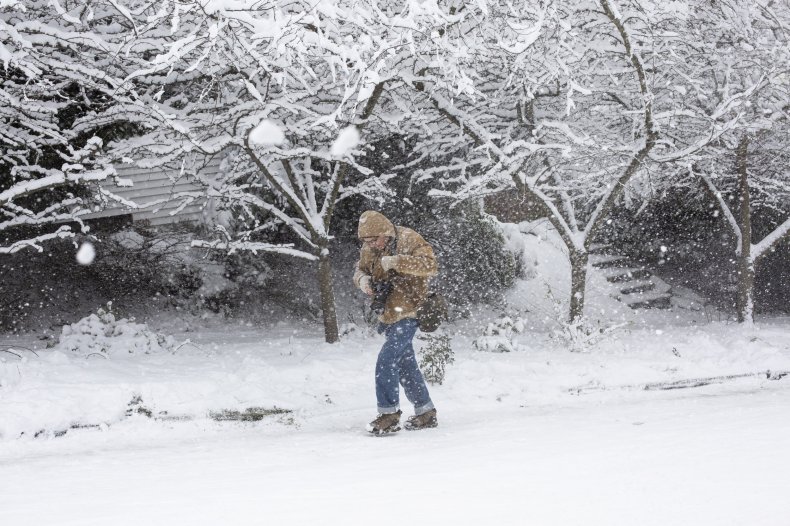 Winter Storm Warning in Washington as Snow, Ice and Rain Set to Hit Midwest This Week | News